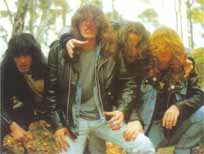 The Death Metal Underground (DMU) is the net's oldest and longest-running metal site. It exists to spread two ideas: (a) that heavy metal is a form of art and not "entertainment" and (b) the origins of heavy metal are in the Romantic movement in art and literature, whose imagery and ideals it carries to this day.
It is the sole voice for these ideas. Most people want disposable entertainment that puts no burden of understanding on them. They want something they can project into and then leave without feeling a sense of loss. They don't want great; they want television in audio form.
With over 25 years experience listening to metal, supporting local scenes, writing about metal and interacting with metalheads and bands, our staff — a diverse group representing artists, technical gurus and professional writers — strive to represent metal for what it is, not how it can be marketed.
Editors
Writers