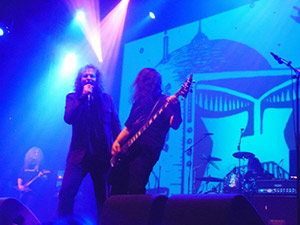 The Metal File recently interviewed Voivod drummer Michel "Away" Langevin. To no surprise, the interview mainly concerns the band's new (thirteenth) album, Target Earth, released on January 22nd by Iron Gang Factory and Century Media.
According to Langevin one of the reasons why the album sounds a lot like earlier Voivod is because bassist Jean-Yves "Blacky" Thériault is back in the band after a 17 year absence, being closely involved in the songwriting with new guitarist Dan "Chewy" Mongrain. Among all the "very progressive" songs with "strange time signatures", Langevin requested to include two more thrash-y songs à la Motörhead, which resulted in "Kluskap O'Kom" and in the band's first French song, "Corps Étranger".
Langevin also says that due to Voivod's 30th anniversary this month, the band plans live tours throughout the world this year, starting in Canada, crossing North and South America, then going to Europe and ending in Asia. In between tours they want to write new material. The past is alive.
No Comments
Tags: live shows, new releases, Voivod