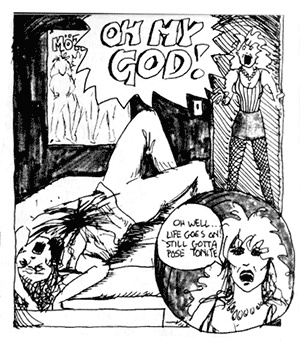 In the days when bands like Slayer, Metallica and Megadeth fought to hold true to the metal spirit, Lizzy Green, the ex-girlfriend of Exodus' lead singer, did her share by creating a comic book called Slay Team: The Poser Wars.
The comic book, whose first issue can be found on the Bazillion Points Blog, takes on the theme of the Exodus song "And Then There Were None" and applies it to the helpless poodle rockers of the day: throughout the sooty black and white pages, the Exodus members — the Slay Team — attempt to "slash, assault, and mow down the poodle-haired metal posers spreading falseness instead of relentless metal mania".
A charming and humorous take on the violent passion of true metal music, Green's work ends with a relentless cliffhanger leaving us thirsty for more poser blood and more Exodus thrashing.
http://www.youtube.com/watch?v=0a-Sh9Ik-lI
1 Comment