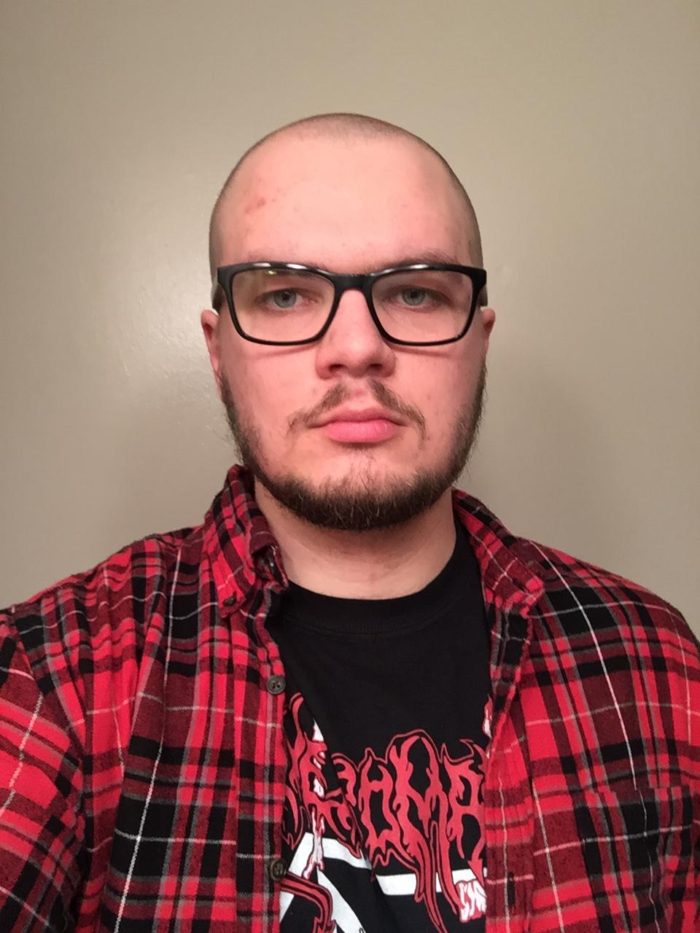 Article contributed to Death Metal Underground by Richard Sullivan.
Western civilization is currently gripped in a culture war unlike any that preceded this one. You may ask what makes it so different than the others, considering the West witnessed a similar one of its kind back in the late 1950s with the emergence of the New Left. Arguably, there's never been a real difference in the left's rhetoric. For as long as anyone cares to remember, white, heterosexual, "cisgender" men, who maintain the "capitalistic, racialized, cisnormative patriarchy" have always been at the center of their ideological attacks. The only thing that has changed has been their ability to have said rhetoric heard beyond the confines of university lecture halls. It was rare to encounter an enlightened™ human™ bombarding you with vitriol and threats of violence – because you failed to recognize the intersectionality between race™, gender™, and sexuality™ – outside a gender studies class. Of course, these things still occur, but with greater frequency, and to the point where a flash mob of overweight, hipster beta males twerking in tutus in a school's atrium is viewed as them just "expressing themselves", but, more boldly, as an act of defiance against conventional norms of masculinity.
But what truly distinguishes this culture war from its predecessors lies in its manifestation of a toxic identity politics that has produced a variety of "hot button issues" that have become ubiquitous in every which way we consume our daily news. The left's pushing of these "human rights violations" as exigent matters that need to be discussed openly and frequently, but in a manner consistent with how they feel the discourse should proceed (a point I will flesh out more later), has left the rest of us with little breathing room, despite there having emerged a so-called anti-SJW movement, which is comprised largely of disgruntled, porn-addicted, anime-fetishizing, basement-dwellers who do little more than engage in a massive circle jerk in the YouTube comments section of every Paul Joseph Watson video.
Over the course of the last three years, when all this nonsense erupted as a result of the killing of Mike Brown by police officer Darren Wilson in Ferguson, Missouri, and then later in the year when the whole Gamergate thing started receiving media attention, and how this was all being dragged forward even more so by the media into the present, it became apparent to me that leftist identity politics is here to stay for the time being. It has too much moneymaking potential for it to just "go away"; the spectacle that feeds into every aspect of contemporary American culture is built on controversy, after all.
Those calling themselves moderates (that is, bourgeois centrists, who wish to remain neutral in this conflict, but tacitly agree with the Establishment's general narrative of progress, making them only marginally less disagreeable than full-on SJWs), will only ever express their incredulity at SJWs and their bullshit on social media, but are never willing to put their necks on the line and call them out directly, lest they see the moneymaking potential in being an anti-SJW pariah (Milo Yiannopolous, Gavin McInnes, etc.). Despite the conservative veneer of their rhetoric, they are essentially liberals who believe in all the same basic tenets as their leftist adversaries (e.g. racial diversity is good), but intertwined with classical liberal economics as their primary focus.
As a result, we are subjected to this ongoing media circus of fake news (practically every major news outlet) versus "real news" (Alex Jones, Rebel Media, and other centrist or "alt-lite" controlled opposition crap masquerading as anti-establishment conservatism), with no real solutions being put forth by either side, except for tenuous compromise ("Violence is never the answer. Just keep your head down, ignore the problems, and keep buying stuff."), most likely as a way of keeping the confusion going for the benefit of those in power.
I tried being one of those individuals, who, since first noticing SJWism becoming huge in 2014, decided to ignore it for a while in order to focus on other things, such as my love of metal (which is ultimately why I'm writing this article) and my ever-continuing quest to find quality bands and albums. But what happens when what you try to ignore begins to interfere with what you're passionate about? It's quite simple: it can no longer be ignored. What I'm referring to here, specifically, is a website that has served as both an invaluable source of information, but also, for those of us who have spent considerable time posting or lurking on its forums, a source of great tension and intolerance. I am, of course, referring to Encyclopedia Metallum: The Metal Archives.
I started using the site around the mid 2000s and was posting in its forums a year later. Back then, believe it or not, the section of the forum where non-metal discussions were had (The Tavern) actually contained a diversity of political opinion that spanned across the spectrum, although the people who posted there at the time seemed to possess predominately centrist views with the odd Republican here and there, and proper leftists were actually quite uncommon. However, that all changed around the turn of the decade. There was a great shift in the forum's politics that happened to coincide with all the trendy protest movements that were occurring at the time, beginning with the G20 protests in Toronto, Canada where we saw a bunch of unhygienic and low-IQ "anarchists" complaining about their human rights being violated. A thread on the topic was produced and rife with eye-rolling discussion about the more troublesome protesters being unjustly held in makeshift cells and being fed processed cheese sandwiches.
Over the next few years, the attention-starved millennials and aged hippies promulgating Occupy Wall Street and Invisible Children experienced their fifteen minutes and then fucked off. In 2014, officer Darren Wilson killed "gentle giant" Mike Brown in self-defense as the latter attempted to reach for Wilson's gun, prompting the officer to fatally shoot him. This was also around the same time Gamergate was receiving more attention, which, incidentally, is where the term "SJW" was coined, precisely to describe the intrusion of left-wing politics into gaming by moronic zealots.
These events were pivotal in the transformation of Metal Archives' political slant. It signaled the end of what open dialogue there was between left and right and engendered a vicious bipartisanship, where those who did not entirely agree with the progressive values of its staff and sycophantic regulars were automatically painted as bigoted and irrational and subsequently banned. This has been occurring quite a lot in the past few years and reached its boiling point in their thread dedicated to "discussing" the previous year's U.S. presidential election. Practically everyone who openly declared their support for Donald Trump was banned. Those who were not banned immediately were constantly harassed with inflammatory remarks. Like vultures instinctively circling an animal they anticipate to be dead soon, the social justice warriors of Metal Archives' forum resorted to personal attacks on those who did not give into the initial harassment. The idea was to provoke them into retaliating in order to justify a permaban under the nebulous reasoning of "stupidity" and "bigotry". The attacks were initiated by one of the site's creators and notorious "bitch-cunt" Morrigan.
Morrigan, as I'm sure many will agree regardless of political affiliation, is a thoroughly unlikeable person. She often hides her personal insecurities behind her "strong woman" posturing which to any sane person translates to her being nothing more than a "bitch-cunt". If she were to read this, she might even pretend the title flatters her, since feminists often try to "take back" such negative ascriptions and re-appropriate them to mean something empowering, but in reality just riles them up inside. Additionally, she makes no secret of her biases and often relies on every SJW pseudointellectual's favorite site, RationalWiki, to justify them. The irony, of course, is that none of what she puts forth can be held to any authentic standard of rationalism, since politically-motivated arguments are often irrational in nature. They are also moral in nature, which in turn means they are emotional as morals are often determined by how we feel about things rather than what we can objectively determine to be functionally right and wrong.
This is a common irony that tends to fly over the heads of leftists most of the time. They like to believe they have some monopoly on logic and always paint their conservative enemies as poorly educated rednecks whose opinions, no matter how varied, are never worth hearing because they are on the "wrong side of history". They contradict their own values of "diversity" and "tolerance" and insist on everyone conforming to some ideological mold, as opposed to conservatives, who understand that because humans are diverse and that there's really no such thing as "humanity" (an Enlightenment-coined concept, for the uninitiated), that different peoples with fundamentally different (and often clashing) values cannot co-exist peacefully in the same society.
Ideology, as powerful a tool it is, can never entirely replace human biology and centuries-old values systems as determinants for shaping human thought and behavior. Whenever confronted with these points, they unravel into childish tantrums that render meaningful dialogue with them impossible. Instead of trying to explain how these things can be overcome (which they can't, because leftists rarely have plausible solutions to anything), they remind you that it's not their job to educate you and insist that you go read some incomprehensible foundational text by a postmodern theorist no one (including them) gives a shit about before you are deemed worthy to engage them. If that tactic doesn't work and they're still drawn into a debate they don't want to have, they'll just nitpick irrelevant things like your choice of words and say that you're attempting to manipulate the discussion by using "coded language that privileges proponents of the power structure" or some other retarded horseshit in that vein.
Social justice warriors avoid debate, because they know their ideology is built on highly speculative (that is, unfounded) understandings of how humans operate in spite of everything science (something else they reject if it doesn't agree with their ideology) teaches us otherwise. If they happen to find themselves on the receiving end of criticism, they just use those they claim to be defending as human shields to deflect said criticism, so they may continue their moral posturing and uphold their status as "empathetic individuals". It's precisely this intellectual exclusivity that gives them pride: they are more enlightened than others, therefore it's their job to speak for everyone. There is no difference between them and religious fundamentalists in this matter.
This pathology has unfortunately become standardized on Metal-Archives forum and anyone refusing to tow the ideological line is punished with acidic sanctimony and ostracism. It's actually grown so bad that even those with centrist views that lean to the left are given no forgiveness either and experience frequent admonishment by the hardline leftists. I could go into detail about all the things wrong with the site, its staff, and especially its forum, but those are issues for other articles I will follow up this one with in a series of anti-Metal Archives writings I will be submitting sporadically to Death Metal Underground.
Tags: alt-lite, alt-right, attention economics, beta males, capitalism, communism, communists, democracy, economics, feminism, gender identity issues, hippies, hipster invasion, hipsters, human rights, identity politics, idiots, internet drama, mental retardation, metal forum, metal-archives, metalgate, political correctness, politics, sjws, social justice warrior, social justice warriors, social realism, special snowflake