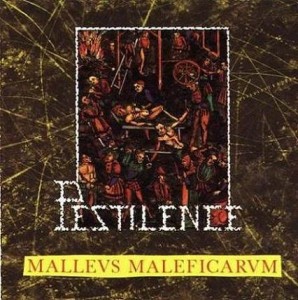 I watched as the Lamb opened the first of the seven seals. Then I heard one of the seven living creatures say in a voice like thunder, "Come!" I looked, and there before me was a white horse! Its rider held a bow, and he was given a crown, and he rode out as a conqueror bent on Conquest. – Revelation 6: 1-2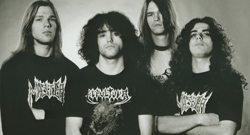 Summoned forth to rage fury upon the unsuspecting but no less innocent, Pestilence, on each of their first three albums ushered in a predestined Apocalypse of the mind and struck at the heart of the dark forces of the Kali Yuga thus completing their microcosmic responsibility as "Kalki", and providing the foundation upon which a new golden age and conciousness would hopefully arise. On their uncompromising and frenetic debut album, Malleus Maleficarum, Pestilence as corporeal manifestation of death and conqueror, harnessed the power of becoming to destroy the destroyer that is illusion and ignorance, and defiantly placed themselves within the torrential stream of becoming in a quest for truth. We as listeners are thus treated with no less than a passionate and structurally free form album that through its fluid, intelligent and precise use of riff craft probes and attacks on multiple fronts the lyrical themes tactfully explored by Van Drunen and Co.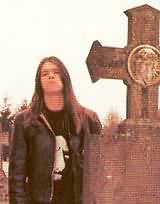 Although one may be quick to argue that that the addition of socially conscious lyrical subject matter such as genetic manipulation and religious strife defines Malleus Maleficarum as a strict Speed Metal album, it is nonetheless better characterized as a highly refined and progressive speed metal album that straddles the death metal fence. Indeed, indicative of their speed metal roots is the common use of hysterical and staccato driven guitar technique reminiscent of bands such as Exodus, Destruction and Slayer that, coupled with an emerging yet competent sense of dynamics, melody, development and recapitulation of themes, successfully places "Malleus Maleficarum" outside the realm of pure Speed Metal and onto a pedestal of its own thereby providing the impetus for not a few debates regarding the essential nature of this album. Not to be missed of course is the embryonic vocal performance of Van Drunen, who while courageously exploring the memes that have driven modern society into calling forth the forces of plague and death to precipitate the end of this current cycle of humanity, opts for a hoarse rasp like yell in contrast to the later visceral death metal growl he is better known for.
Considering the less than inspiring output Pestilence has recently spawned, it is worth recalling and meditating on the legendary albums birthed by the youthful genius of this legendary band if only to provide inspiration and the soundtrack for a new generation of Hessians who will march forth triumphantly into the dreary haze of an uncertain but exciting future. With that said "Malleus Maleficarum" remains essential listening 20 years after its initial release. Standing out as a thought provoking album of much symbolic depth it also remains an uncompromising and virile album that successfully bridges the gap between speed metal and death metal and reveals the genetic ancestor of the latter genre. Not only a dramatic album in its own right Malleus Maleficarum stands as an interesting historical document that should not be overlooked by any serious Hessian.
-TheWaters-
1 Comment
Tags: death metal, Malleus Maleficarum, pestilence, Religion, Speed Metal, the netherlands