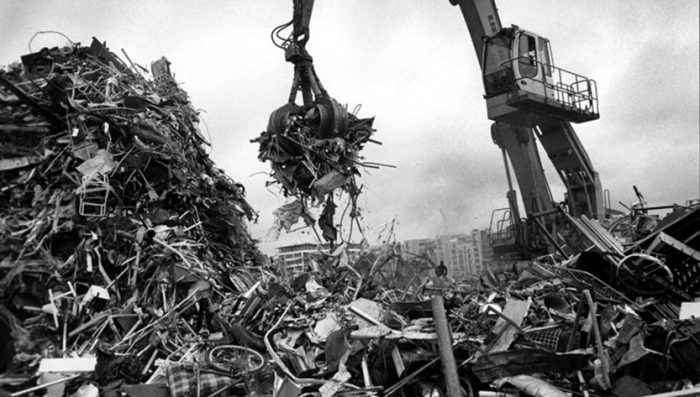 It is rather commonplace among certain circles to engage in lamentations over the current state of Metal and a perceived disconnect between the classic glory days of high adventure with contemporary mediocrity.
Long-time readers of this site for example are probably quite used to hearing – or even expressing – such sentiments as "Metal has been dead since 1994" [or 93 or 95 or even 96 depending on who's talking].
For a deeper understanding of this "issue" it is crucial to understand that this does not necessarily mean that there have been no "good" – or even "great" – Metal albums released since the early 90's. Even our legendarily exigent site founder has made note of numerous releases from the last decade, and even the previous year, that he regards as having at least some degree of musical notability.
What this "issue" actually (partially) stems from is that it was around the mid-90's that basically all the defining forms of the Metallic musical language became codified, and most bands since have either tried to ape on as formalist cookie-cutter imitators of classic bands/styles, or tried to "transcend" Metal altogether by bringing in external influences.
The 1970's and early 1980's saw the codification of the "classic/traditional" Heavy Metal style, the mid-80's the codification of Speed/Thrash Metal, and the late 80's/early 90's codification of Death and Black Metal. Despite the autistic drive of Internet users to make up countless fictional sub-genres, these are the main styles of Metal [a possible subject for its' own "Some Brief Thoughts" article]. Accordingly, no new major genres/styles/"languages" have been pioneered since the mid-90's, and consequently, a relative dearth of truly iconic and original sounding new Metal.
Indeed it seems the best way to summarize the situation with Nowadays Metal is that:
For the past two decades, the issue with new Metal bands is that they either try to focus on formally "sounding like Metal" [and thus sacrifice originality], or alternatively indulge themselves as being "more than Metal" [and thus sacrifice Metallic Desolation].
We are all familiar with the former scenario. It seems that almost any modern band gets its sound defined solely by comparison to older bands or styles, not to mention general "retro" and "worship band" phenomena. "These guys sound just like an awesome cross between Venom and Motörhead", "This new record sounds just like Swedish Death Metal but with a bit of an old-school Thrash kick", etc, etc, etc.
(Of course, upon encountering such statements as "this sounds like classic band x!", the question that should immediately arise within any discerning individual's mind is naturally "why would I want to listen to this when classic band x already exists?")
Examples of the latter is anything from the modern Indie/Post-Rock incorporating so-called "Black Metal" to explorations of explicitly Classical-influence, Jazzy "Prog", Electro-Folk, and/or "Atonal"/12-tone, etc. with, uh, "highly varying" degrees of success.
This hastily-written article doesn't pretend to offer any immediate solutions, just a brief meditation to perhaps bring this phenomenon into a clearer light.
A possible piece of general advice to upcoming artists could be to primarily focus on making powerful, honest, quality music before worrying about fitting into specific genre trappings/sounds of old [after all Black Sabbath never consciously set out to make "Heavy Metal" when they created their legendary masterworks]… without, however, losing grip of the necessity of an energetic vehicle flaming with Six-Stringed Desecrational Fury.
METAL IS DEAD LONG LIVE METAL
Tags: Black Metal, death metal, Heavy Metal, nowadays, originality, some brief thoughts, spear of longinus, Speed Metal, thrash metal