Hipster alternative rock band Bolzer was decried for their low-self esteem fueled blow up at Death Metal Underground's damning review of the preview track from Hero by Old Disgruntled Bastard, the writer of one of the few readable metal blogs, on Funbook: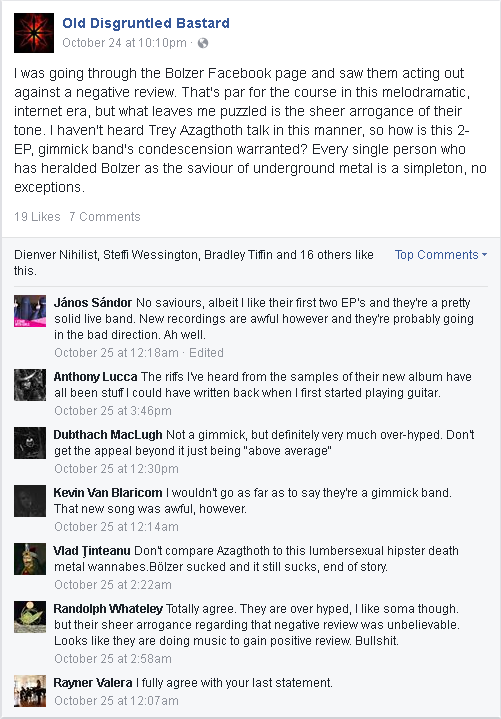 Even the communist, social justice warrior, metalcore and nu-metal website MetalSucks called Bolzer "hipster metal", noting the track "I AM III" was "super hipstered out". MetalSucks defined "hipster metal" as:
When you use the term "hipster metal," it's usually to refer to metal with a lot of post-rock and/or experimental music elements incorporated into it. But for me, hipster metal isn't a sound, it's a state of mind (MAAAAAN), where the chic aspects of metal's hipster-appropriate underground movements are combined into a genre that isn't quite metal proper. It also helps if the band is primarily loved by art kids who transcend metal rather than, you know, metalheads.
MetalSucks noted about Bolzer that:
More so, I don't know anyone who likes Bölzer who is a diehard metalhead; the only people I know who really dig this band seem to be fashionable almost-metal kids who think the album stands out from metal at large due to the daring choices the band makes (are you a hesher who likes Bölzer and thinks I'm wrong? Comments get posted below).
Despite this, nu-metal and djent fan Emperor Rhombus liked the song, which will not please fans of black metal, only the current whiny hardcore and crypto-indie rock paraded about by whore record labels and shills to overweight, sexually non-binary (sic) millennial leftists. Only Korn lovers and cargo-short fetishists like Emperor Rhombus who spent the ten years from 1998 to 2008  exclusively listening to Limp Bizkit and In Flames will eat up Bolzer's Hero. Will the social justice warriors and National Public Radio suddenly hate it "musically" when they discover that Bolzer, the currently en vogue "lumbersexuals" now that the "Cascadian" movement seems to have run its course, have sun wheel and swastika tattoos? Will their condemnation be fueled by Bolzer's skin being adorned with Germanic pagan esoteric symbols or the album actually being a boring cash grab that's less coherent than the two stretched out black 'n' roll EPs? Let's find out!
Tags: alternative rock, Bolzer, hipster bullshit, MetalSucks, Old Disgruntled Bastard