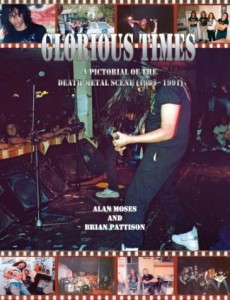 The book Glorious Times portrayed the experience of being involved in the early metal underground in a way that no one else has attempted before or since. It awakened in many of us a desire for such times again, when truth mattered more than commerce and popularity.
Despite being initially scoffed at by publishers, Glorious Times exceeded all expectations and became a metal institution. The publishers, Alan Moses and Brian Pattison, have stayed active in the underground by promoting shows, writing reviews, and pushing forward bands that seem to have that sense of connection to reality that defined the early underground.
As part of their continued activity, Moses and Pattison have released a profile of longstanding band Nuclear Death. According to Pattison, the material had been slated to be part of the first printing of Glorious Times, but for scheduling reasons was never part of that issue.
Instead, it's now available for free download thanks to the Glorious Times team wanting to update Facebook friends with a reward for their loyalty and continued attention to both Glorious Times and the underground.
This multi-page spread features a unique story by Lori Bravo of Nuclear Death, previously undiscovered pictures from the era, and the classic zine-style layout which made Glorious Times a hit with the oldschooler crowd as well as new generations looking for an alternative to corporate media.
Tags: alan moses, brian pattison, death metal, glorious times, lori bravo, nuclear death