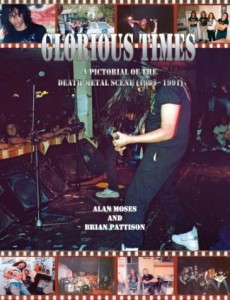 Some readers may have noticed the recent addition of a side bar promoting "Glorious Times – A Pictorial of the Death Metal scene (1981-1991)" and this inclusion is not without good reason. Laid out like the highly evolved Heavy Metal magazine we all wish we would see at the nearest news-stand, "Glorious Times" in true discriminatory fashion includes amongst its pages bands actually worth discovering and rediscovering, and although the layout is consciously rooted in the DIY mentality of early fanzines, this highly professional document provides a genuine glimpse into the workings of the early and mainly North American Death metal phenomenon.
Providing a visual assault via rare and intriguing photos that both neophyte and seasoned veteran alike will find delightful, "Glorious Times" also includes entertaining and enlightening anecdotes by and about many of the foundational North American death metal acts. Although some of the accounts are funny, juvenile and downright adolescent, they remain above all inspiring, standing as a testament to the devoted individuals who were dedicated to an art form that for them was the last bastion of truthful expression in the time of "The Great Lie".
Given the "glory" of the documented time era we read thus with a slight sense of melancholy and loss, the release of a text such as this proving that these times have passed. With some misgivings we witness within ourselves a nostalgic longing for the mutual respect that those participatory individuals had for one another by virtue of their commitment to a common goal. We marvel additionally at the perseverance and DIY mentality of these restless and visionary artists, and commend their youthful and innocent intensity. We look fondly upon the early exuberance and the inherent excitement that permeated a movement that was giving birth to new and truthful forms of expression, but above all we witness and thus long for a genuine spirit of brotherhood and camaraderie such that now seems lost, although not dead, on the Hessian community.
However, the potent power of a document such as this, its capacity to inspire, rally and excite may yet prove itself invaluable in infusing the Hessian community with the spirit with which it was once animated. The seeds are laid – Onward!
Written by TheWaters
Tags: alan moses, book, brian pattison, death metal, glorious times, zine