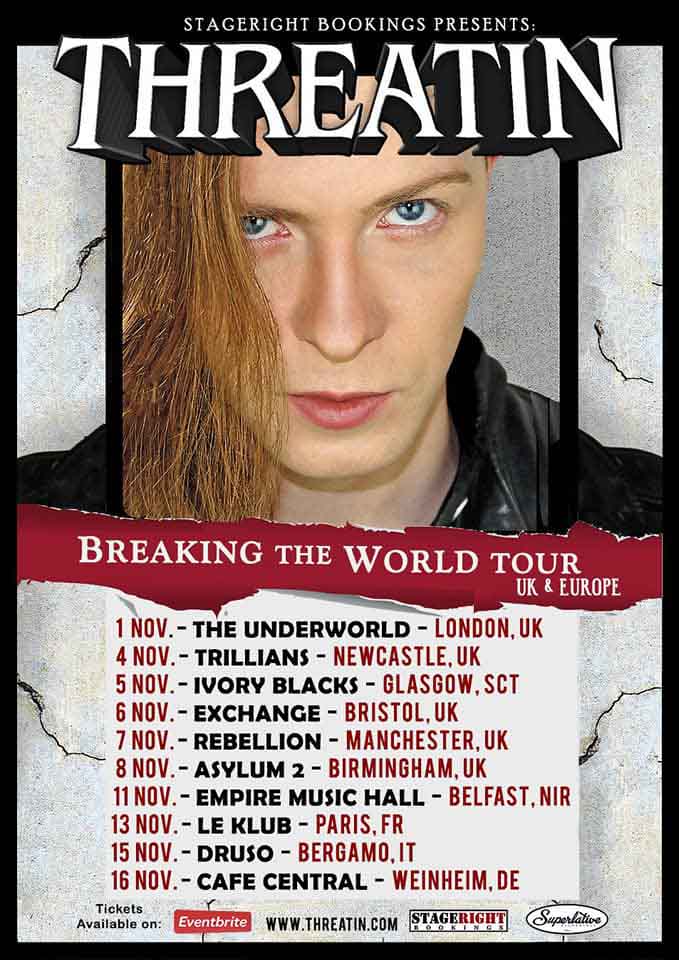 Jered Threatin's masterful illusion has become the biggest "metal" story of 2018. But while his stunning viral campaign has bewildered many, no one has really picked up on the bigger picture of exactly what Threatin was able to pull off.
Aside from successfully booking a European tour with no band, no music, and no fans, Threatin has exposed the hideous and uncomfortable truth about both the music industry and the decline of metal as a whole. He has proved what we at DMU have been writing about for a long time: that the quality of music has nothing to do with gaining the support of music industry executives and today's metal press. And worse, both the industry and the mainstream metal press are so desperate for a payout that they'll shamelessly elevate a ridiculous gimmick instead of pursing and developing talent. If you still have the foolish dreams of achieving success in guitar based music, or being a career musician, take heed to whats between the lines of the Threatin story.
While you've probably heard if you're following any of the major music blogs, Jered Threatin is a Photoshop wiz who created a band without members or even music. By buying Facebook likes, creating fake albums, and masterfully editing YouTube videos into showing them playing in front of a huge crowd, Threatin gave a number of foreign booking agents the pretense of having a real band with a real fan base. A European tour was booked, but promoters quickly discovered Threatin's "band" was completely unable to sell tickets or draw fans.
MetalSucks is obsessed with Threatin. Much like Trump has successfully trolled the liberal mainstream media and completely dominated over 90% of their press, Threatin has maddened the MetalSucks editors into a hysteria of obsession and outrage about his success. The tabloid blog has released over twenty articles about him in a one month period including the most read story on the site all year. Pitchfork, Rolling Stone, and others have since followed suit, and even BBC news has picked up the story in recent days.
Ultimately, the mainstream of metal's press has spent over a decade chasing gossip, flavor of the week political ideology, and dinosaur artists from the 70s 80s and 90s and completely abandoned everyone playing metal in the 2010s. You're more likely to read about the "birthday" of an album from thirty years ago then you are to read about anyone revilement today. Thus no band of this decade has been properly developed/pushed, and has thus never made it anywhere.
This is also how the music industry works as a whole. As illustrated many times in the past, record executives aren't willing to bet on guitar based music because it's a risky investment. Yet, they'll likely bet on Jered Threatin because he's a story and people are gullible. Think about the band Ghost Bath; they've signed on to Metal Blade Records solely based on a fake news Kim Kelly/Vice News story about them being form China (they're white bois from Minnesota). Despite being completely devoid of talent and favorable reviews, they've got an album on Metal Blade and have been touring the world.
In complete and brutal honesty, Jered Threatin is a master of P/R and record executives should salivate at the opportunity to add him to their ranks of suits. He'll have a great career in the music business if he chooses although the music business is likely to remain in decline as the world around us crumbles. Heck, may even get some cash behind him as a musician and get some songs/shows out before a small tribe of gullible normies. Just look at where a few dollars has gotten bands like Liturgy and Orgy.
So if you feel like "metal is dead" or "things are creatively stagnant," it's because of metal's "journalists" and their hopeless greed for money. Threatin proves that they'd rather promote a non-band than a good band and/or a hard working band. It's laughable and somewhat depressing.
Finally — and this is the most important lesson — don't try to be a career musician. You'll spend your life in poverty and disappointment. It's better to understand this now than to spend twenty years on the road just to see everyone give the spotlight to a gimmick like Jered Threatin.
Tags: fake, Jared Threatin, jered threatin, journalism, metal journalism, music business, music industry, Threatin