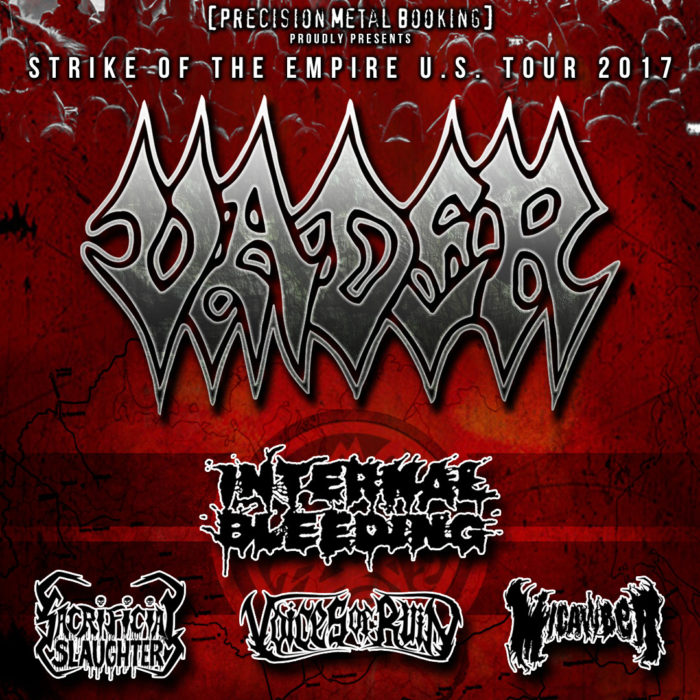 Vader are touring North America this year in support of their mediocre new release, The Empire. Hopefully Vader will play a good amount of material from their better, older releases such as The Ultimate Incantation and De Profundis. Tour dates and the press release are after the jump.
Polish death metal legends, VADER, has announced they will be invading The U.S. In May! The band will make an appearance at Maryland Death Fest on May 26th before meeting up with the package. The trek will stop in New Orleans, San Diego, and Chicago, before concluding at the Webster Hall in New York city on June 16th! Joining VADER on the 21-date tour are INTERNAL BLEEDING, SACRIFICIAL SLAUGHTER, VOICES OF RUIN, and MICAWBER! Following the tour, VADER will continue onto San Juan, Puerto Rico to play at La Respuesta on June 17th!

VADER 's Piotr states: "Vadermaniax !!!! Good news right after 2017 began: VADER strikes back to the USA again! We're gonna visit 23 places across the continent starting with famous Maryland Death Fest in May 26th, where we'll play a very special set. Dates and details are coming soon. We all can't wait to see You again! \m/ \m/"

VADER will be touring in support of their recent release, The Empire, that once again proved that their merciless riffs are made to unleash hell. Check out the track video for the song "Parabellum" on the Nuclear Blast YouTube channel!

ABOUT VADER
The longest living and most resilient tank of Poland's Death Metal fleet has once again hoisted its flag – ready to overrun the world with its new triumphant procession. They recently fired their first warning shot with their "Iron Times" EP, and now VADER are building their own all conquering empire with new studio album "The Empire".

The fire power of the polish legends has never ceased. Since 1983, founding member Piotr "Peter" Wiwczarek and his crew have clad the world with brutal blasts, pumping rhythms and heavy iron riffs. "The Empire" is no exception, this musical inferno made out of steel, burns with merciless intensity. Driven by aggression, VADER bring their typical dark tunes and morbid leads to the battlefield and once more underline their status as legends. But VADER also bring a lot of diversification; besides the record's thrashier moments, the tank rolls at a steady pace always looking forward – straight to the front without compromises and without mercy!

VADER were founded in the early eighties and can look back onto a unique march of success. Starting with demo "Necrolust" (1989), moving onto their debut album "The Ultimate Incantation" (1993), to the classics "De Profundis" (1995) and "Black To The Blind" (1997), the Polish Death Metal institution left its mark on the world's history books, and they haven't stopped since. Even over the course of the new millennium, VADER have left us some great works such as "Impressions In Blood" (2006) or "Tibi Et Igni" (2014). And when VADER start a live crusade, nothing can hold them back. Thus, the quartet have conquered entire landscapes and bombarded them with inescapable prowess in the worldwide blitzkriegs they have led over the course of their career.

Without doubt, "The Empire" falls under the category of VADER's classics. The impressive monument that they have built with their 13th studio album will immediately find its place in metal history. And it will also prove that VADER don't need to make their peace with the world; they never did, and they certainly don't now – especially after writing more than 30 years' worth of Death Metal history.
Confirmed tour dates thus far:
5/26/2017 Maryland Death Fest – Baltimore, MD*
5/27/2017 Ground Zero – Spartanburg, SC
5/28/2017 Brass Mug – Tampa, FL
5/29/2017 Masquerade – Atlanta, GA
5/30/2017 Siberia – New Orleans, LA
5/31/2017 Acadia – Houston, TX
6/01/2017 Curtain Club – Dallas, TX
6/03/2017 Blu Phoenix – Albuquerque, NM
6/04/2017 Club Red – Phoenix, AZ
6/05/2017 Malones – Santa Ana, CA
6/06/2017 Oakland Metro – Oakland, CA
6/07/2017 Brick By Brick – San Diego, CA
6/08/2017 Las Vegas Death Fest – Las Vegas, NV
6/09/2017 Metro – Salt Lake City, UT
6/10/2017 Bluebird Theatre – Denver, CO
6/11/2017 Riot Room – Kansas City, MO
6/13/2017 High Noon Saloon – Madison, WI
6/14/2017 Reggies – Chicago, IL
6/16/2017 Webster Music Hall – New York City, NY
6/17/2017 La Respuesta – San Juan, Puerto Rico *
* = Vader Only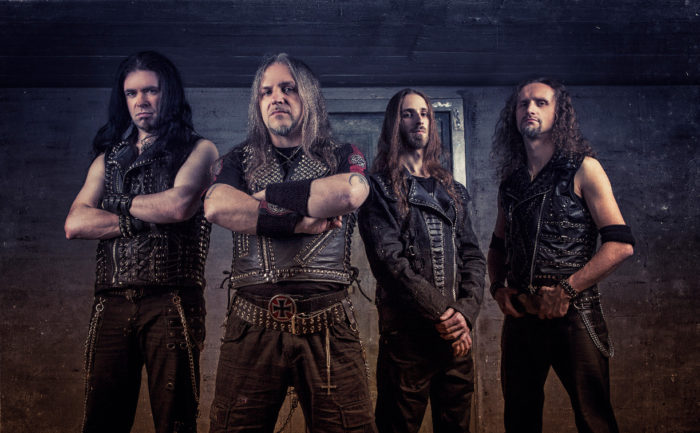 Tags: death metal, poland, Speed Metal, tour, tour dates, upcoming tours, US tour, vader