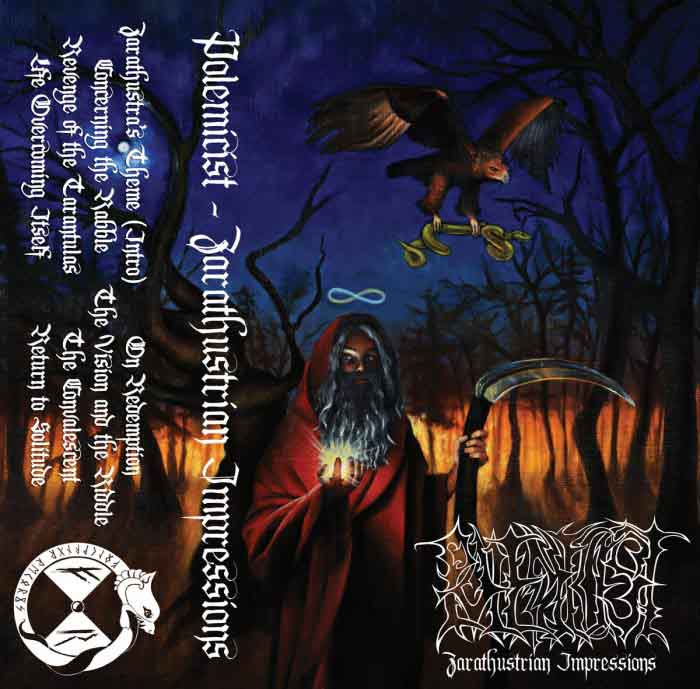 In the past, metal journalism used to function mainly as a filtering device; weeding out the bad so that the good stuff would rise to the top. Nowadays, it's more likely the other way around. We're now searching for potential in a seemingly endless flow of "interesting" or pleasant-sounding junk. This task often requires time and patience, because those rare and far between releases will often sound similar to their lesser peers on a surface level. One illuminating example would be the Pennsylvanian epic death/black metal act Polemicist and their debut album Zarathustrian Impressions. Their music may not appear spectacular on casual listen, but repeated and concentrated exposure reveal unexpected qualities.
While still a relatively new entity, Polemicist display a well-formed and disciplined style, drawing upon the musical vocabulary established by melodically-inclined, 1990s death and black metal. Rather than achieving (or succumbing to) an oil-on-water effect, Polemicist effectively integrates the technicality and structuralist approach of death metal with black metal's predisposition towards long,arching melodies and atmospherics. A more recent source of inspiration could be later-era Sorcier Des Glaces, but primarily in how guitar-leads are shaped and exploited at key points.
As far as technicalities goes, Zarathustrian Impressions doesn't stand out as particularly novel. Guitars take the helm, driven forward by blasting, somewhat sterile-sounding drums over which the vocalist dwells upon crucial passages from Nietzsche's Thus Spoke Zarathustra. Even though this reviewer lacks a deeper understanding of the literary work in question, there's no doubt that Polemicist's aim has been to shape the music in accordance with the philosophical implications of the lyrical concept. Thankfully, this is done in a tasteful manner and never becomes overbearing or obvious. The music effectively segues between passages of mournful, desolate, triumphant and
contemplative moods.
While there is much to praise in Polemicist's debut proposal, it's the songwriting together with the dual guitar work of Josiah Domico and Lydia Giordano that stands out as the band's strongest assets. The interplay between the murky, lower-end guitar and bright, lyrical leads is thoroughly exquisite and must count as the Polemicist's signature mark. Songs tend towards a narrative mode of presentation, without resorting to long-form compositions. Although the music can hardly be described as "catchy" in a conventional sense, it is definitely melody-driven. But instead of hooks, the band employ melody as an integrated compositional tool. Naturally, this approach isn't as immediately gratifying, but allows Polemicist to create subtle, yet resonatingly powerful material.
With Zarathustrian Impressions, Polemicist have created a work that stands strong against the bland and surface-obsessed tendencies of the current metal scene. For those who wish to support Polemicist's noble quest and find themselves within the vicinities of Philadelphia, be sure to catch the band at their official release show on August 31.
Tags: Black Metal, death metal, friedrich nietzsche, polemicist, zarathrustrian impressions