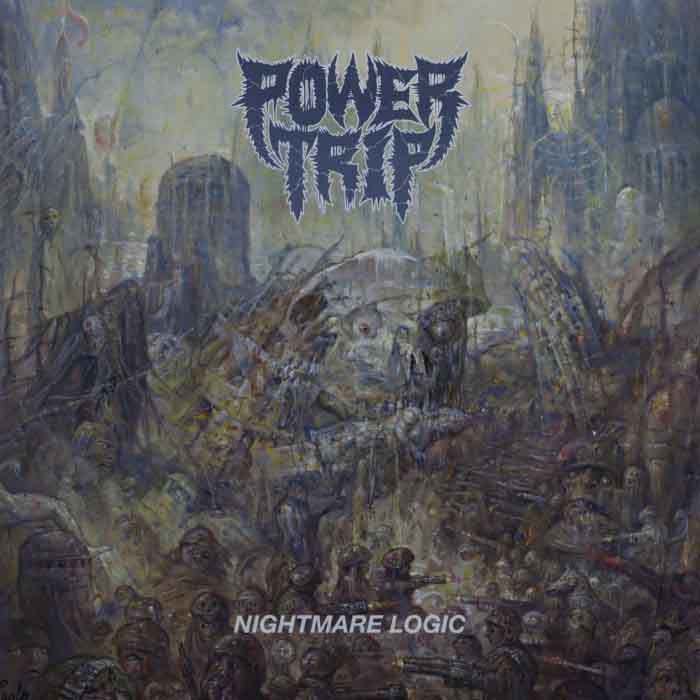 Every year we are treated to an endless amount of ridiculous lists.  It seems that any individual with the ability to express their opinions is obligated to share their Top 10 or top 20 metal releases that more often than not echo the same three websites.  The bands that enter such lists tend to come in two varieties: veterans rehashing the same ideas in a more streamlined fashion and those who trick their audience via the use of gimmicks and presenting a familiar product with slightly different aesthetics as the next big thing.  In these last two years, speed metal has conquered the number 1 spot of most of these lists.  Last year Vektor's Terminal Redux ruled the metal lists by far with it's melody derived from Voivod and the phrasings from Destruction's Eternal Devastation all held together in long sloppily composed epics… ultimately resulting in an above average album but a strong move for the funderground.  This year, Texans Power Trip succeed in winning the "funderground 2017 award" with their second album Nightmare Logic.  The Speed metal revival movement has finally found its idols to guide it's path of remaining in the past and offering the most faithful reproduction of late 80s speed/thrash.
Loud scooped guitars and single pedal drum dominate the aural soundscape with the bass rumbling mixed in with the guitars as the vocals glide over the whole sound distinct yet drenched in reverb.  Great care has been taken in making sure this sounds as old school as possible whilst strictly obeying modern listeners expectations.  Rhythm guitars sound genuine at first with that signature bass and treble heavy crunch yet the whole mix is absurdly compressed like any tech death record without the slightest sense of volume dynamics. A huge amount of bass has also been added giving this record a very groove metal sound.  The production demonstrates that either the band or the producer has a good understanding of the recording standards in metal by mixing what people perceive as being speed metal with a metalcore production.
Songs here all represent a duality of bay area rhythmic force coupled with hardcore punk.  None of these ideas are particularly strong since it is very easy to pinpoint the origin of each riff.  Bizarrely for a speed metal record this follows the approach idiotcore kings Lamb of God originally invented with their Pantera and Megadeth worship.  All songs start with a simplistic motif held together by pulsating cadenced single pedal drums and chugging guitar riffs.  An acceleration than occurs signalling the entrance of a groovy Exodus ripoff riff with the vocals accentuating the strong beats.  Eventually we get a chorus which consists of catchy shouts and one of the earlier chugging motifs breaks into either a breakdown that Exhorder rejected or a Dimebag Darrel bluesy solo.  Lyrics are deeply entrenched in the ranting style of hardcore and metal bands of the time. Rather than taking a nihilist or an absurdist vision they show the problems of the world through a very modern liberal lens proposing a solution through violence without proposing a counter-argument.
Concurrently, one of these melodies develop in any form and the songs only communicate through moshpit friendly rythms that are almost interchangeable into any order.  This is Lamb of God/Pantera through the crossover filter that plays less with syncopation and expectations and more with simple variations of a steady beat.  None of the real aggression found in Exhorder and Exodus is present here as there are very few tempo changes (all predictable in the style of Sodom).  There is no transfer of momentum from riff to riff to create tension, no dynamics in composition. Whilst Speed metal is not the music of seamless transitions like the death and black metal that came after it, it is the music where obvious point of interest are highlighted and other parts lead from powerful moments to other equally powerful moments through strong hooks, breakdowns, guitar solos or purely frantic riffs supported by skank beats.  Nightmare Logic is speed metal on surface only with its hardcore melodies, groove metal structure and third rate speed metal riffs.
We are living in an age where the funderground consumes a large amount of albums in a very short period of time and most releases never get more than one listen.  This means that nothing can be digested by these listeners and that inner complexity is undervalued since one cannot immerse themselves completely during the first listen.  Therefore for artists to have the slightest impression on listeners surface aesthetics need to be pushed forward.  Since rhythm is the first aspect of music that we respond to, a clean sounding rhythmically inclined album vaguely reminding us of something that we already know is an easy way to stay in people's memories.
Power Trip are set to be a financially capable band as tours with Deafheaven and Anthrax have showed.  They will undoubtedly continue in their ascension of playing bigger venues and making more cash but there is no reason to believe that they will try to improve as songwriters since nothing of value is found on Nightmare Logic. This is the time for all Hessians to revisit all their speed metal and crossover records as this retro movement is refusing to die out.  Do listen to early and mid period Destruction since there seem to be more and more clues that the whole scene will shift from plagiarizing the bay area scene to outright copy pasting the tablatures of Destruction and the more melodic Kreator riffs.
RESIST THE HYPE!!!
Tags: 2017, funderground, Hardcore, hipsters, power trip, Thrash