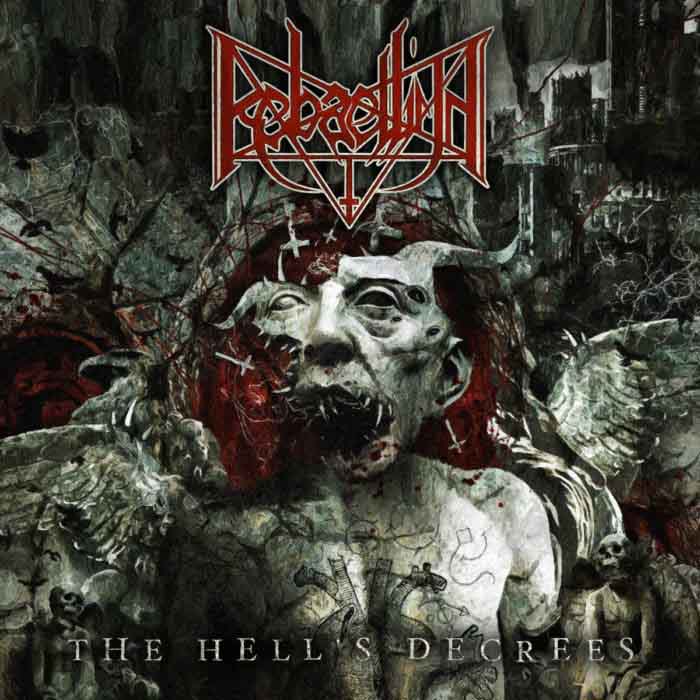 Article by Corey M.
While 1349 did not quite make good on their promise of delivering a battlefield soundtrack at blistering speeds, Rebaelliun have taken the reigns and driven their blazing chariot into a chaotic realm of vicious blasts and reckless shredding the likes of which many bands have intruded upon only to be cut down due to their inability to survive such an onslaught.
In the past, bands such as Aeon have presented some unworthy offerings at the altar of Deicide, but Rebaelliun diminish those halfhearted efforts even further by adapting their mentor's tactic of relentlessly aggressive songcraft while actually understanding intuitively their spirit of hatred and hostility. Using the individual musical elements of the band as gears in clockwork, the players rev up the horsepower until the cogs are spraying white-hot sparks.
The drum performance here stands out immediately, being absolutely maniacal. Incessant battering at an unholy tempo reduces the rhythm section to a grating blur, which sounds inhumanly clinical, bordering on anxiety-inducing. In a rock music format, this sort of sterility, mostly devoid of human idiosyncrasies, would be boring or annoying, but the mechanical approach reveals the foundation of Rebaelliun's philosophy; sinister efficiency, with ruthless inconsideration for the listener's preference.
If the Morse-code-like drum patterns provide a molecular basis for the rest of the music, the guitars are the proteins that fold and link together to emerge as functional organs that rapidly evolve into specialized prey-killing appendages. Claws, proboscis, compound eyes, carapace; these much more organic features are described by the melodies, which move unhindered between top-speed chromatic fusillades and ringing funereal passages. There are no gracious melodies; all evoke a sense of intense hostility, like a wounded predator cycling through fits of rage, bouts of carnage, then a brief moment to observe and revel in the resulting bloodbath before exploding into violence again.
Finally, the highest process of this murderous machine is represented by the vocals, which are thankfully not too guttural or digitally distorted and strike a measured balance between vitriol and clarity. This is the thought process of the demonic beast whose lower-level body functions and features are described by the drums and guitars, respectively. From the first song, the vocalist makes their mission evident:
Oppressing the oppressor, my unholy will is free
The wild is calling to start the savagery
Denial of rules, denial of order
Reject submission, nihilist for eternity
Rarely does a band take such a sincerely convincing approach to describing and magnifying total and uncompromising evil in both music and lyrics. The relentless, baleful tone is uncompromised by any kind of musical break that would relieve the pressure on the listener for even a moment. This may actually be a weakness of The Hell's Decrees, as many metal fans are accustomed to being bludgeoned in good sport but are also prepared to have some breathing room offered by a band. However this experience is not claustrophobic as there is plenty of variance in the song dynamics to keep the album from getting boring, but only the strong will survive this one, and even then they may not enjoy it.
Tags: Brazil, death metal, hammerheart records, Rebaelliun, review, The Hell's Decrees