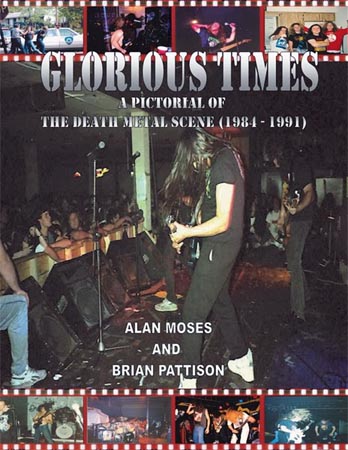 Alan Moses (Butterface zine) and Brian Pattison (Chainsaw Abortions zine) are the death metal zine editors who compiled Glorious Times: A Pictorial of the Death Metal Scene (1984-1991). They also promote the A Day of Death series of concerts and have been active in the death metal underground up through the present day.
Glorious Times: A Pictorial of the Death Metal Scene (1984-1991) covers the formative years of the death metal underground in the words of its participants and as a result, is not a slick product designed to hype the drama of the scene but an in-depth exploration for those who care to exert themselves to learn.
We are fortunate to get a few moments of their time and to hear how Alan and Brian got into metal, ended up starting their zines, and almost two decades later resurrected it all with Glorious Times: A Pictorial of the Death Metal Scene (1984-1991).
When did the idea hit you for this book, and when did you think, "this might actually work"? I understand that both of you published paper zines, and that you Alan worked for Morbid Angel (gods among men) and that you Brian had a radio show and promoted live shows, including the infamous A Day of Death. Would you have undertaken this book without that background?
Brian: The idea came about in an off the cuff remark Alan made in an email to me in May or June of 2009. He mentioned having a photo album on his coffee table with old pics he had in a collection. I like that idea, then just thought it would be cool to have something like that in actual book form. In later discussions we agreed it would be even cooler to have stories from friends (the bands and 'zines of the era) to go with the pics. I would say by possibly early Sept of 2009 we thought the book might sell some. We had begun getting emails from bands we didn't contact ourselves and other people who had heard what we were doing and wanted a copy for themselves – originally we intended to print two copies, one for Alan and one for me and that was to be it. it's hard to know if we would have done this without having the backgrounds we do. it would have been a lot tougher for sure. doing what we did back then made people remember us so it was easy to get stories from Chris Reifert, Kam Lee, Henry Veggian, etc.
Alan: I was probably a world more skeptical than Brian about it. After all it was an off the cuff statement I'd made in an email to him, a single email among I don't know how many others. I forgot about the subject, but Brian went away and mulled it over for a while. He doesn't just step into things blindly so he'd been thinking of all the hypotheticals before he came back to me with his thoughts of actually making a physical book, beyond just 2 overpriced copies via an online publisher, which was the original idea.
My mindset was way more cemented to the ideas about digitizing our combined audio tape and video collections, than any book concept, at first that is. When he came back to me with "oh I have been thinking about…." and went into details, I remember thinking "holy f%!k the guy's gone nuts" haha but the more he argued the case (so to speak) the more I warmed to it.
It's hard to say whether those things from our pasts played any part in it or not, I don't know how much background the creators of any other books had in this music – so I have no idea what their drives are. In the past I've often been asking about doing a book of some kind – but laughed it off, or even if I may have entertained the idea for a couple minutes at best, my life was not the sort to support any such endeavour until recently.
Maybe our collective contacts proved helpful in doing this, but then again many old friends have ignored or turned down the chance to be a part of GT as well, and some times it seems to me that an unknown newbie off the street has better success these days of reaching OUR old cronies than we do, especially if they have tits and whorish looking myspace profile photos haha.
What advantages does a cut-and-paste or photocopied zine have over its electronic counterparts? What disadvantages? Are paper zines still relevant in the same way, now that we have blogs and mp3 trading to make life easier?
Brian: A big advantage is price. Making a 'zine the old way you didn't have to print thousands; you could just run off a few copies and assemble them yourself, sometimes as needed. Biggest disadvantage to me would be all your pics would be in the lack of color for cheaper copying. Paper 'zines could still be relevant if people bought them. The paper 'zines of our day were often put out by people who became fans of their local scene first, so those 'zines were great ways to find out about bands that didn't get national exposure.
Alan: Well, for a start, paper zines can be brought to the shit-house, so for most men, that's the place they get to read in peace anyways hehe – if they have a family anyway.
They can be brought back out at leisure, wherever, and don't dictate the need for all this extra technology or internet connections to read – especially in countries that have the system dictating how much bandwidth you can have and at what speeds you can use it, such as Australia and other third-world-internet-countries.
In many ways the print zine might be making a comeback, or seems to me to be making one, as people are beginning to leave the textureless internet and return to a more biological physical based enjoyment of all the trappings that come with this music. On the other hand though, as many print zines as I see flyers and adverts for – how many do they sell? Is it the same concept as when we made them, the concept being that we didn't even care about sales, it was a labor of love and devotion.
The disadvantages of printing and postage costs and garnering physical mailing addresses as opposed to email are the main issues I guess, whereas today anyone can be a blogger and start a webzine or start trading mp3 with little to no background in this music. Contacts were hard to come by back in the day, and it was an investment to buy cassettes and establish a good stable of quality traders – it was based on hard work and faith, and that was evident from the list you had to offer trades from.
The bottom line is though that for the most part, only glossy magazines get the business and they cater to the borderline or fully blown corporate bands and their fans, that's where the money is. That type of fan would snub their nose at a photocopied zine without a doubt – they only know glossy music and images, so there's not much to be done on that front but leave them to it. To transcend the money issues on an underground level, ofcourse digital means greater speed and coverage – but we are sacrificing an entire facet of the experience in so doing.
Do you think mp3 trading is superior to tape trading? Does it help people find music, overwhelm them with too many options, or both?
Brian: HELL NO, mp3 trading is not superior to tape trading! For one thing you're dealing in crap files, anyone who truly loves music would not listened to their stuff in a crapped down format like mp3. Tape trading was great, you'd get the stuff you requested and then usually a little bonus material as tape filler. In '89 that bonus stuff could have been short demos (like Immolation's '89 demo) or live stuff or rehearsals of new bands like Mortician and Incantation who didn't have demos. With mp3 downloads you just get the tracks you're looking for. MP3 trading may make it faster to get stuff, but it has help destroy the scene. The personal touch and friendships that were made through tape trading just don't exist in mp3 trading.
Alan: No, I don't think it's superior per se, not for the most part.
The exclusiveness is totally gone now. Grandma can plug her dentures into any USB port and now obtain live audio which was reserved on trader lists as "not for trade" like the old Genocide recordings (pre-Repulsion) were and is instantly metamorphosed into an old school Genocide fan. Now that exclusiveness has been sacrificed, yes, it certainly does immeasurably help people find bands they really like, whatever the style is. I wouldn't have found totally kick ass bands like Punch or Question otherwise (both amazing hardcore punk bands) – stumbling into a blog lead me to "try" them out, like you would that unknown band on a trader list, or put on a trade at the end to fill the blank tape and see if the recipient liked it or not – that's the same concept, so it does works.
It's only when they start mass messaging you to "vote" for them to become the next reality-concepted band and "win" a Myspace or whatever label contract that it gets abnormal. Conversely – from a corporate mentality you want to market what the plebs want to hear, so you want that newest Kelly Clarkson or Mr. Hanky band brought to the table, by the very plebs you want to fleece with it anyways.
Then we get to the whole push-pull thing, and face the issues of whole albums being ripped and copyright and the rest of it.
It has the capacity for both effects though, no matter what, and the serious adventurer into this music better be prepared by wearing a shit proof suit – because they are going to swim in shit before they find the gems.
What kind of audience does old school death metal and Glorious Times have, and how many of them are carryovers from the original days?
Brian: Old school death metal seems to be regaining favor, thankfully. As a guesstimate I would say roughly 1/3 of the people who bought our first printing were people from the old days. Our sales pretty much ran the full spectrum of fans, we sold to a few in their early teens and a few that were over 50 yrs old.
Alan: We have people from our era and younger, although the younger are far less represented. Mainly, we gather, because we haven't had any corporate mechanism behind us to promote things – only the really attentive youngsters caught on so far, because we are out of their more cashcow oriented world at this time. Unless you really use myspace ALOT or saw a quick blurb at Blabbermouth one time, we would have missed GT pretty much, that's because we had no money to promote and people are guarded about what they throw their money at.
If we had Shane Embury 'endorse' the book, haha, we would have been picked up by most of the publishers of metal oriented books probably before the thing was even out of the draft stage haha.
Musically speaking, there's so much more folks drifting back to the old bands and the old feel of things, since they've got a bit wise to the genericisms of the music today. Don't get me wrong, some of the bands coming out with stuff these days are phenomenal (cough Malignant Tumour cough Master cough) – but we see letters every single day from a vast array of age ranges wanting a return to the Glorious Times, and there is an undercurrent of feeling disatisfied with what the state of affairs has become.
No matter what, death metal fans have always been really die hard. I think most people realize that there's more dedication in general, compared to other music styles. Hardcore and the derivatives is the same ofcourse. They might have dropped out of sight due to life's circumstances, or come back and become more active, and the old classics are still classics to them. Some may continue to venture forth to try to find good bands from the newer generation, which is what Brian and I do (although we are both as into hardcore as well as other extreme music, not just death). But we are not so sure the new young bloods adopt a similar philosophy because the whole shebang is different for them. They have ease of access but the exclusiveness is tainted by their having been spoiled by the technology.
We rest well, in the knowledge that so many old hands at this have stated publicly that GT is something no true death metal fan should be without, and so far only the hardest core have it. We have yet to be able to change that, and give other people, with as keen an interest, a chance to check it out. Most of GT's appreciation base understands the importance of hearing the individual memories from the very people who lived them rather from a stale 3rd party who either wasn't really active back then, or was simply too young or not even born. I am the sort of person that would rather read an autobiography than a biography, and GT fans respond to the concept really well, they are whom we made this book more available for anyways. Nobody else.
What's the difference between then and now in terms of what fans expect, how bands act, and what people expect from the music?
Brian: Most fans today expect everything for free. They won't spend $3 to buy a band's demo because someone else will and that person will upload it to a blog. Bands act differently, some just stay backstage and don't mingle with the fans forgetting that they are nothing without the fans and that they too were once just fans. Some bands don't though, Alex Webster (Cannibal Corpse) still goes out and mingles with the crowd and will talk to anyone. Nowadays with the rise of digital recording people expect every recording to be of great quality, which is a shame. There's some special about getting a rehearsal tape or poorly recorded demo, you know the band is in it for the music/for the fans, not to try to get signed and make money.
Alan: I can think of a few major household names today, from the old days, whom have made a 360 degree turn around from their former mindsets, and have totally turned their backs on their old fan bases, in favour of the adorations of a generation raised on rock star worship again – like the thing got killed by the underground and has been brought back in some sort of grandiose version of itself. Similarly, others from the same fold are still as grass roots as ever in their mindset and haven't been poisioned. Then there's some that are just as indifferent to their fans as they were then, and have atleast remained consistent on that level.
The fans I think, have made a major political shift – because the bands are more accessible to them, yet the rock star worship has been elevated – you'd think that would be the other way around? It wasn't like that before, there was more of an even playing ground between a band and the fans usually.
I guess that is a symptomology of having years and years of success that eventually there is another generation born that sees things with a different set of eyes, with different value systems. Entertainment-wise anyways.
Do you have any insight as to the relative importance of fanzines in different parts of the world, if any? Who were/are your favorite foreign correspondences?
Brian: Fanzines back in the day were hugely important. those were the early years of death metal so it didn't get coverage in the glossy music mags. If you wanted to read an interview with Immolation, Prime Evil, Insanity, Nokturnel, etc you had to find it in a 'zine. You didn't just want 'zines from your area or your country either, you wanted them from all over so you can discover new bands, remember it was before the internet and myspace so to discover a band like Death Courier from Greece you had to either read about them in a 'zine or happen to get a flyer of them from a tape trader. now of course my favorite correspondence is Alan, back then it was probably Walter Garau (Ass Ache) from Italy.
Alan: Certain zines were vitally important. Blackthorn from Denmark, Uniforce, Total Thrash etc from the USA, Decibels Of Death and Ultimate Speedcore Dislocation from France, and the legions of zines from South America were vital in exposing bands from everywhere yet still had enough from their own countries to be interesting – well there were an abundance of interesting bands though back then too. I had penpals in so many countries and it was always magnificent to hear from them all, I used to hear from most of the editors from the zines above, and traded with a number of them directly – and they are just the tip of the iceberg. My favourite correspondences would have been Lars Sorbekk (Vomit (Norway)) and Trey back then, but that's a bit unfair because I truly reveled in hearing from EVERYONE. It's the same today really, but Brian is the doss because we are doing so much together there's usually something exciting or frustrating or whatever every single day.
Did you expect the exposure to bands you received when starting your respective zines?
Brian: When I started my 'zine I just wanted to expose local bands to people elsewhere and have something of my own to put out to give me access to bands from other areas to interview and to expose to my locality. In the end my 'zine did much more than that for me, it created life long friendships.
Alan: Yes I did, because most of the contacts were already made well before I started Buttface. Things were really taking off in 89 and 90 but by 1990 everything was put on hold because I relocated to the US and Buttface was never kept alive either there or in Australia by my co-editor Stuart Maitland. It's been funny explaining to 3 kids why people still call their Dad 'Buttface' haha
You're planning on mailing a live CD with bands playing the A Day of Death festival to people who pre-ordered the book. Can you tell us more about this CD, what it sounds like, and what these performances will reveal to those who hear them now, especially fans who weren't there for the original underground?
Brian: We had several ideas for CD companions to the first pressing of the book, all of which fell through because we were never able to get material from the bands. we did the A Day of Death download to go with the blog, not every band from the show, but a solid five. We were provided DVDs that John Verica recorded that day, since he only recorded some bands that's all we had to work with. If we had every band it would have made one hell of a CD. Fans who weren't there could have expected to hear bands that became legends playing in their infancy.
In other interviews, you've mentioned the negative presence of corporate labels, of glossy magazines and hype machines — in short, the nasty end of consumerism as it turns music into a product. Do you think it's harder for bands to be authentic, sincere or legitimate when they go corporate? With people raised on corporate rock and slick radio pop, is there an "awakening" process as they leave behind that world? Do you think corporations will simply buy out the anti-corporate movements and make them "niche" markets?
Brian: The big labels have always done that. They find a fad, latch onto it then just kill it. In their view if one Entombed is great then 30 is even better. If one band makes it big after using Scott Burns as a producer then every band starts using him. It all became a big machine, bands getting signed that should not have been. Lots of cheese being passed off as the latest greatest when they were just shabby clones of the original. Some people are just sheep and don't want to be awakened to what is out there; they're perfectly happy being told what they should like. It's hard for some bands to stay sincere after signing with a big corporate label because of a few things…they feel the pressure to sell more, they start writing stuff in studio instead of in rehearsals, they have people (A&R guys) to answer too, etc.
Alan: Definitely, if they were sincere at all to begin with, which really 99.9% of the founding fathers WERE. There's definately an awakening process to be had, if the person has the right mental dexterity to unlock it though, alot of people simply don't possess it and have to be told what to listen to or how to think on every single issue, it's the nature of the sheep that must be herded. There's a small percentage that slip through the gaps and they tend to crave more direct expression and more enthusiastic music – like extreme metal or punk. While I don't think corporations could buy what the youngin's call "d-beat" now days and have grandma shopping in a Besthoven shirt like she does a Slipknot or Morbid Angel shirt today – anything is possible, and with the correct conditioning and the appropraite funding they could possibly do it – let's face it – they can convince people to buy and eat a s%!t sandwhich if they put their minds to it.
One of the topics bands seemed to mention in the book, but only directly, was the rarity of these glorious days you describe. After all, death metal was then like a young child growing up, and now it's a well-known and accepted adult, so it can never be "re-discovered" in the rise from obscurity like it once was. Were those glorious days singular and limited to that time, or will they happen again?
Brian: You can get something similar to those days, but it can never be the exact same. It can never revert to being as fresh and uncontaminated as it was. It was a singularity: 1984 was the big bang with the next few years of dramatic growth being the formation of the heavier elements and then the years up to 1991 would be the planets forming and so on. Late 1991 and into 1992 would be the birth of man and as he did with the planet man ruined a good thing.
Alan: There's no returning, and that's not what we call for either. We'd simply like to see a recognition of the era, no different than all the weenies running about and calling this "classic rock" today. Personally I am gun shy of all the bands that the glossies really push and have been anyways – they spat at Morbid Angel back in the early days, but now stop short of getting on their knees infront of Trey's pants. Makes me sick.
Alan, you talk about leaving the mainstream as a gradual process, like a seduction. What is it like to live with a mainstream consciousness, and how does your outlook on the world change when you go underground? Is mainstream music different in consciousness, spirit or idea, and is that what makes it "sound" different and have different effects on us than underground metal?
Alan: I don't think mainstream music as such is the same since it's created with an alien mindset to begin with. Music created by a bunch of kids today – or 30 somethings even – that is written with, how do they state it in their bios? "looking for a recording contract and world wide touring support" – that is laughable. What's worse is that the label's consciousness has infected them into thinking they are even remotely good enough to create such music. It's feeling, and you have to wade through alot of junk to get anything of substance. The process of leaving the mainstream is usually gradual I think, or else it's jumping on another band wagon. As much as "sound" is importan t I think it's feeling that's as important – music of any kind without feeling is piece work, and shallow and therefore mainstream.
Is death metal music different in consciousness/spirit/idea, so that when different people hit on that same idea, they make music that sounds similar, even if they haven't heard each other? Did that happen in the underground (parallel evolution)? Do you think people have to be ready for metal before they find metal, or vice-versa?
Alan: There was definitely evolution and hybriding – out of respect and pure influence, like the infamous Scot Carlson bass on Shane or the Kam Lee wipeout on Barn to name 2 influences. It was pure though and not a contrived means to cash in, like viewing a cupped vocalist in a photo today and knowing that 99.9% of it will be Suffocation's 2nd generation music, clone based upon a band's success 20 years after they made a ripple in the waters. They definitely need to be craving something on a deeper unconscious level I think – much of what we enjoy appeals to the baser instincts, and those lay in the Id. On the other hand so many of the bands, whilst being into whomever they were really into, still evolved to their own standards and were not clones at all. So there was evolution but being paralleled can be argued I guess. Perhaps we can say no to that statement since nothing is equal or the same in nature, evolution embraces difference not similarity and clones are not evolved, they are premeditatedly produced.
You're planning to re-release Glorious Times in a wider fashion. When's this going to happen, and are we going to see it in bookstores across the world? Why did you decide to release it in a limited fashion first?
Brian: We don't have a set date yet. I'm getting a new publishing program and we're redoing every layout, changing some pics, adding some bands to improve the book. We'd love to see it in book stores, but given it will still be just 2 guys doing it that's not likely. We will print more this time so people will find it at places like Century Media and other metal distros. The first pressing was so limited because it had to be. We had $0 starting balance and to get it printed at all we had to take pre-print orders and the money from those orders paid for us to print books for those orders. So, we had roughly 150 pre-print orders and that gave us the funds to print 153 books. This time it will be much different, no pre-print ordering, wewon't make the books available for sale until we have them. Now we just have to raise the cash to reprint it.
Alan: Brian has hit this on the head and there's little I can say to complement it other than indeed, it was limited out of sheer having to be since we had no money and we were turned down by every single publisher. Period. We've heard every rejection reason in the book now. We owe everything to our contributors and supporters – without them, there would have been 2 books nobody saw but me and Brian. I personally do not forsee any reprint in the near future.
I remember this being something talked about a lot: how musically literate were the early bands?
Alan: Most bands were self taught. That's a fact. Self taught and on a learning mission. They pulled it off though, you can have some kid sent through private music school for 10 years and grows his hair out, buys a trendy t-shirt from Hot Topic and they still produce garbage.
Brian, A day of Death was in my view the ideal death metal concert; how did you get up the gumption to organize it, and death with the business side of things, and get the bands to agree? Do people ever contact you who were there?
Brian: First I have to say, my old friend from those days almost always gets overlooked for this and he should definitely get his credit – Joe Pristach (Mosh Central 'zine). It didn't take much gumption at all, remember at that time most of those bands were still just demo bands. The idea Joe and I had was just to get a show of out of town bands that we wanted to see and that we were for the most part friends with. I didn't deal with the business end, the club did that. Joe and I just handled the promotions side of it. Getting the bands to agree was no problem at all, any band of the day would have killed to play with Autopsy on the east coast. I don't get people contacting me out of the blue about that, but once they find out I did Chainsaw Abortions 'zine and hand a hand in the show they ask a few questions or make a few comments.
One of the big fears I have, as a death metal freak, is that the record of our glorious times will perish. CDs are going out of print, and memorabilia and documents fade and disappear into attics or worse, dumpsters. Is there any way to keep the spirit alive?
Brian: The old spirit is still alive, it's just on a much smaller scale. bands like Fondlecorpse, Swamp, Druid Lord and some others still do things in the old school ways. There are still a few 'zines that do things like the old days – Deathrasher 'zine as one example. It would be great if there was a sort of museum or storage facility where people could send their pics and flyers and memorabilia that they no longer wanted, that way it would be preserved for future generations – people could donate or lend materials to it (a sort of death metal smithsonian) then everything document could be scanned to a high resolution and saved to multiple discs, then as if it also acted as a library people could do research there or ask about things in the catalog.
Alan: Brian has hit this too – and all I can say is GT stands amongst the real few striving for rememberance the way we feel it should be, not just a few pages in a magazine as a result of us doing the book.
Brian, you say you haven't heard any bands that grab you the way those 1980s bands did — is that because they have a different consciousness/spirit/idea? What about the late 1980s and early 1990s made that consciousness or idea so clear for these bands? Was it something random, or were they responding to the time around them? Do you think this spirit will rise again?
Brian: What made those times special was the music was new. Each area, each band providing a new take on extreme music. The 1st and 2nd generation death metal bands had different influences than the bands of today. todays bands are influenced by death metal, but of course the original bands weren't influenced by that because it didn't exist before them. I don't know if i'd say it was clear for the bands of the late 1980's and early 1990's, they just all wanted to go heavier or faster or slower than their idols.
The spirit is still there; it's the scene that's gone. The internet has made some things easier and perhaps better, but it has also done a lot of damage. Almost all of the personal relationships that happened back in the day don't happen now. Kids today will visit a myspace page and download songs so they don't get to build relationships with bands like we did way back before the internet. I still have letters from bands from back then, will kids today save their emails and myspace messages to look back upon in 20 years — I don't think so.
Do I think things will become as great as they were? With all honesty, I would say no. Is it possible, sure, but it requires a lot. The bigger bands have to stop doing 4 and 5 band package tours and go back to doing 1 and 2 band tours, leaving room for local openers at every show. Bands have to stop making their stuff available for download for free and either just release CDs or charge for the download (made available in flac and empty3), they have to wean fans off of expecting free stuff.
The free stuff should be a bonus, not a given. People have to start realizing that supporting a band doesn't mean just friending them on myspace or hitting the "like" button on facebook, you need to buy their demos, shirts and other merch, you need to go and support your local scene, not just when the nationals come through.
1 Comment
Tags: a day of death, alan moses, book, brian pattison, death metal, glorious times, zine