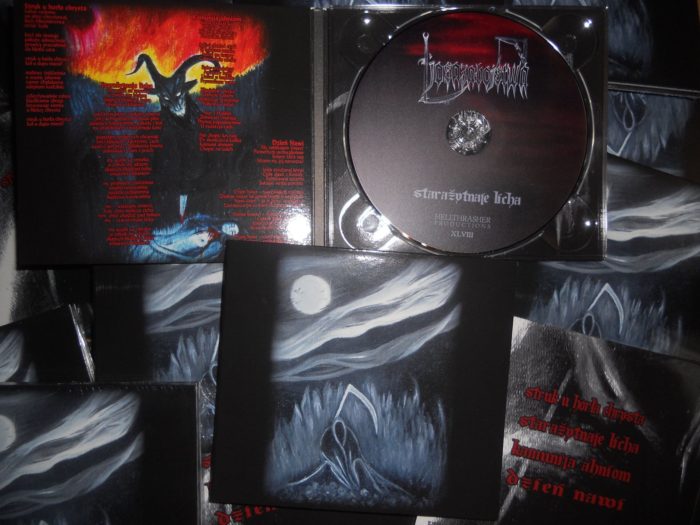 Belarussian Ljosazabojstwa's Staražytnaje licha has finally been released on CD.
6 Comments
Tags: Black Metal, death metal, hellthrasher productions, Ljosazabojstwa, mystifier, news, reissue, Staražytnaje licha, War Metal
Death metal tends to get described in terms of its influences among the classic bands, and in the case of Abysme it makes sense to mention Entombed, Autopsy and Dismember when describing the style that cloaks the music of this band. Using the brawny Swedish distortion at full intensity, Abysme creating brooding prowl riffs like Autopsy and put their songs together much in that vein by carefully leading up to a moment of unleashing the riff that defines each song, but that riff quickly mutates into a style of melody like Dismember with the boxy but expressive riffing of early Entombed.
This is a Left Hand Path vision of Entombed, not anything later, and most closely corresponds — in its seeking of obscure moods and labyrinthine, backdoor entrances to the major themes of each song — to the songwriting template of Autopsy, but also has its own voice which is more gearing toward a deepening of moods within a dark mantle. The atmosphere of morbid despair generating an impulse to destroy becomes an assumption and within that framework, Abysme create different moods that transition from relatively understandable basic gut-level instincts to submerged existential questioning. Riffs achieve a voice of their own with a protean tendency to twist on themselves and emerge as a new form which evokes but does not echo the old, solving the mathematical symmetry problem that so many death metal bands find themselves becalmed in. Abysme like to vary between doom-heavy slower riffs that use single chords to hold space and the more phrasal riffs of classic death metal, frequently transitioning into single-note picked riffs to shadow and overlay major themes. As a result, from within a familiar style emerges a new voice.
Sometimes the vocals are overdone and sound more like a guy shouting himself hoarse at a biker rally than a musical instrument but for the most part they provide solid rhythmic backing to the change in guitar riff which is only loosely contexted by percussion, which alternates between doom-death quasi-groove to full-on blasting in rapid succession, managing to avoid leading the change within arrangements while still foreshadowing it and following it closely, like a covert sniper tracking a target among the artificial hills and valleys of an abandoned city. While some riffs originate in extremely basic chord progressions, the theme expands over time and develops into an entity of its own. Abysme create music on their own terms in tribute to the past and show an ability to understand death metal as the unusual but articulate beast that it is.
Download Abysme's 2009 demo here.
3 Comments