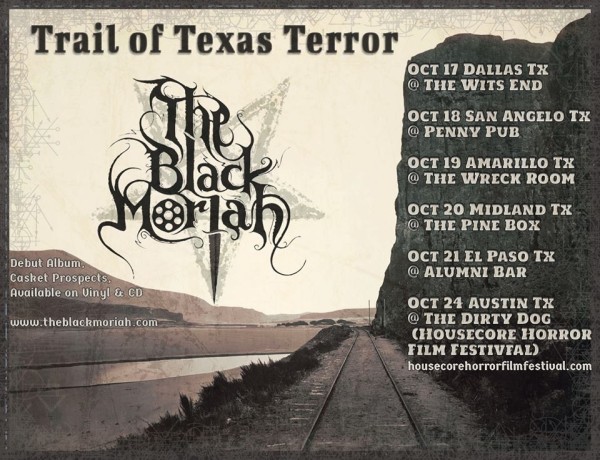 Following the Housecore Horror Film Festival, speed metal/math metal band The Black Moriah will embark on a short tour of Texas to showcase its most recent album, Casket Prospects. Formed by a former Absu member and experienced metal musicians, The Black Moriah attempts to bridge classic and modern metal.
Casket Prospects shows the band integrating the indie-metal styles in black and death metal with classic metal hooks. Droning dissonant riffs compete for space with speed metal riffs, heavy metal choruses, and complex conjurations of song structure underneath the modern metal "surge style" vocals.
While the alternative metal stylings may not appeal to the average Absu fan, the technicality and frenetic intensity of this release may satisfy in its stead. The "Trail of Texas Terror" tour shows the band reaching out to a new fanbase more on the alternative/indie side while attempting to keep its core fanbase in more traditional metal.
The Black Moriah – Trail of Texas Terror tour 2013
October 17
Dallas, TX
The Wits End
October 18
San Angelo, TX
Penny Pub
October 19
Amarillo, TX
The Wreck Room
October 20
El Paso, TX
Alumni Bar
October 24
Austin, TX
The Dirty Dog
Housecore Horror Film Festival
4 Comments
Tags: alternative metal, indie metal, modern metal, texas metal, the black moriah