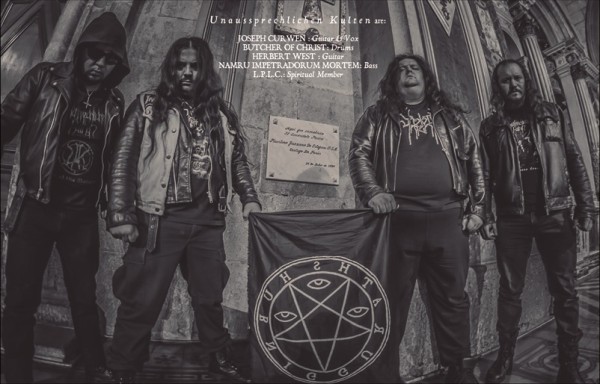 We recently reviewed Unaussprechlichen Kulten Baphomet Pan Shub-Niggurath, a death metal album that knits together old school and newer styles of the underground metal art. We were lucky to get a few moments with Joseph Curwen, guitarist and composer, to explain the intricate secrets behind this dark cult act.
Do you identify with the "old school spirit" in the metal underground? If so, what is it and how does it emerge in your music?
Not really. "Old School" sounds like a "nostalgic trend" of "clone bands." For us the Death Metal way is one style. It may have variants like brutal, old style or mixtures with other styles. But if the bands begin to clone all — the style, sound and even the graphics and pics — this really… sucks. Poorly made copies are not necessary! The "Sunlight" or "Tampa Florida" styles are wonderful and are always "inspiring," I know it's difficult to innovate in a "strict" style and with so many old bands as reference … but if a band does not have in its purpose something new, creative, original… anything in particular that distinguishes… why make that band?
The name "Unaussprechlichen Kulten" or "nameless cults" comes from the Cthulhu mythos, as do many of your song titles. How important is Lovecraft's work to your art, and to metal in general? What other occult/romantic/fantasy writers influence you?
You are right about our name. Lovecraft's literary legacy is rich in terminology and knowledge, therefore allows us to explain with his words the religious or spiritual concepts that otherwise we would be forced to use "Christian" or "common" terms so they can be understood. Lovecraft always publicly declared himself to be an atheist, but his erudition in the occult was something more than an amateur.
Therefore we are not only focused on the work of Lovecraft. We also include other topics, including Chilean mythology. The Necromancy is not unique to any particular culture, so what we do is explore in different subjects, always mystical and dark, but with the work of Lovecraft as a reference. Other interesting writers are Robert Bloch and Robert E. Howard, classics occultist like Blavatsky and Eliphas Levi, even contemporary Chilean writers as Oreste Plath and M. Serrano and others
Metal has always been influenced by the literature of Terror, and Lovecraft is the horror writer who made the most important revolution in the genre. He will always be a benchmark in the lyrics of Metal bands.
Baphomet Pan Shub-Niggurath sounds like it takes influence from both newer and older raditions in underground metal. What are your influences? Which of these did you find most useful in creating this album?
A lot of influences, you know mainly 80-90. Classic Swedish and American death Mmetal. Some from South American or Scandinavian… older? …mmm INCANTATION, NECRODEATH, GORGUTS, SHUB NIGGURATH, IMMOLATION, NECRODEATH, PENTAGRAM, MORBID ANGEL (old), MORTA SKULD, DISMEMBER, the mighty SADISTIC INTENT, DEMIGOD (old), MORTEM, and of course SLAYER, MERCYFUL FATE, SACRIFICE….. Newer? Throneum, Karnarium, Deathspell Omega, Godless, After Death, Dead Congregation, Hatespawn, Katharsis among many others.
In the early 1990s, there were few bands and not that many fans. Now there are more of both, and metal is accepted as normal in the mainstream press. How has this changed what it is to be a metal band? How has it not changed how it is to be a metal band?
Good question. It's been over 20 years and society (worldwide) changed. We live in the information age; in the early 90s without internet, the bands depended on the promotion and diffusion that could be done through the "official" and monopolized media (radio, tv, zines Poser, label's flyers, etc). Now every band can do their own promotion, also in these 20 years there was a "democratization" of recording technologies now make it possible to make music in a "Home Studio" way. More music available and easier to access it produces "the moment" in which we live.
This album embraces a dark and occult way of putting riffs in order and making songs of them. How do you know which riffs fit with each other? And how do you compose a song — do you start with a melody, a riff, an idea, an image?
From "People of the Monolith" onward our approach has always been the same way — to do riffs. I bring the riffs, arrangements and dis-harmonies of both guitars (I come with everything done and ready in accordance to what lyrics need like faster, slower or thicker parts, strange arrangements, etc.). It's personal, a kind of trance. I only think in the "concept" and the lyrics, while I do an old trick: I move my fingers over the guitar until I'm no longer playing at random, but there is a "pattern" becoming a "riff." Once I show the guitars to Butcher, drumming is 100% his responsibility. Then we adjust the structure and cuts together in the rehearsal room. When that base is settled, we incorporate the bass (based on drums). I used to do the bass but in this last record, NAMRU IMPETRADORUM MORTEM was integrated into the creative process of basses, all of them were 100% invented by him in Chapter VIII.
How did Unaussprechlichen Kulten form? Did you know each other from previous bands? Did you have a stated goal in coming together and forming the band?
In the beginning we was just two members, with no previous bands, the first name was "SPAWN." With that name we just recorded 5 tracks of traditional Death Metal (never edited!). During that period of time I always felt unsettled about the name of the band so I decided to change it for a name in Spanish: "Culto Innombrable" was the one that came into my mind, it was a good name, we even made a logo. At that time I realize about the coincidence with the apocryphal Lovecraftian book: "UNAUSSPRECHLICHEN KULTEN", diabolically whispered in my ear by Azathoth!
How well has the album been received so far? As more people hear your music, will your plans change? What comes next for Unaussprechlichen Kulten?
So far very good reviews, but our plans will not change. We are a "not popular" or "trendy" band. It has been more than ten years since it all began. So far we are a very unknown band out of Chile, we have been into the deep underground always, and I think will always be so because of our style. Death Metal is not a "trendy" style at this moment; now Death Metal is made by people who are stubborn and headstrong which maintains this "sectarian" behavior. It is true that more and more bands are appearing… on one hand this is good … the "scene" looks "healthy," alive, which allows bands to exist and makes the media interested in promoting them (and of course in our case, more people hear our music), but on the other hand, also the "overpopulation" of bands is huge, generating a size of information unable to be processed. "A lot of bands" are not synonymous with "quality of bands."
3 Comments
Tags: death metal, interview, joseph curwen, unaussprechlichen kulten