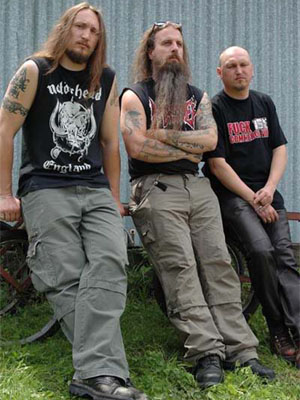 Early death metal band Master plan to release a new album on September and have a new label to host it on, having signed a deal with German extreme music label FDA Rekotz for what will be the band's 12th full-length release.
"We are proud to be working with Rico and FDA and look forward to a solid future together. Watch for the next masterpiece to be unleashed on September 27th, 2013," said Paul Speckmann, founding member and core of this band with oft-shifting personnel.
Combining the rhythms of punk music with the riffs of heavy metal, Master contributed an early style of death metal to the genre as it was forming and continued to be influential throughout the development of the genre. Many musicians point to Death Strike's Fuckin' Death or Master's unreleased 1985 album as part of the origin of this genre, which became incarnate after Discharge's 1982 album paved the way for technique and the following year Slayer, Bathory and Hellhammer released albums applying those ideas to metal.
This summer, Master embarks on a True Underground Warriors Tour with Entrapment and others. More details will be posted on the Master website at master-speckmetal.net/live.html.
4 Comments
Tags: death metal, death strike, master