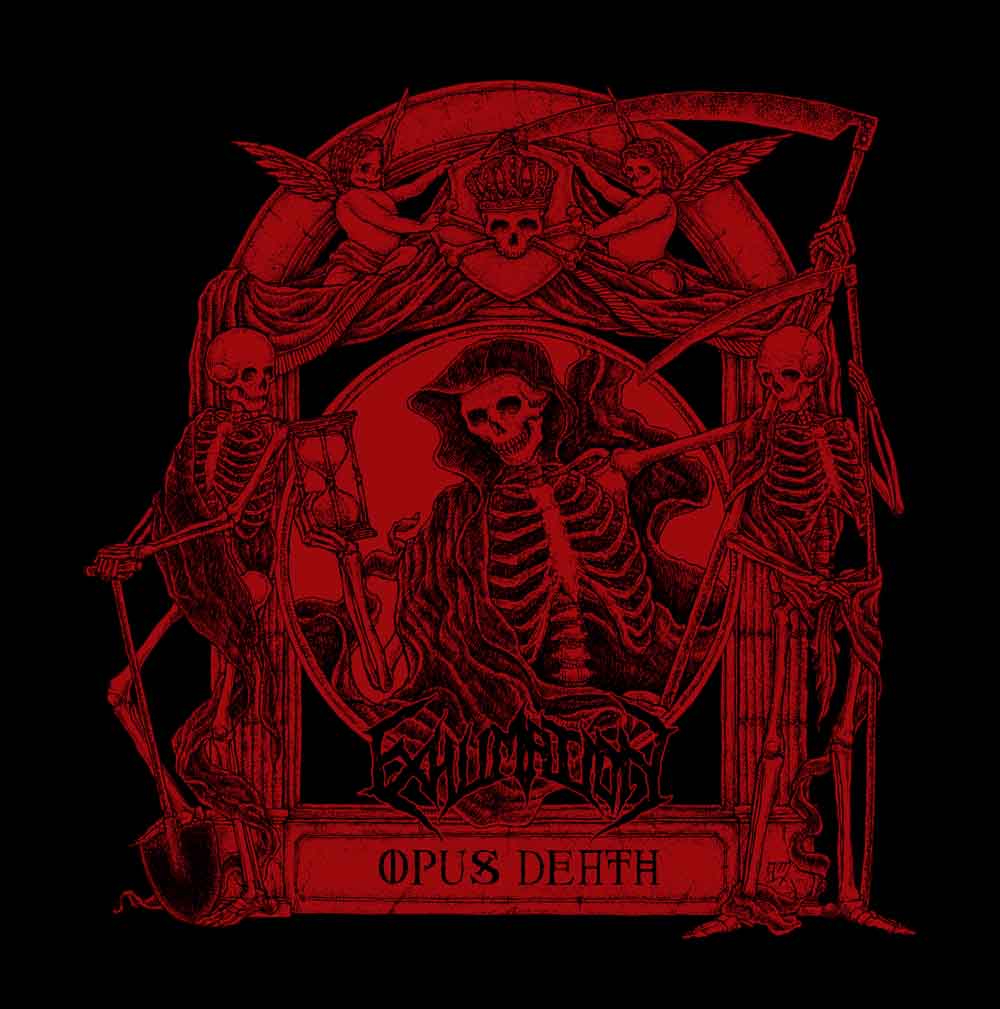 When receiving descriptions of new releases from labels, one can read all sort of outrageous and preposterous claims on par with "the beginning of a new era in metal", "unprecedented innovation", "I'm tougher than Vladimir Putin" or "We went to Afghanistan to bring democracy to the people". It wasn't all that surprising, then, to read the first introductory line and find that young Indonesian band Exhumation was being hailed as a classic. I rolled my eyes at this and proceeded to get my face punched.
Exhumation plays a violent proto-black metal in the vein of Sarcófago and an aftertaste of Blasphemy. I will stress that they play in the vein of those bands. But they escape the clone-curse and give the listener a familiar but altogether new and original experience. As underground metal styles death and black have moved well past the initial stages of formation and definition, most bands have turned to simple rehashing or attempts at innovation. Unfortunately innovation is often perceived superficially. We should talk about progress and not innovation, which is often confused with novelty. I would not hesitate to call this album true progress. Albeit a conservative, cautious progress in this particular style.
Opus Death, a silly title which made me seriously doubt the album at first, is Exhumation's second album. Exhumation understand the language and are proficient users of the same, knowing how to formulate their own statements. Not only are they original in what they say, but they also learn from the classics by avoiding their errors and carefully expanding where there is potential to expand. Ideas and the riffs they span let the listener become familiar with them as is required in the black metal tradition, but they do not overstay their visit nor overstep their roles. Transition riffs are adequately unstable and work effectively with drum patterns to create the gasping effect so that the listener can breath before the music goes on, unrelenting.
Both highly chromatic, Slayeresque solos as well the simple, rough and tonal melodies make an appearance in the record without sounding disparate in any way. The balance of taste and style always carefully preserved. Much can be said of the placing of the solos which is always optimal and contributing to the emotional upheaval they cause within the emotional predictability of this kind of music.
Another feature of this album that should not be overlooked or underestimated is the use of piano and guitar interludes right at the middle and at the end of the album, respectively.  It is hard not to draw a parallel with Blessed are the Sick, but I am willing to venture and say that as to their contribution to the album as a whole, they are much more powerful and relevant in Opus Death. Both beautiful in their minimalist rendition of the harmonic skeleton behind the ripping black metal of the band, they contrast the slaughtering slashes of the rest of the album and serve as inverted climaxes.
Trying to praise this as uncompromising is an insult to Exhumation. Rather, the mature and sensible compromises Exhumation incurs in are what account for the steady and sure steps of their music. It might be too soon to call it a classic, but it sure feels like one. Far from naive or wanting in any technical respect, Opus Death shows us that even though traditional and true underground metal may be difficult to carry on whilst being original, it is not impossible, but we need to look beyond juvenile feelings of rebellion to do so. Metal is not young anymore, act accordingly.
5 Comments
Tags: 2015, Black Metal, blasphemy, blessed are the sick, classic, death metal, Exhumation, indonesia, mature, Opus Death, sarcofago