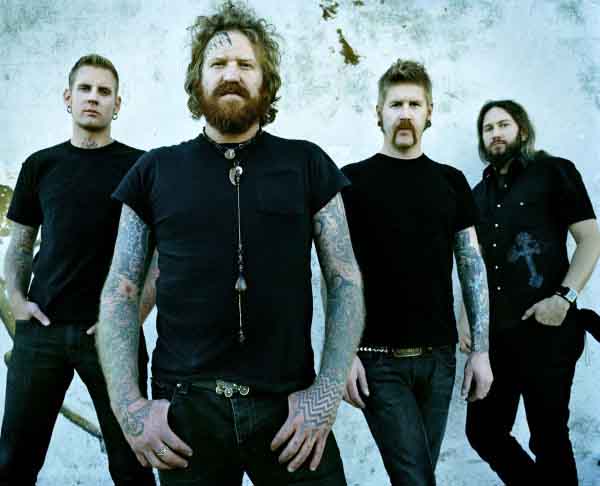 Self-preening egomaniac solipsist hipster Brent Hinds, who plays with indie-metal (heavy alternative rock) band Mastodon, accidentally revealed the nature of indie-metal as indie rockers who enjoy metal ironically making imitations of better bands. Speaking between bites of arugula and sprouted garlic sandwich on quinoa bread, Hinds opined:
"I never really liked heavy metal in the first place. I came from Alabama playing country music, surf rock, rockabilly, and stuff like that.

"I just went through a phase in my 20s where I thought it was rebellious to play heavy metal. And then I met Brann [Dailor, drummer] and Bill [Kelliher, guitarist], and they were really, really, really into heavy metal.

"And ever since then, I've been trying to get Mastodon to not be such a heavy metal band, because I f–king hate heavy metal, and I don't want to be in a heavy metal band."
Playing metal to be rebellious is a hipster gig because it is entirely surface with no deeper connection to the music than to use it, as hipsters use all things, to signal your emotions to a world that could not care less. Metal musicians play metal because they love it, but giggin' hipsters play it ironically to be rebellious and shocking. Hinds finally admitted his own insincerity, but with him he brings down a genre.
Indie-metal arose from the "alternative metal" of the 1990s which took metal riffs and put them in rock songs using the aesthetics of grunge and alternative rock. Although the result was an artistic disaster, it was more palatable than the hip-hop/rock hybrids and other pop experiments of the era, and so caught on. Unfortunately these bands are not metal, only metal-influenced, and so they bring in all of the dysfunctional mid-therapeutic behavior for which indie bands are notorious. The result has been adulterated quasi-metal like Deafheaven, Mastodon, Isis, Pallbearer, Babymetal, Pelican and Vattnet Viskar which has attracted a new audience of underconfident, neurotic and conformist fans while driving away the audience metal built up from the 80s-90s.
58 Comments
Tags: alternative metal, brent hinds, hipsters, HIV+, indie metal, insincerity, mastodon, poseurs, scenesters, whores