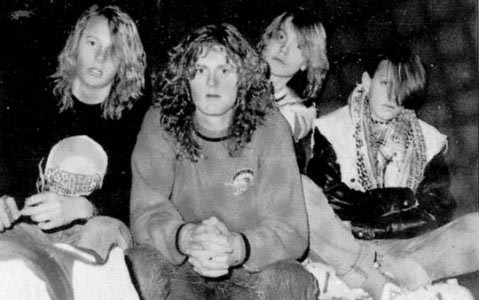 1. Introduction
2. Pure Fucking Metal: The 80′s Underground
3. Vomit: Still Rotting CD
4. Mayhem: Deathcrush MLP
5. Cadaver: Hallucinating Anxiety LP
6. Darkthrone: Soulside Journey LP
7. Mortem: Slow Death EP
8. Old Funeral: The Older Ones CD
9. Thou Shalt Suffer: Into The Woods Of Belial CD
10. Arcturus: My Angel EP
11. Thyabhorrent: Death Rides At Dawn EP
12. Generalization: A Statement Of The End
Written by Devamitra with Fenriz (Darkthrone), Anders (Cadaver) and Manheim (Mayhem)
Introduction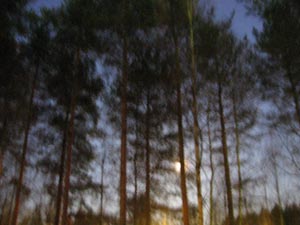 I have had this Vision
of a voyage in mind and soul
Through silent Somniferous scenes
within the enclosed chambers of my
untouched spiritual experiences
Soaring through damp air
Seeing faces, twisting, plunging through my colour
– Darkthrone, Soulside Journey
From the downbeat plays by Henrik Ibsen to the introverted nightmare paintings of Edvard Munch, the Expressionist era of Norwegian art had a hundred years ago remembered the voices of the dead and listened to the weeping of the living.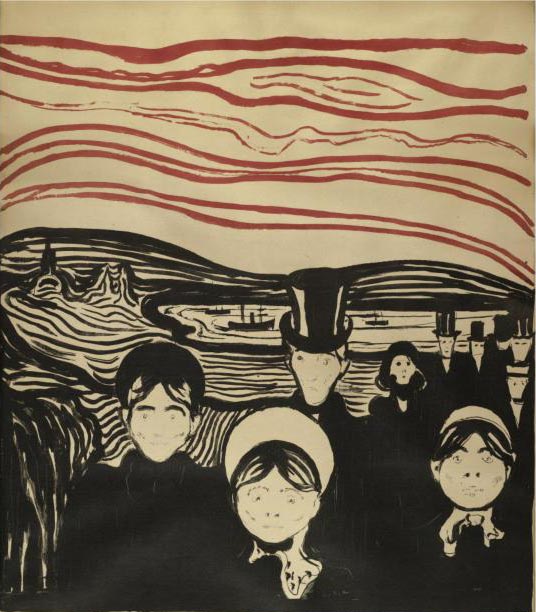 Art connoisseurs took note of the summoned ancestors and the frozen shades of the Norse era, that had been united into jagged juxtapositions of a modern life and an industrializing society – a world of pain. As Norway rose in material wealth throughout the 20th century and discovered the dubious ideals of social democracy, the nation was forced to hide their deep embedded pride, honour and dignity into the bottomless domains of subconscious and hidden symbolism. Ghosts of the Nazi occupation haunted and shame caused people to understand moral problems. If grandmothers and grandfathers still had remembered the rites of witchcraft, the oaths spoken to the wallowing mist of the fjords, they were now abandoned to a worldview committed to science, humanism and well-being.
Pure Fucking Metal: The 80's Underground
Young minds were seething with fury, anxiety and barely contained stellar potency of creation. Norway around them was filled with McDonalds, idiotic TV programs and insipid pop by A-Ha. The generation between 16 and 19 years of age had integrated into their worldview the stylistic tenets of punk, thrash and heavy metal, whose nexuses in the beginning were the heavy capitalist societies of the USA and the UK. The resulting chemistry was to inspire the manifestation of the most evil and brutal sounds possible, in retaliation towards the satiated ideal of "peace" that reeked of old, dying people and blasphemed the Viking ideal of death through battle.
Sweden, always ahead in trends of Western Europe and America, had led the path towards the Scandinavian idea of death metal with the original black metal sorcery of Bathory and followed with a string of demo-level bands (Corpse, Hellfire, Obscurity, Morbid and Sorcery to name some) years before death metal mania exploded. Finland lagged behind with Norway until Xysma and Abhorrence opened the gates of Hell there and death metal bands formed by school pals and neighbours surged from even the quietest suburbs that barely knew about heavy metal, as in Sweden.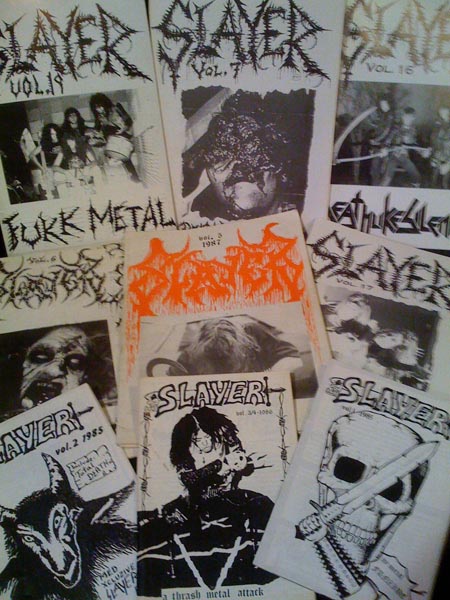 Fenriz: There was no scene in Norway. For instance the Swedish punk scene wasn't only 10 times as strong as Norway in early 80′s… try thirty times bigger! Finland was just a bit better with metal, but much better with punk. So we were like a third world country, and it was Mayhem and the Slayer mag that put us on the map originally in '84-'88 (more intensely '85-'87). Then a bunch of us others joined the underground with our bands too.
One without the experience of death metal life without public attention can not dive into the extreme and alienated emotion of a morbid artist who is intent on creating noisy demos with batches of cruel artwork, releasing only tapes or meager 7″ EP's on mostly rip-off labels and this has to be kept in mind when the eternal "rock star" accusations are levelled towards the same people now. The spiritual impact of what these misfits created in the 80′s was as extreme of a phenomenon, if not more, than to commit crimes known to everyone in the vicinity. They were practically admitting to being insane.
Fenriz: There weren't any fans. Everyone had own bands and were because of this isolation of course total maniacs. We had to make our own fans here, ha ha. But punks liked us, and we played good show at Blitz, famous Oslo punk house in 1990. Norway was not important, it was only underground work with snail mail that was important to me. That was 90% of my work.
Anders: This was before the Internet and to get a hold of an album like "Reek of Putrefaction" by Carcass meant
you had something truly extreme in your hands. The whole idea of being true and anti-normal came mostly from Euronymous and his developing Black metal philosophy. He had a strong impact on all of us and it was hard to get away from his force so to speak.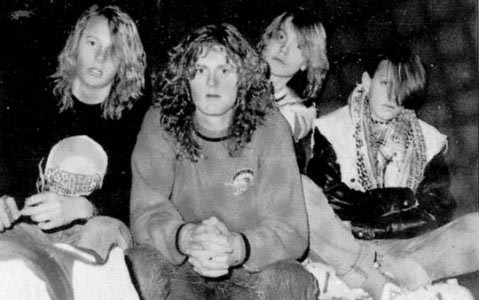 Manheim: It felt good, I can tell you that much. People didn't understand it much. A lot of musicians and friends around us told us that we wasted our talent, and it wasn't music that the average listener liked. But we didn't make the music for the masses, we did it for our selves and for the few around the world that liked extreme music. We tried to make something new, and I do think we succeeded on that one.
In musical respect, the kickstart of the scene was from the capital Oslo, a violent clash between the anti-social, minimalist riff of hardcore and the agility exercise of speed metal; these sounds can particularly be heard in the demos of Vomit. Mayhem, also from Oslo, initially represented a similar style of music and Vomit members sometimes filled positions in Mayhem and vice versa, but it was soon to be conjoined with the extreme attitudes belonging to black metal, far before any other band in the world adhered to them. Small town (Kolbotn) thrash kids Gylve Fenris, Ivar and Anders created Black Death, which combined the speed metal of Destruction or Dark Angel with humorous lyrics relating to their daily life and later developed into the extreme entity that is Darkthrone.
Fenriz: 80′s metal scene was nothing in Norway, we made it ourselves, and broke away from all (lack of) standard here. Global underground was everything to us. Norway was not important, but became much better in '89. Impostor was also a cool band, but had nothing to do with death metal.
Vomit: Still Rotting CD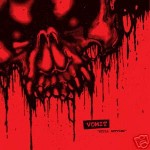 The hyperactive Vomit was never to get a professional release for their material back in the day; this recent compilation hosts demos and rehearsals and the same line-up also reformed as Kvikksolvguttene in the 90′s to play some old and new songs. This CD contains several demo versions of the same tracks but it's easy to listen all the way to such basic, catchy and hilarious manifests. Surprisingly sensitive, like a much simpler Slayer, this hyper-organic sequence of thrash aims its nuclear warheads towards society because of the realization that it is malfunctioning. It gives memories of early COC and Cryptic Slaughter, even Minor Threat in its high energy fueled rebellion – just check "Demonoid"'s violence. The assaulting harsh vocals ranting about the legions from Hell remember Venom.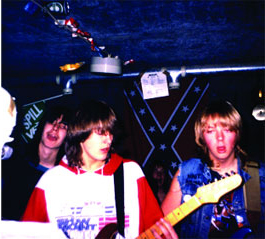 Musical cues from Kreator and Sodom in tracks such as "Rotting Flesh", while rudimentary, suggest the evil power of proto death metal — confrontational punk metal in the spirit of Sepultura's first album: non-produced and immature. When slowing down to groovy and grinding, the chaotic leads and chromatic chord progressions sound like a band from the old Earache catalogue. The primal energy in tracks such as "Armies of Hell" is simply infectious, inspiring to action for the sake of feeling, thrill and power, like this was a middle finger against the city, these kids were hanging out, overturning police cars and breaking windows. Overall it's much better than today's retro bands in a similar style.
Fenriz: Vomit was the rawest well played band in mid-80′s, death thrash, completely awesome, as good as "Hell Awaits" or Dark Angel's "Darkness Descends".
Anders: The first Mayhem EP "Deathcrush" came out in 1987 and this is by far the most interesting release of the time.
Mayhem: Deathcrush MLP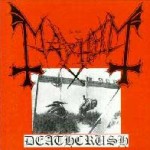 Mayhem overturned the Norwegian underground with their maniacal proto-black metal, with an air reeking of chainsaw murders, snuff movies and glue sniffing. The barbaric simplicity of the songs defies even the logic of Hellhammer. We are witnessing the birth-gasps of the BM underground here as krautrock's Conrad Schnitzler's magniloquent, twisted avantgarde intro leads into an infernal journey through vistas of butchered early black metal. The recipe is mixing together the primal elements of speed metal and punk, then mangling them as unrecognizable traces of rock music that used to be "fun" but now torn to sarcastic pieces in the hands of bestial psychopaths. Any kind of elegance or progression was unknown to these guys. They make up for this bluntness by organizing with raw vitality and a clear purpose for doing it this way as the pieces of the image fit together. While Euronymous' riffing is primitive-inventive and Manheim's heavy drumming is perfect for the material, one can hear that the songs are still mostly in the level of demo versions for a band of Mayhem's stature developing slowly towards their full potential. The impudently vicious lyrical side centered on gore and blasphemy would fare better through the mouth of the next vocalist Dead while on these recordings Messiah (not Marcolin!) stands out as the superior of Maniac of the two featured voices, as his Sodom-influenced pacing lends power to the old demo track "Pure Fucking Armageddon".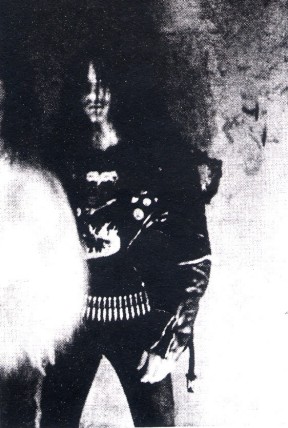 Manheim: The band image and style was something that came quite early. But it wasn't the reason for the formation of the band. We started the band because we shared the same ambition to make something different and extreme. I've tried to explain it on my blog post "Am I evil". I recommend that you watch the documentaries "Pure Fucking Mayhem" and "Once Upon a Time in Norway". The main musical influences were of course metal related, in combination with extreme musical genres. Lyrics were inspired by many sources, but were specifically designed to fit the musical soundscape and the aggressive image surrounding the Mayhem concept. The interest for avantgarde music was something Euro and I shared. We also formed a project we called L.E.G.O. where we explored ideas and concepts within noise and experimental music.
Fenriz: Mayhem was unique, but not an inspiration for death metal. Euronymous only liked death metal up to "Scream Bloody Gore". He was sceptical to Autopsy when I played him the demo in '89. But we loved and still love Autopsy of course.
Cadaver was the next major band to heed the call to arms, from the small coastal town of Råde nearer to Sweden, playing a version of death metal not too far removed from the bass heavy, electric sound that was already becoming huge in Sweden and not surprisingly, Cadaver was to be the first Norwegian death metal band to release a full-length album on a label, racing past Darkthrone who still continued developing through a serious of demos in death, doom and black metal style incorporating a psychedelic tendency that was unique, Norwegian and unforgettable, actually sounding more like the Munch paintings come to life than loud rock rebels. By this time various other death metal bands were spawned by the soil which had absorbed the blood of the sacrifices to Odin. Like mushrooms bands such as Old Funeral from the pagan and occultist infested Bergen, Thou Shalt Suffer from the sports and music obsessed Telemark countryside and Mortem from "global" Oslo sprung up, all being practicing grounds for a legion of musicians destined to fame and glory in future projects.
Cadaver: Hallucinating Anxiety LP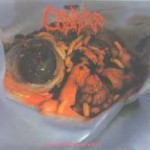 The viral and persistent Cadaver took the death metal art in Norway to a new level: besides violating the listener with speed, the intricate composition aims to rip through artificial examinations of reality through morbid revelations. This controlled and logical death metal experience is not quite the absolute psychic expressionism of Darkthrone's masterpiece but musically soars high above the previous releases and most of what was to follow. Quoting Celtic Frost and Morbid Angel for listenability, hardcore influenced beats underpin a consistently brutal and bludgeoning riffwork in Carcass' minimalist vein, bringing to mind images of an industrial age wasteland. Vocals are harsh, grating commands in the rhythm of Brazilian bands, promising continuity of experience all the way into grim death. While hateful, arrogant and mid-paced, centered around gore and loss of hope, some of the most beautiful tendencies of Scandinavian death metal already arise on this release and are made all the better by incorporating the best of the deconstructivist tendencies from grindcore music. Twisted and narrative in arrangement, the barbarous and thundering old school death metal riffs of Cadaver proceed to explain the magic of reality in their series of devastating conclusions, proving the album a long lasting gem.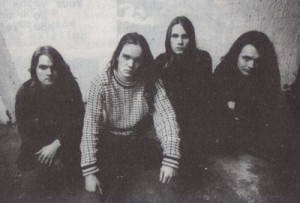 Anders: We had a variety of favorite bands that inspired us at the time. Apart from the bands mentioned we were all into Napalm Death, Kreator, Sodom, Slayer, Death, Autopsy, Paradise Lost, Mayhem, Equinox and not forget Voivod. We were a part of the scene and into all the stuff that came out on demos etc. too so it is not right to say we were influenced by just a few bands. We were into hardcore stuff like A.O.D., S.O.D., Carnivore etc. as well as black metal bands. It was a wild mix.
Fenriz: Cadaver was absolutely great in '88 and '89, we played with them and saw them live many, many times! Cadaver was the first Norwegian death metal release, we came right after with the 2nd.
Darkthrone: Soulside Journey LP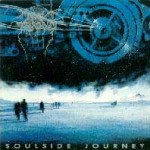 An album released 20 years ahead of its time, it's one of those timeless classics that defy description and comparison. Even today it's impossible to find death metal that sounds quite like it. It somewhat escaped people's attention back in the day and has existed on the verge of rediscovery with the sporadic bootleg and official releases of the Darkthrone demos but is still not very widely known among the Darkthrone fanbase. Resembling Celtic Frost taken by the hand of a witch doctor through a series of cosmogonic explanations while on an LSD trip, what starts as gnarly and crawling doomdeath becomes an experience from the beyond. The album has very little in the way of the overbearing brutality of Florida death metal or the catchy Slayer-punk riffing of the Swedes, but it is full of parts that stick to mind and make you come back to its sequences of mystical, foreboding and inconclusive themes and landscapes. Some of the resolutions of its parts are almost disgusting in their divergence from habitual speed metal, death and thrash and they wrack the mind. The evil and brooding melodies crawl over your neck like alien insectoids. Nocturno Culto's vocals already show their depth and power and so do Fenriz' inimitable lyrics. On this release Fenriz' unique drumming skills are the most apparent; pure cult in the making. The eerie use of synths heard on this album would undoubtedly have spiced up some of the later Darkthrone material too. This is the birth of "death metal for the intellectual".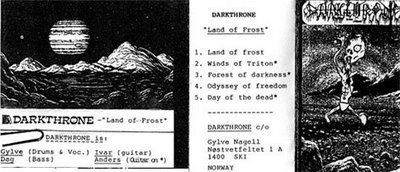 Fenriz: There's only one Celtic Frost riff on "Soulside Journey"! We were inspired by Possessed, Autopsy, Death, Nihilist, Sepultura ("Schizophrenia" album only), Nocturnus (2nd demo), Devastation (Chicago) and such, Black Sabbath too… but most importantly we had a mission statement: all the riffs should be able to slow down and play on a synth as horror movie effects. So we played technical horror death metal with doom elements and also our eternal inspiration, visions of the universe: even our first demo in early '88 had an outer space painting as cover.
Anders: The Darkthrone debut album has some great songs in it and it blew me away at the time. It sounds very Swedish and if it had the grim sound of lets say Autopsy it could have showed a different path for Norwegian death metal along with us for young bands at the time. Who knows?
Mortem: Slow Death EP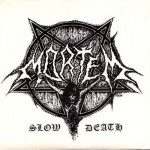 Mortem's seldom heard EP boasted some of the most catchy riffs of Norway's early death metal and one of drum legend Hellhammer's earliest performances on record. Mortem joins the company of Vomit in aiming to produce the death metal experience with hardcore-like simplicity. Tracks such as "Milena" and "Slow Death" are pure headbanging mania, not much else, though the latter also has an interesting modal type of guitar solo. Considering the general sound quality, drums are surprisingly clear and powerful and show Hellhammer's early skill in arranging rhythm. Such elements and the beautiful intro to "Nightmare" leave one wondering a bit how it would have been if this band had recorded an album. The heavily distorted vocal performance is of a dubious benefit, like an overblown imitation of Maniac's already annoying screams on "Deathcrush". However, they lend a chaotic, absurd and insane element to the proceedings of what is rather usual demo level death metal from a young band.
Old Funeral: The Older Ones CD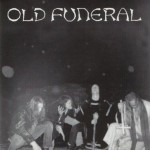 At times nearly reminiscent of "Soulside Journey" in enwrapping the listener with pure twisted melody riffs, its surprising that this compilation of material from some of the most interesting line-ups (future Immortal, Burzum and Hades members) of death metal is not too much celebrated. It's easy to already hear traces of the epic ambient guitar that would characterize the members' later bands – the Wagnerian "My Tyrant Grace" could easily be an early Immortal recording. Old Funeral's recordings do often fall short of brilliance, songs having good parts but being incomplete. Old Funeral had potential to be a magnificent band but sadly never got a stable enough line-up or enough work and attention to make it happen. At worst ("Lyktemenn") the material is unorganized and thrashy, emotionally anguished in a selfish way and using half written heavy metal influenced melodies in a despicable way, inconclusively jumping from one phrase to the next – obscure but not visionary or evolving, just a collection of moods. "Into Hades" approximates early doomdeath. "Abduction of Limbs" is inspired by technical US death metal and succeeds in building an evil ambience. "Devoured Carcass" is more obviously Scandinavian in manufacture, akin to the barbarous blasphemies of Treblinka or Beherit as microbic riffs intone trances of darkness in a nightmare of lost souls. Slower funereal passages on the compilation echo traces of ancient Cemetary and Therion. The black thrashing of "Skin and Bone" reminds of Bathory or early Voivod while throwing some sparkling, clever leads into the mix, creating a surprisingly war metal-like high energy plutonium explosion. This ripping and rocking track manages to approximate brilliance. The core simplicity of most of Old Funeral's material will hinder the pleasure of the elitist metal listener, but much of it remains highly listenable as even the live recordings work surprisingly well.
Thou Shalt Suffer: Into The Woods Of Belial CD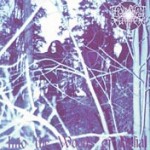 Thou Shalt Suffer was the product of an already long development from band formations such as Dark Device, Xerasia and Embryonic, composed of future music-magicians who would form Emperor, Ildjarn and the Akkerhaugen sound studio. Mostly early 90′s Swedish satanic death metal in style, Thou Shalt Suffer assaulted the listener with disorganized yet compelling demo level death metal noise with submerged, intense and evil soundscape. Seriously brutal in nature, interlocking chromatic riffs in the vein of Incantation or early Amorphis race on, sporadically bursting into uncontrolled grind. Vocals are super-dramatic in Ihsahn's craziest early style, ranging from humorously weird to total evil and synths repeat a few doomy patterns, foreshadowing Ihsahn's later neo-symphonic obsessions. The songs are expectedly not quite there and everything sounds unplanned and spontaneous but for pure spirit it can be quite exhilarating to listen to it today. The discordant, fractured and genius stream of melody of the main riffing recalls ideas later developed further in beautiful way while the expert rhythm guitar is able to create the texture of an infernal landscape. Fragmented but compelling, it should go without saying that it has already done more than most of today's death metal releases. A special award should be presented for the long experimental outro track "Obscurity Supreme", seething with a truly avantgarde ambition beyond the later "art metal" habits, worthy of its title.
Arcturus: My Angel EP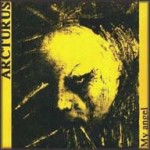 The Mortem line-up returned with this piece of madness before plunging into black metal sounds using this band name. Arcturus started its career reminiscent of Swedish second tier satanic death metal bands in the vein of Tiamat, cutting through the intricacies of the narrative death metal of Cadaver and Darkthrone to hammer out Wagnerian power chord doom, with not much appreciation for subtle nuances. The first track "My Angel" starts out psychedelic and impressive, foreshadowing the deep symbolic exploration of the internal cosmos done later by bands such as Tartaros. However, in Arcturus it remains as just another eclectic act, as the dramatic development proceeds in an expected way. While the impressive parts are there it doesn't reach the magnanimous stature it's trying to achieve, with the keyboard melodies from film soundtracks and the evil vocals reminiscent of early Samael. "Morax" is a track with gothic, Cathedral-inspired doomdeath wrapped in a synth layer of Nocturnus. Arcturus attempted to obtain a complex, insane atmosphere of invocation but it was not to be their forte; the careening splendour of "Aspera Hiems Symfonia" would be better music.
Thyabhorrent: Death Rides At Dawn EP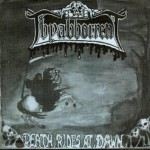 Thyabhorrent, led by Occultus (another figure from the early black metal history around Mayhem and Helvete), specialized in simple death metal which used some speed metal riffs and emotive lead guitar interludes. Occasionally similar to Dissection, it seems to carry an eerie foreshadow of Gothenburg and today's mainstream death metal style while still proudly enwrapped in the mystique of the Norwegian underground. The catchy metal riffing and try-hard vocals in "Condemnation" are halfway to serious power, falling short of the atmosphere obtained by almost all other works of the era. The good riffs are wasted by the very simplistic construction of songs and the unfortunate tendency to rip a wrong context: heavy metal. "Occultus Brujeria" displays an elegantly romantic tendency which could have been something with more development: doomy clean vocals herald simple black metal of expressive, gothic, über-dramatic character. Some of the interludes suggest ideas that could have turned this into an elaborate progressive black metal band but as it stands, it's a much weaker and tamer version of the kind of material released by Necromantia, Burzum or Isengard early on.
Generalization: A Statement Of The End
The original death metal underground of Norway was alienated, silent and private and thus gave a chance to develop all these ideas towards their full fruition. When the scene burst into the attention of a million of trendy fans, it dealt a blow to the atmosphere that could not be recovered from it. The sanity of the fragile artistic mindset required that the adherents move away towards new areas of quietude and purity ("away from the noise of the marketplace" in the words of Nietzsche) to continue the serious contemplation of darkness. What follows is the history of the early 90′s black metal phenomenon; Cadaver remains the sole band of the ancient underground that is still around cranking out evil death metal.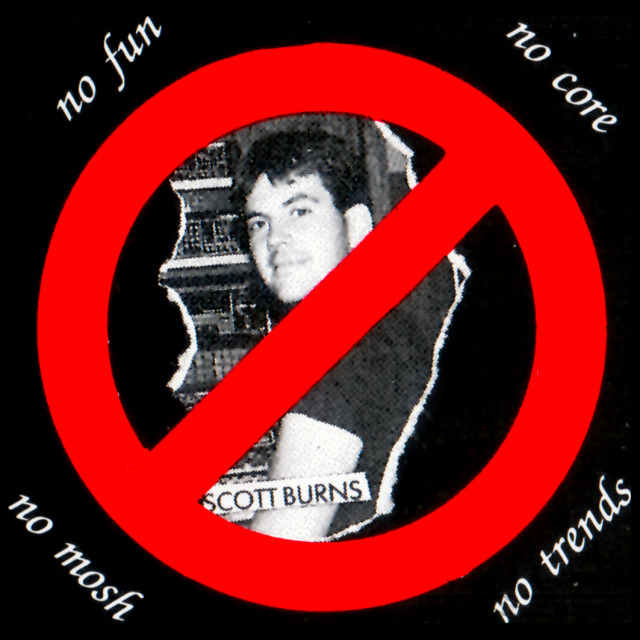 Anders: We split up in 2004 – so no, we are not around. To call Death Metal trendy is a sidetracking of the whole thing. I don't share the idea that we ever played something trendy. To play death metal in 1999 was as un-trendy as it could be. I call what I play death metal still because it is my playing style. Death metal can mean much more that most people think. I am a death metal man by hand and a black metal man by soul.
Fenriz: I can with my hand on my heart say that I only bought like 5-6 death metal releases in 1990, and maybe 2 in 1991… or none. The studios like Morrisound and Sunlight were fresh in the very beginning, but organic sound is the best and I quickly learnt to hate these click click bass drum sounds that started to ruin metal in '89 and have completely ruined generations of metalheads later on. In '89 death metal compilation tapes were overflowing the underground, I had already been through hard rock and heavy metal and power and thrash and everything possible, then I saw that thrash metal got boring and too copied and the same thing happened with death metal, it was too many bands, but the sound was good in '89. But to me, I heard Hungarian Tormentor on one of those tapes, and got back into more "evil" sound again, like Destruction "Infernal Overkill" and such, as I hadn't listened to them for a while. I saw it as just thrash, but after getting an evil revelation with Tormentor, I saw a lot of the thrash I had from before in a new black light, and I got more and more into Bathory. And in 1990 I mostly listened to the more primitive stuff, but our craft was technical death metal and we needed to complete our album. Even after our album we had lots of material pouring out of us (became "Goatlord" album) but it had to stop with this technical style, we were all agreeing on this except Dag. We took a U-turn unto the primitive lane in 1991.
Even a cursory investigation to the workings of the early Norwegian metal underground should dissolve one of the most persistent illusions about Norwegian black metal bands such as Burzum and Immortal: that they did not know how to handle their instruments, or did not have an extensive background in musical expression. Do you think they simply wanted to pose evil with corpsepaint? They were talented musicians who had years of experience playing technical styles of death metal before the black metal explosion. The simplified sound of black metal was due to the ethics of black metal and the spirit of black metal. The black metal resurgence intended to develop metal music to a new level of intensity and create a purer atmosphere, unpolluted by the social agreements of the new death metal people.
For most metal fans Norwegian death metal means either black metal or the new digitally produced bands in the vein of Zyklon and Blood Red Throne. The intent of this excursion has been to show how pure death metal was the fundamental force in establishing the original Norwegian underground metal scene and how it ultimately grew into the most vital and archaic musical movement of the 90′s, Norwegian black metal.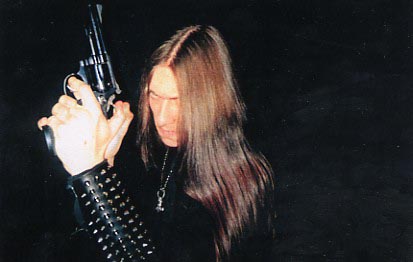 Anders: The bands such as Darkthrone, Mayhem and Immortal were in fact very inspired by death metal. If you listen to the latest Emperor, Satyricon, Dimmu Borgir albums they all have strong elements of death metal in them. The scene that was to become the Norwegian black metal scene was never a "one-way-street". The issues with Swedish bands in '91-'93 was mainly about the fact that death metal became conformed, predictable and non-dangerous. The strong standing of the black metal scene overshadowed any death metal band for many many years and this is still the case.
Manheim: I of course felt and feel proud of being responsible for giving people inspiration. That so many people in Norway and around the globe have taken this further is of the good. Of course there's a lot of bands that appeared that didn't do anything else than copying those before them, but the development of genres like Norwegian BM and others shows that there's a lot of creativity and wonderful musical contribution that has been done after Mayhem released its first demos and "Deathcrush". My personal favorite releases are Darkthrone's early works – and if I have to choose, "Under a Funeral Moon".
Fenriz still works on Darkthrone, promotes his favorite underground bands and speaks against forest industry. Anders has been playing live guitar and bass for major bands such as Celtic Frost and Satyricon. Manheim composes and performs experimental music and writes a good blog on culture and music. Deathmetal.org thanks them all for their kind contribution.
Cosmic Fear arrives, I hold a dead one,
Surrounded by my many candles
(I burn to cleanse the air)
Rotten Unclean Sacrifice Nightmares
Unreal Psychedelic Journey
Ride The Darkside
Search The Soulside

– Darkthrone, Soulside Journey
No Comments
Tags: acturus, cadaver, darkthrone, death metal, deathcrush, fenriz, hallucinating anxiety, mayhem, mortem, norway, Norwegian Death Metal, old funeral, soulside journey, thou shalt suffer, thyabhorrent, Vomit, zine-zines