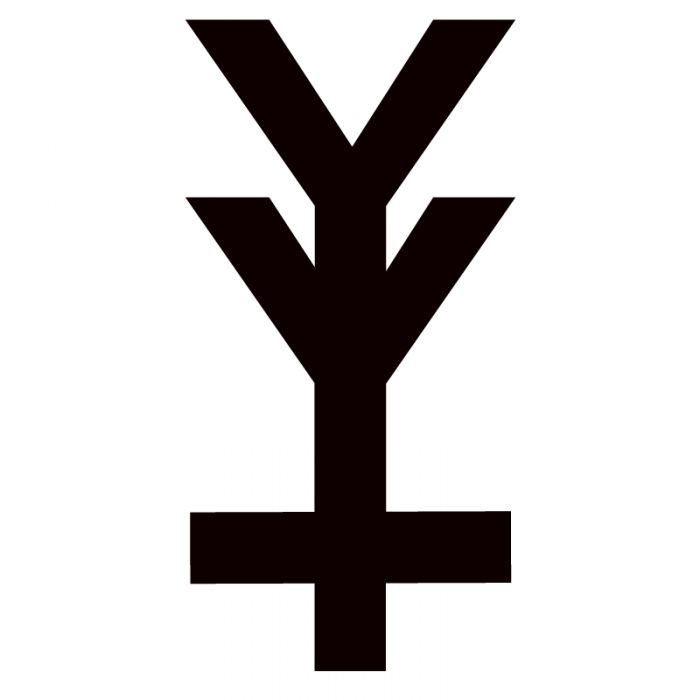 Since no one else seems to be able to do much of anything in this world, it falls on us to make sense of it all here at Death Metal Underground. Very few can actually think — a process both analytical and creative, realistic and abstract — and so almost everything published is gibberish.
Our mission here involves a genre of metal, death metal, in the form continuous with its origins from 1983-1993, and the related philosophy of this genre which seems to be equal parts natural selection, anarchistic autonomy, and the idea of natural order.
The former means that we believe no one should protect idiots from themselves. This prohibits not just obvious subsidies like socialism, but indirect ones like exoteric religions such as Christianity which preach tolerance so that idiots can be "educated" and "disciplined" into doing "the right thing" without understanding it.
All of these bureaucratic notions mean the same thing: instead of having good people, plan for using greedy morons who are "talking monkeys with car keys" as Kam Lee would say, so that someone in power can manipulate the whole structure, or system, with the right symbols. Bureaucracy is mass manipulation and control, and it requires idiots, which in turn requires abolishing natural selection by "liberalizing" or relaxing rules, goals, standards, and the consequences for falling short of them.
Almost everyone notices the anarchistic autonomy of metal. We are "rugged individualists," in the sense of wanting to go our own way, and not being particularly disturbed by what others do, so long as we do not have to subsidize their error (see "natural selection" above). We are live and let live, with the implication that we are also live and let die.
Finally, we like natural order. Although metalheads mostly reject the sense of bureaucratic moral gods who exist universally among humans, as in the Judeo-Christian religions, we have a sense that there is a rhythm and purpose to life itself, seen best in nature and not in the artificial social constructs of human order like equality, humanist morality, and herd opinion.
We distrust trends, for example. Almost all of human history following the fall of the Kings consists of trends, or some idea that seems to explain our world in an appealing way at the time, so the Crowd falls for Beanie Babies, "woke" politics, hipsterism, tattoos, grunge, arugula, post-metal, and other silliness. The natural order is eternal and unchanging in form, although constantly changing in texture, much like metal riffs develop songs in roughly the same moods and to the same places through many different pathways.
Metalheads, although they do not generally read Nietzsche, follow a Nietzschean path: we have a morality of competence not of equality, which means that we believe in rewarding those who show aptitude and demoting (or getting rid of) those who do not. Similar to the Satanic ideal, this morality rejects those who are simply nice, polite and innocuous, and praises those who are capable, even if they seem vicious and break some eggs to make an omelette.
We also inherit the search for the transcendent, or that which makes sense of the natural order by revealing how it is the best — most beautiful, good, and real — outcome possible, in the Platonic mode of looking for causes of the effect we know as material reality beyond the visible. We sense that there is more to this life than the immediate, even if we are skeptics of religion.
We also tend toward the naturalistic, or valuing the process of nature. We want to be more feral atavistic beast than civilized domesticated Man, and we find inspiration in natural models like tempests, fire, floods, war, predation, and the cold nihilism of winter. We are literalists in that we take reality as the ultimate arbiter of all things, but transcendentalists in that we think this has a purpose other than literality itself.
Chasing the Platonic model again, we believe in a morality of "good to the good, and bad to the bad," which is different from both "might is right" and "love your neighbor." We love the good people — competent, honest, productive, creative, insightful, wise, constructive — and wish death to the weak, stupid, inept, mentally lazy, and parasitic.
As metalheads, we grew up in a bureaucratic society and saw its downfall. When you set up a "meritocracy," you create competition for obedience, or conformity and domestication, through peer pressure. This means that the system bores the intelligent and promotes the idiotic, mainly because they are docile and obey instructions, making their teachers feel powerful.
Meritocracy resembles a trend in that humans set up a fake goal, everyone else obeys, and they all feel a sense of false unity because they are all doing the same thing. It is a type of centralized authority, since whoever sets the trend makes everyone else obey that idea, whether it is collecting Beanie Babies or being a good Communist.
In this way, we can see that consumerism and Communism have a common root, just like individualism and collectivism do: people, ignoring natural order, choose instead a human order based on conformity, and they manipulate each other so that as individuals they can become more powerful. All of these things are two sides to the same coin, which is that you are either focused on reality or on humans, and if you focus on humans, you end up with something like bureaucracy, consumerism, socialism, and trends.
Writing in another life, I referred to this as Crowdism, or the domination of social pressures over goals in reality through the desire of individuals to manipulate one another, a type of passive-aggressive herding behavior:
Any infection on the level of our assumptions has pervaded our society at its lowest level, that of its values and worldview. We could blame language, or x=y thinking, or sin waves of emotion, or any of the other detours that have absorbed our best liberal thinkers looking for a symbological fix to our problem, but really, these are just the devil's messengers. What's wrong isn't us; it's what we think we believe, and even if we say we want to fix it, our minds have become mesmerized by a certain outlook on the world and are unwilling to leave it.

Under social pressure, people will take drugs, torture one another, steal, lie, cheat and delude themselves. If they internalize that social pressure, they will do these things without the presence of others because they are aware of the eventuality of having to interact with those others. In this sense, the mob mentality can extend to those who are alone, because in their minds the rest of the mob is always there.

Much like ancient tribes who believed that eating the organs of an enemy would transfer his power to the eater, Crowdists believe that destroying others raises the Crowdist's own stature. Their primary weapon is equality. By insisting on one level for all people, they have an excuse to curtail the higher abilities of those who rise above the crowd. Further, they have the ultimate weapon, in that since equality sounds good on an emotional level, it is perceived as a good, and thus anyone who resists its advance ("progress") is automatically a bad guy who has transgressed, and thus against him or her retaliation can be launched.
If metal rejects anything, it is the notion of morally-positive conformity itself, or that conformity for the sake of itself is good. Like all other trends, this shows us a group of people aiming their actions toward enforcing unity on the group, not achieving a goal, and therefore they are motivated by compromise like a committee, trying to include everyone and avoid offending anyone, which arrives at the worst possible outcome.
This forms the basis of The Metal Philosophy, which starts with the idea that life is worth living for its own sake, and extends to the idea that most people run away from real life into the false, artificial, empty, and consumerist because this enables them to avoid the risk inherent to attempting to adapt to their world. When they retreat from adaptation, they have only the human-created world of socialization, and to stay important within this, they create distractions as replacements for any possible goal, so we get trends and bureaucracies and other forms of socially-driven centralization.
The Metal Philosophy says that the real world is out there beyond other human beings, and that it consists in making our heads right with both nature and our own natures. Instead of chasing golden idols like ideologies, religions, money, power, and popularity, we look within to find out what we are, and by doing that, get ourselves out of the way so that we can perceive reality, and having done that, find a way to adapt to it and even more, to maximize our experience in terms of existential intensity.
Most of humanity wants "happiness," which it defines mostly as an absence of negatives (pain, sickness, fear, poverty) coupled with an ability to indulge desires, almost all of which are consumerism in another form, like promiscuity or obsession with wealth. We consume in order to dominate, secretly hoping to destroy everything but ourselves, so that we can continue in our solipsistic delusion that we are gods and the world is a transient, unimportant experience.
Metalheads instead desire intensity. This is not a static state like happiness, but the condition of existing in an ongoing adventure of discovery, danger, learning, conquest, and self-discipline. We want to become great by losing our "talking monkeys with car keys" attributes and instead rising to the level of spirit, becoming one with our feral beast within.
Unlike just about everything since The Enlightenment,™ The Metal Philosophy bypasses humanism because it sees approval of all things without sorting into good and bad — equality — as another form of enforced conformity and a trend in itself. Metal wants to get to the root of life, which requires looking past the social fixations and control structures that we live among.
How does a metal site uphold this? We chronicle the history of heavy metal, derive its ideas, and remain goal-focused. The goal is to produce quality metal, since doing that alone communicates the metal philosophy without having to put it into words. That means that instead of following trends and popularity, we focus on what we can determine is the good music out there and promote it.
Our first cut is a gentle one. It separates the music with purpose to express something from the majority, which is designed to imitate the genre and make a saleable or popular form of what is found there. Music has to express something other than solipsism, but like most humans, most aspiring metal bands clone their influences, throw in some quirks, and write songs based on having enough riffs to fit together.
The next cut separates the good from the classics. We attempt to find those bands and albums which exemplify the best of metal, and hold them up for the future, so people know not what to emulate, but what to use to inspire their thinking so that they can find their own path toward creating great metal.
What we do here will never be popular, but it has been and will be influential, because people know at a gut level that we are right. Our "natural selection" reviews reward the good so that the bad dies out, and our analyses bring out the thinking behind great metal, even if to many it remains as inscrutable as higher mathematics.
If you appreciate what we do, weigh in on these comment threads with how you think things are going and where you want them to go.
Tags: death metal underground, Heavy Metal, sodomy, the metal philosophy