Regular DMU readers may have noticed that Puerto Rico has been on this site's radar since Brett Stevens interviewed José "Chewy" Correa of Organic last year, and for good reason. The "Island of Enchantment" is more than just beaches, bikinis and piña coladas; it's also home to one of the most active and diverse metal scenes that you've probably never heard of.
So what's going on in this little-known metal outpost in the Caribbean? More and more international bands play here every year. Local bands are touring and inking deals overseas. There's an online metal radio station broadcasting live shows every week. An international academic conference on heavy metal will be held at the University of Puerto Rico in March. We even have a biannual metal flea market where metaleros from all corners of the island gather to buy, sell and trade metal merch while local bands provide the live soundtrack. And this is only a short list; there's a lot more happening here.
Cultural idiosyncrasies aside, all national and regional metal scenes are built with the same three human components: the bands, the fans and the people who have the initiative to organize and execute the business and logistics of the scene, otherwise known as "the people who make things happen." These men and women of action don't often get the recognition they deserve, yet they continue to work behind the scenes to bring your favorite bands to a venue near you. (Kreator didn't play their first show in PR last year just because people "liked" their Facebook page; someone had to organize and execute a plan and all the logistics involved.)
Some of these men of action, such as Ray López of Thrash Corner Records, have also managed to actually make a living in the metal music world — not to mention help build and shape Puerto Rico's metal scene — while balancing the responsibilities of a dedicated family man. (In fact, I didn't know that Thrash Corner was his livelihood until I asked him what his day job was in a followup email.) So is he lucky that he's living a "metalhead's dream" or is it his work ethic that makes things happen?
Ray López was kind enough to take time from his busy schedule to answer some questions about his label, Puerto Rico's metal scene and his most ambitious project to date, the first Metal Expo Convention of Puerto Rico.
You've been active in metal for over 20 years, so let's start with your label, Thrash Corner Records. What motivated you to start your own label?
I've been a metalhead since 1980, and my label has 20+ years in business. The story is kind of weird. One day I just got up and said, "I'm tired of going to the store (never finding what I wanted) and ordering by mail (waiting sometimes up to two months to get my goodies)." An idea came to my mind. What if I call a distributor (those days it was Caroline Records and RED Distribution) and tell them that I opened a store and want to buy wholesale? So I just got the numbers and decided to call, and to my surprise they just opened an account for me and I started buying from those companies.
I said to myself, "that was very easy," then another idea came to my mind. Let's say I call Relapse Records, Century Media, Metal Blade and many others. Can they sell to me direct? But then I had to remind myself that I was in Puerto Rico and most of the people in the mainland don't know the status of what we are. Most of them don't know we are a territory of the US, so I took advantage of that and also started buying direct from them. Then I got deeper and deeper into the underground and saw how things were moving with the small labels (everything was about trading productions between each other), so I just jumped on the wagon and Thrash Corner Records was born.
What were some the most significant challenges in those first few years?
To be honest, everything was happening so fast that I was surprised with what I had accomplished in just the first year. If I have to mention something, the first thing that comes to my mind was trading with the other labels outside the US. Back then with no Internet, setting up a trade sometimes took up to 4 months (all the communication was via letters).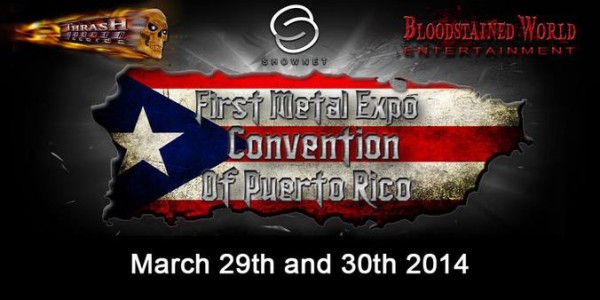 What are some of the highlights and gratifying milestones up to this point?
Those are many and I don't want to bore you with that, so I will just mention a few:
Traveling to different places, meeting with bands, hanging out with them and sometimes becoming friends (the ultimate metalhead dream come true).
As a label, signing bands from other countries, getting distribution across the US and other countries (and that is more gratifying knowing that you were the first one to do that and in some cases the only one to accomplish that).
I understand that Thrash Corner has had distribution deals with US bands such as Hirax and Deceased. What are some of the other bands on your roster, and are there any upcoming releases we should be looking forward to?
Yes, Deceased released one album with us called As the Weird Travel On, considered by many an underground masterpiece. With Hirax there is a licensing deal and we did their complete catalog (the only title we don't have will be the new one, SPV is the one releasing it). Now that Hirax signed with SPV, we feel very proud because we worked very hard with them as a team to get the attention they deserve and finally it pays. We also worked with both Asesino re-issues (Corridos de Muerte and Cristo Satánico). Those were out of print for many years, but now you can find them. Right now we are working with the death/thrash band from Florida, Solstice, doing our own version of the album The Dust (their 2009 full length). We decided to do that one because it had a limited distribution and we want all the fans to own this piece of art.
From our chat prior to this interview, I got an unequivocal impression that you're a firm believer in the old saying: if you want something done right, do it yourself. Is Thrash Corner Records a one-man operation? If so, how important is it to have total control of your business and freedom to do things your way?
You are totally right: Thrash Corner Records is just one guy doing everything. It is hard work but it is worth it. You control everything and you make the decisions, right or wrong (no one to blame, just myself, but I can live with that, hahaha!!!).
I can say without conceit that I work in metal 100% and I'm the only one making a living from it here. It hasn't been easy, but if you strive for your goals you can achieve them. My normal job is the label, selling retail and wholesale on eBay, my website and Amazon!!!
During that chat you also mentioned that you were born in the US and that English was your first language. How old were you, and were you a metal fan already when you moved to PR?
Yes, I was born in New York, but moved to PR when I was 5 years old. I wish a was metalhead at the time, but the concept of heavy metal was not invented yet, hahahaha!!
The good, the bad, and the ugly: Can you tell us what the overall situation was like for independent record distros, promoters and bands in PR back when you started Thrash Corner? How does it compare to the situation today?
Back in the old days of my label and distro, it was hard in some aspects and easy with others. Right now there are a few more distros and labels, but back then I was the only one. As for promoters, I was involved in 90% of the shows here, one way or the other. Now there are more promoters and they found the formula to do shows without my help. I don't mean that in bad way, back then I had a lot of contacts because of the distro and the label and I was the only bridge that they had. Now with modern technology you can find bands with the click of a button. And about the bands, basically most of them are in the same situation now as they were back then (let me make a BIG NOTE: we had a few bands doing things the right way, but I can say we have more now than back in the days).
How did the idea for the Metal Expo come about? Did you formulate it and then presented a plan to people who could help you make it a reality, or did you discuss the idea and sketched it out over time with input from friends and associates?
I was crafting this idea for a while (let's say the main concept is mine), but now that we have a team everybody is bringing ideas to the table!!! That's why we had to change it to two days (in the beginning it was going to be a one-day event).
Was an event like the Metal Expo imaginable 20, 10 or even 5 years ago? What are the "pieces of the puzzle," as you put it, that make this event possible today?
20 years ago – impossible.
10 years ago – maybe.
5 years ago – yes (but some pieces were missing).
About the pieces of the puzzle, I prefer to keep them to myself (this topic is too sensitive, so I prefer to make no comments)!!
There are quite a few underground metal promoters here in PR (some might say an unusually high number for such a small place). Why did you choose to join forces with your co-organizer, Paul Martínez of Bloodstained World Entertainment? Can you tell us a bit more about him?
For me this is the biggest thing that I've ever assembled. I needed a person that I can trust 100%. We have a perfect communication and we have known each other for more than 30 years. When I started Thrash Corner, he was one of the first people to give me a hand. (The story is too long, we leave that for another day!!) Paul has been into metal his whole life, so he was perfect for the job. I know that if he was the one with the idea for the Expo, I would be the first one to be invited to participate!!!
As co-organizers, what exactly are your responsibilities in the Expo, and what is Paul's role?
This is a 50%-50% responsibility, that means that we are sharing everything, we both brought ideas and we are working together with the other part of the team!!!
Can you tell us about the other local promoters involved and what their roles are in the Expo?
The Shownet Group just joined us over a month ago. We are very happy that they joined us. Now it is a three-way split of responsibilities!!!
You were going to start announcing one confirmed artist per day at some point back in December. Why did you choose such an evil way to build suspense?
Initially that was the idea, but some information leaked and we had to announce what we had earlier than planned. For now we have:
Local Bands:
International Bands:
Anger as Art
Thrash or Die
Solstice
Warbringer
Blood Feast
Raven
Six Feet Under
Is the bill already full or is there still room for interested bands to sign up? What about exhibitors and vendors?
The bill is done for live acts. We are negotiating with the exhibitors and vendors. If you want to know everything, all the information will be announced on the official website. Visit us and click "like" to get all the updates.
One of your stated goals for the Expo is to bring worldwide attention to Puerto Rico's metal scene. Why not do the typical two-day metal fest with just music instead? Should metal festivals offer more than just music?
If we do a festival we will never get the attention (they will see it like a big show). With the Expo you can add so many different things to get more attention. Just say the name of the event, "METAL EXPO CONVENTION" and tell me if you're not curious and want to know what it's all about???
The Metal Expo follows hot on the heels of another important event: the academic conference dealing with the topic of heavy metal music as a communal experience. Do you think it's a positive thing that scholars have decided to study heavy metal, not only as a music genre, but as a cultural phenomenon? Some see that as "infiltration from outsiders." What's your take on the issue?
I think it is a positive thing that they decided to study heavy metal as cultural thing (metal has been around for nearly 40 years). That kind of exposure for us is perfect, specially in Puerto Rico. It will help our scene in many ways!!! We have the privilege that the person who is studying our scene is also a metalhead (Prof. Nelson Varas and the crew of Puerto Rico Heavy Metal Studies), so we have an ally. I was just investigating and I noticed that most of the professors of the International Society of Metal Music Studies are into heavy metal music, so there is no infiltration or outsiders. They are part of us and they just found a way to contribute to our movement with their profession.
At first I thought that the Expo would be held at a stadium or convention center, but it will be held at La Respuesta, which is the venue where most of the visiting underground metal acts play. Was that venue choice a conservative decision to keep things manageable? Tell us about the venue and the setup for the Expo.
La Respuesta opened their doors to heavy metal a few years ago, and it's the official venue for most of the metal shows in Puerto Rico. We wanted to keep the Expo there for a few reasons: most of the metalheads know the venue and feel comfortable there, it has perfect spacing for this event (we've been running the Metal Market there five times and it runs smoothly) and we prefer to spend the money on the bands and not on a big venue. We want to give the fans the best experience they can get.
The island's metal fans are expected to show in full force at the Expo, but in addition to them, do you expect to draw international visitors?
The response of the scene here has been great and we already started working with the promotion and invitation for visitors from outside PR!!! With this interview and some other notes that came out in other websites it will draw some attention to visitors from outside.
Internationally speaking, do you think that the island's metal has flown under the radar? Are we at a flash point where Puerto Rican metal will conquer foreign shores? What bands do you think will lead this charge?
Yes, the island is getting some attention. These last few years we had so many more international acts here than we had in the last 20 years. Those bands are spreading the word when they go back to their countries, and all the promoters are getting more messages from international acts that want to play here. Years ago Puerto Rico had attention with bands like Puya, Cardinal Sin and Ankla, then there was a gap and now we have a few bands making some noise outside: Dantesco, Pit Fight Demolition, Zafakon and Severe Mutilation.
From what I've heard so far, most of the major metal genres are represented by various underground bands in PR. What do you think makes Puerto Rican bands different from other international scenes? Is it a combination of our mixed ethnic traditions, our socio-political situation, and the simultaneous identity pull/friction of being both a Latin American country and a US territory?
Like other countries, we have most metal sub-genres represented. The difference here is that our bands don't sound alike, even if they are from the same metal sub-genre. Take two local black metal bands, like Argyle and Humanist. They are the same sub-genre, but they don't sound alike. In other countries, bands within a sub-genre tend to sound alike and sometimes you can tell what country they are from just by listening.
Why is this? In my opinion, it is a little of everything you mention in the question, but in the end it's hard to tell.
Ray, I know you're a very busy man, so I want to thank you for your time. I'll let you have the last word to all of our readers around the world.
I just want to thank you guys for the interest in the event and the interview. Just make sure to visit the official website for the event, Thrash Corner Records and our new division Retro-Merch.
http://www.youtube.com/watch?v=Sy9mhSOHPwg
Tags: death metal, Heavy Metal, puerto rico, ray lopez, thrash corner records