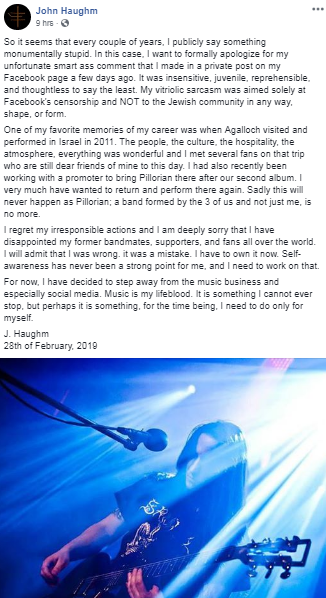 Guest article by Eugene Stryker
The PC witch-hunt of the Leftist Indie/Mallcore Mafia continues ever on in its plaguing of the Metal scene throughout the 2010's. No longer content to pillory some of the most vicious and well-respected acts in the Black Metal genre, the latest victim of character assassination and social media hysteria is none other than former Agalloch leader John Haughm.
The controversy began when Haughm posted a tribute to recently deceased Swiss actor Bruno Ganz (most well-known for his famous portrayal of A. Hitler), and included a brief politically incorrect "joke" comment on his private personal Facebook page.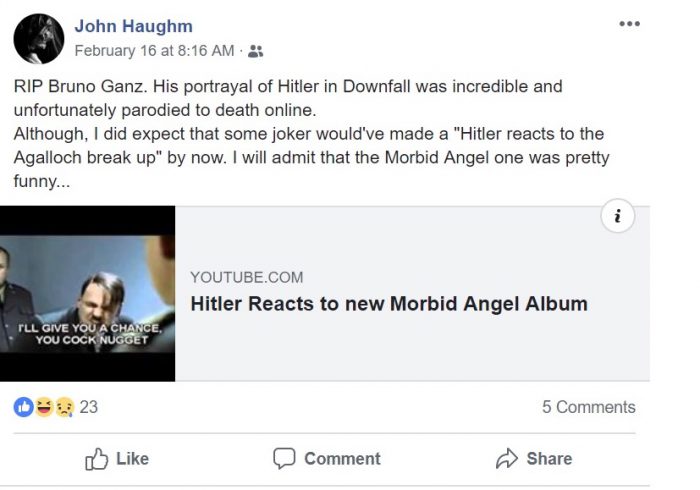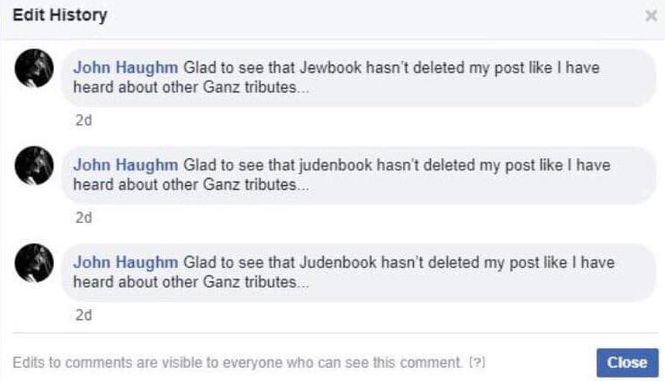 The bandmates of Haughm's most recent outfit Pillorian proceeded to throw him under the bus and dissolve the group in order to save their ass.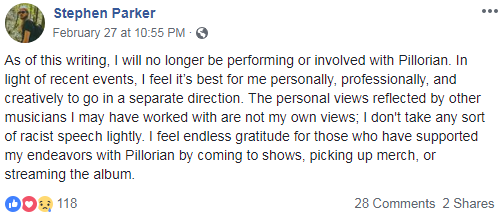 Such betrayal is nothing compared to what Haughm's long-estranged former bandmates from Agalloch had to say on the matter:

The audacity of claiming that Haughm (who originally formed the band as a vehicle for his "personal feelings", wrote all the lyrics and allegedly "80%" of the music) is "NOT Agalloch" is astounding on the level of saying "Rob Darken is NOT Graveland". Proof that in addition to being testosterone-deficient hipsters, they have no sense of honour.
Since they felt it was appropriate to leak private Facebook comments from John Haughm due to their "anti-semitic" nature, it seems only fair that we should point out that former Agalloch drummer Aesop Dekker has commented with public setting on posts from both himself and Stephen Parker making not-so-implicit threats of VIOLENCE towards both Haughm and Parker. (Edit March 2 2019: It appears Dekker has since deleted and/or made private the post which this first comment originally appeared under)

[It is quite likely Mr. Dekker may deny these comments as being mere "jokes". If that is so, how come this is an excuse for him and not Haughm?]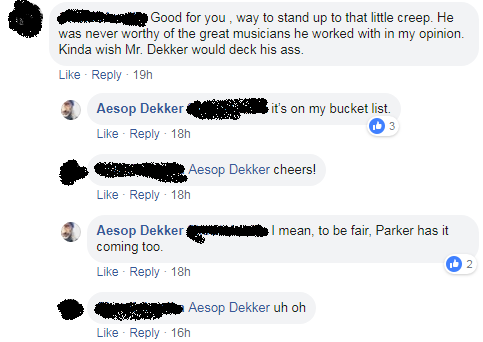 Whoops! Looks like that little apology may not have been enough to save you Steve!
[EDIT March 4 2019: It appears Mr. Dekker is also mad at Parker for previously being cool with Trevor Matthews playing drums in Pillorian. As opposed to what this article had initially erroneously assumed, the reasons for this are UNRELATED to his former association with Uada (a flavour-of-the-month Dissection/Inquisition/Mgła cover band that has also been the subject of attacks from Antifa for supposedly being Nazis simply because they were once scheduled to play at the infamous 2016 Messe des Morts)… the drama goes deep!]
Despite Haughm's extensive apology including an obligatory appreciation for Israel, this appears to be yet another PC controversy in the making. It is sheer insanity that a career can be destroyed over a single typed word, and one made in private and with dubious degrees of sincerity at that. If it could happen to the individual who may have been unintentionally responsible for the influence of 21st century "post-Black Metal", it could happen to anyone. Be on guard at all times.
Tags: aesop dekker, Agalloch, anti-semitism, antifa, Betrayal, Black Metal, bruno ganz, don anderson, drama, facebook, hipster black metal, hipsters, hitler, hypocrisy, jason walton, john haughm, judenbook, metalgate, MetalSucks, pillorian, political correctness, portland, post-rock, privacy violation, social media, stephen parker, threats of violence, trevor matthews, uada, virtue signalling