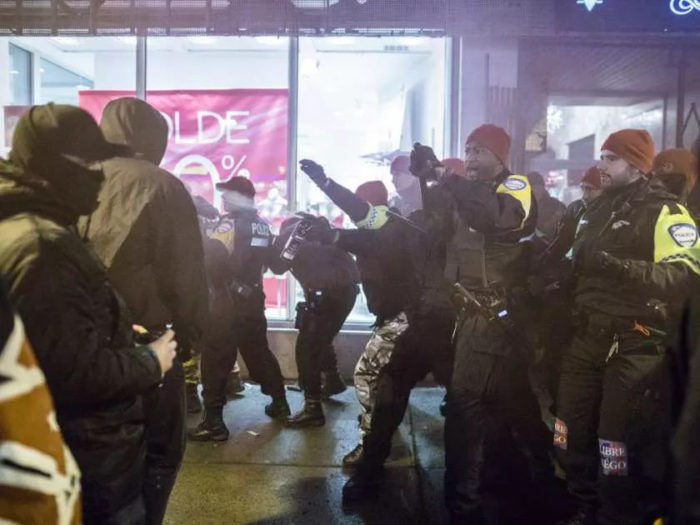 No arrests, no tickets handed out. The protesters were aggressive toward the organizers (of the concert) but not towards police … When we told them to disperse they did so.
Said Montreal police constable Benoît Boisselle about the Communist antifascist terrorists who attacked the the police protecting the Messe des Morts festival where Graveland was scheduled to play. The Antifa thugs were clearly supported not only by the communist Industrial Workers of the World union but by the local Montreal city government too. Three of the perpetrators identities are known: recidivist junkie and anti-Semite Katie Nelson, Éric Sédition (a card-carrying member of the IWW), and Alexandre Bouleric (member of the Canadian federal parliament from a district in Montreal). All walk free to terrorize again.
The Canadian government of social justice warrior Justin Trudeau and the German government of General Secretary Merkel clandestinely supports the leftist attempts to dumb down everything into mediocrity for the stupid, lazy, and insolent to maintain their own political power. When the socialist states inevitably fail, they will officially acquire what the state stole from the people in the name of the people as has occured in the former Soviet Union, Eastern Europe, and the People's Republic of China.
Black metal has been a target for years. Remember when the store of rehash label Iron Bonehead Productions in Berlin was torched by antifascist thugs supported by the police after an iteration of the Nuclear War Now! Fest a few years ago? Hipsters like Vice Noisey, No Clean Singing, and Kim Kelly parading alternative rock and awful Icelandic noise rock bands as the "next big thing" in "black metal" are merely the propaganda of the left; antifascist state-supported muscle that will pummel the exemplary into mediocre rock music for hirsute crustfund and artfat leeches lionizing failed states and economic systems. More of the exceptional must fight back and denigrate the unworthy as the future worm-stuffed compost they are.
Tags: antifa, antifascist, Black Metal, canada, censorship, communism, communists, graveland, Kim Kelly, messe des morts, metalgate, vice magazine