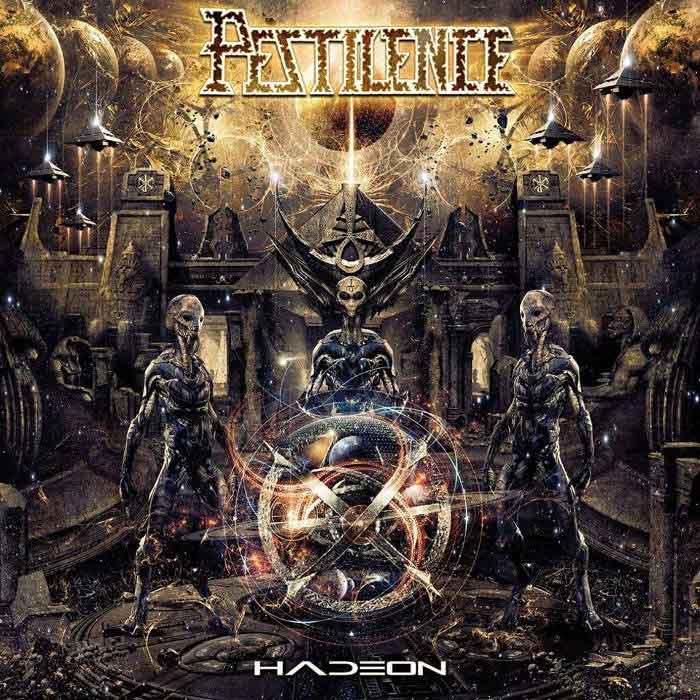 Pestilence have a new record titled Hadeon coming out next year on Hammerheart Records.
Expect nothing from this attempted comeback. The lack of respect for the cover art shows that the music will not be anything special. The cover art resembles a video game featuring the aliens from the godawful Indiana Jones and the Kingdom of the Crystal Skull. This techdeaf album with a cover that could be used by anything on Unique Leader  or Willowtip appears just to be a new release for sole original member Patrick Mameli to tour on. Hopefully this Hardon will be better than crap like Carcass's Surgical Steel.
From Pestilence's Funbook page:
In March 2018 Dutch Death Metal legends Pestilence (official) will release their new album "Hadeon". Futuristic cover artwork presented to the Metal community!

Following up the re-issues of the classic Roadrunner albums on deluxe 2-CD and high quality LP, Pestilence is preparing for worldwide domination in 2018.

Aside from intensive touring around the globe the main focus will be on the 8th studio-album since they started in 1986. "Hadeon" is an all out Death Metal attack, in 13 tracks, combining Pestilence's old school roots, their progressive trade-mark and a killer production, which will appeal to both old and new fans.

The fitting album artwork is created by Santiago Francisco Jaramillo from Triple Seis Design (Lock Up, Dying Fetus, Inquisition). The concept is based on a multi-layered reality, alien presence and negative frequencies.

Be prepared for "Hadeon" coming March 2018!
Tags: comeback, death metal, Dutch Death Metal, hammerheart, hammerheart records, news, patrick mameli, pestilence, tech-death, techdeaf, tek-deth, the netherlands, upcoming album