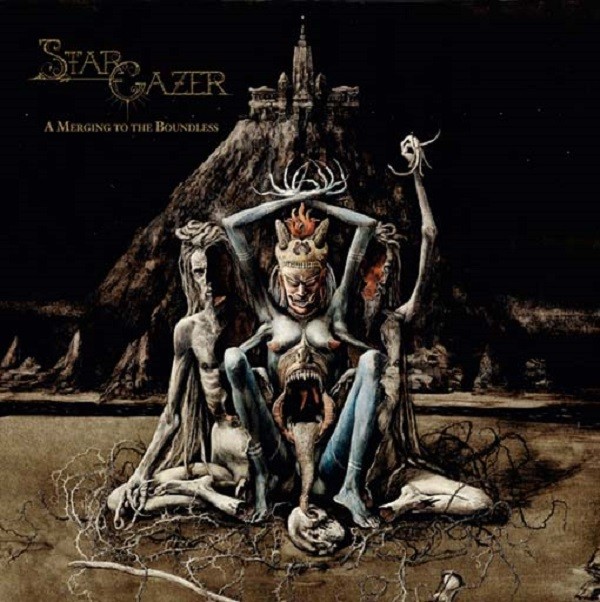 One of the great divides in metal music separates those who approach album making as holistic artworks in the tradition of European classical music, and those who view an album as a collection of songs in the tradition of old and new popular musics. If one takes the former route a certain artistic liberty is acquired that allows the artist to leave songs that occur in the middle of the album open to the possibility of continuation through incomplete conclusions.
Great Death Metal albums with work-oriented organizations like At the Gates The Red in the Sky is Ours and Morbid Angel Blessed are the Sick strategically position songs early in the album to serve as introductions to the album as a whole. An excellent and illustrative example outside metal is Ludwig van Beethoven's String Quartet Opus 132. Conceptual works also require a strong topical orientation, often including different styles or even wholly different genres which can be united under a topic that is not only general (music has no direct mappings to our mundane world) but also specific (music can evoke precise moods and auras that some might say lie in the world of ideal forms) and clear (so that it is apparent to the listener). Undefeated masterworks in this area are Johann Sebastian Bach's Mass in B Minor and Beethoven's Missa Solemnis. This can be seen in the barely satisfactory conceptual realization of the otherwise great and inspiring The Voice of Steel by Nokturnal Mortum, more effectively (and miraculously, given the wildly different genres associated) solidified in Peste Noire's L'Ordure à l'Etat Pur and more recently in the young Colombian effort of a more poetic nature and epic proportions Nadia by Cóndor.
If a band chooses the more simple song-collection method, it must again abide certain rules in order to maintain any semblance of reason because proper music, inspired, must go through the filters of reason to attain their greatest expression. These are born out of the whole of the mind, not just uncontrolled emotion, but rather harnessed emotion. Songs must be self-sufficient. Each song must be brought to satisfactory conclusion by both harmonic and rhythmic means appropriate for the nature of the song and of proportionate dimensions in relation to the rest of the song so that it wraps up the musical content as the ending of an essay brings the topic to a rational resolve. The song must have a parallel relation to that of the holistic conceptual artwork. The simplest way of attaining this independence is by simple Rondo form, or popular verse-chorus song as Iron Maiden does in unforgettable albums such as Powerslave or Slayer in South of Heaven. Epic Power Metal sometimes chooses to borrow a little of the concept-album emphasis of the former approach and effectively come to one type of middle-road arrangement; a good example of this is Rhapsody's Power of the Dragonflame.
Despite all their technical competence, like many other modern metal bands StarGazer takes neither of these paths and instead attempts to aggregate random elements without linear order. Stylistically within the metal universe, A Merging to the Boundless draws from the old school technical death metal such as Atheist (especially in the way the bass is handled within the jazz-metal framework, although they let it get out of hand into more explicitly jazz-like outbursts) and pre-Covenant Morbid Angel (a stark reference to Morbid Angel's Brainstorm can be found in the fourth track of this album, Merging to the Boundless). Under the guise of Avant Garde, which is essentially a claimed right to disavow any of the conventions of the genres from which they derive their music, StarGazer use these genres as a container for unrelated, distracted riffing.
What this and other modern bands fail to realize is that certain conventions are in place as essential part of the genre and are inextricably related to the aesthetics that superficially define it, and when you forcefully rip the latter from the former, you end up with a non-functional husk that can only serve as wallpaper. StarGazer still shows much more local-level coherence and sense than most in its neighborhood and certain structuralist conventions of old school death metal are followed, such as the use of a motif to unite a song, although this occurs only in the first two tracks with looser instantiations in other tracks. The band can be credited with generally being able to fuse influences into the the particular Avant-Garde sound they want to reflect, even if to a connoisseur of the genre the influences are a little too obvious, with the jazz and post rock limbs sticking clearly out amidst the clear and separate death metal ones like a Frankenstein monster whose stitches are clearly visible.
The other major genre that surfaces in this album is a form of lite jazz that results from bringing jazz into post-rock/metal. This is unified under the pretense of making progressive music. This progressive element is sometimes pulled out with a hint of the old (late sixties and early seventies, peaking in bands from England) real prog-rock art of smooth, logical transitions and clear progression (as in track five, "The Great Equalizer") at least in some stretches of the songs. Unlike the old prog-rock art and the classical music it emulates, StarGazer does not make a clear enough division of main and subsidiary material and thus it sometimes feel like it is lost and wandering in its own compositions. "The Great Equalizer" stacks random ideas and unnecessary out-of-hand variations within the post-rock-sludge territory in lieu of composition, joining a long line of poorly realized music that purports to be progressive. A Merging to the Boundless crosses the line into pure jazz with metal overtones in sections of tracks ("Old Tea" features soloing jazz bass), and in this same thought goes beyond that and into post-rock ambiance which consists of strumming or picking chords once and again. In this same spirit the opening of "An Earth Rides its Endless Carous" is very reminiscent of Animals as Leaders in its plain and unrefined yet very affected obvious use of scales and arpeggios in a way that barely describes theme and melody but rather just runs up and down like a kid playing on a flight of stairs. In the last three songs, the more prog-attempted side of the album are rather inconclusive and feel overextended arising from what I can only judge is sloppy high-level design. After the fifth track, a return to simple, late Morbid Angel-style Death Metal with a pseudo prog twist brought on by interpolating Sinister-style riffs feels like going back to something that was already said in the album. If "Ride the Everglade of Reogniroro" were arranged before "The Great Equilizer," it would probably only sound slightly redundant with what came before. I have this same impression of the last (poor-prog) track, "Incense and Aeolian Chaos," that makes use Animals as Leaders plainspoken use of scale that morphs into old-styled prog/tech death metal that is wordy (faster notes) yet not more dense in content.
In the end analysis, A Merging to the Boundless wanders everywhere and thus goes nowhere. Songs suffer from clever low-level (local) arrangement and poor high-level (long distance relations and overall progression) design, which results in their structure being entirely cyclic or not having a clear direction in the long run and being inconclusive. Cyclic songs have rather forced endings while the more prog-oriented ones just dissipate into nothingness. This last thing feels as if someone takes you to a walk in the forest, strays from the past and just disappears, leaving you in the middle of the forest with no purpose or direction.
Tags: jazz metal, stargazer