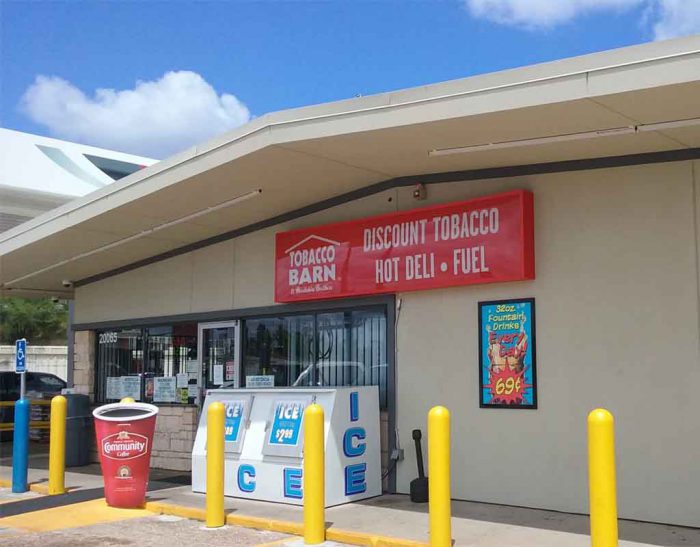 Most of us hate change because change is rarely good. If something works well enough, in all but a few instances, change will bring an inferior version with more profit for some free loader or another who does not deserve it or really, belong in the society of decent, intelligent, realistic, and morally alert people.
Change comes however and we either fight to restore what was lost or accept what is new. In this case, the New Caney Tobacco Barn has gone, but if you go right across the street from its former location, you can find the new improved version.
True, the new iteration does not house itself in a cool little shack with a drive through. The Brookshire Brothers grocery store is gone, slaughtered by the advance of cheaper and more anonymous city grocery stores. New Caney, after all, is on the right coast of the massive Spring-to-Copperfield expansion in the northern Houston area as people flee high taxes, floods, and diversity government down in the city.
However, the new Tobacco Barn is larger and carries more stuff, notably a whole lot more liquor and finally, a pipes selection. It has a full humidor, probably about 6×8′ in size. The air conditioning is a heck of a lot better. Still the same friendly service, and the stocking of oddball items like Cotton Boll Twist.
You will probably not want to come here for specialty tobacco. In addition to the usual RYO (ick) the store offers the big name brand pipe tobaccos like Captain Black, Carter Hall, Prince Albert, and Bugler. You can buy yourself a basket pipe however, and there is still room on the shelves for expansion.
If you find yourself in the south Texas area, head north on highway 69 until you reach 1485. The Tobacco Barn is on the north side of 1485 at the freeway. Good times will be had by all.
Tags: cigars, new caney, pipe tobacco, tobacco barn