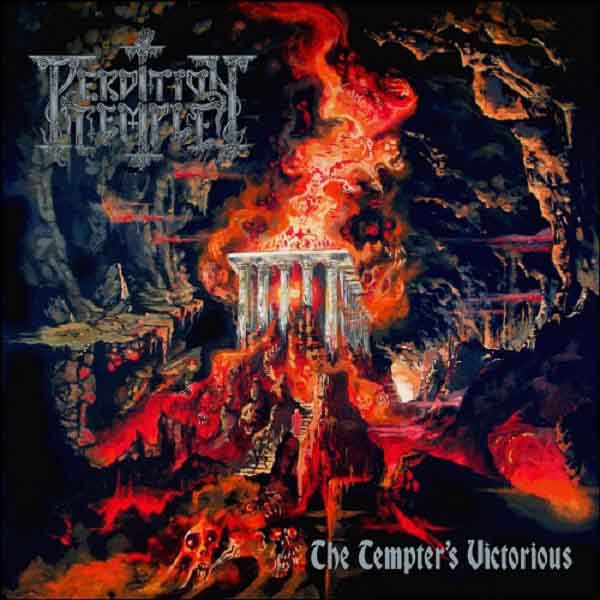 Perdition Temple's sophomore album is one of riffs written and dispersed as discrete packages. These are sewn together into short, explosive bundles extremely dense in content but not always boasting the smoothest of transitions.
Often the tonal shift between adjoining bars is far too drastic to convey any sense of uniform texture, giving the impression of an album constructed from a granular, low-level perspective rather than a more holistic, top-down approach. Meaning that the band came up with a whole bunch of riffs first, before cobbling them together into songs. Performed at near-always breakneck speed, songs pass by in a whirlwind of intense activity that isn't always easy to discern. This is blistering and warring death metal displaying none of the stalling tactics practiced by modern death metal bands, and for that much it deserves credit.
There is interesting micro-play within individual parts but the whole doesn't foster or even attempt to put much store in memorability. The addition of Bill Taylor as guitar foil has given Gene Palubicki free rein to indulge himself as he never had chance to on past efforts in Angelcorpse or even the Perdition Temple debut. The role of rhythm is sometimes completely dispensed with, the two guitars intertwining like Hermes' serpents about a support of hyperactive drumming, sniping and spitting out angular phrases that, in surface aspect, wouldn't be unseemly on a tech-death album. But this act's pedigree being firmly rooted in death metal, the constant barrage of information never loses its essence of violence. A return to themes familiar from older works, primarily through the use of groove as introductory and relaxation device, is in greater evidence during the second half of the album.
As always, incendiary solos faithfully modeled after Trey Azagthoth find space on a Palubicki album. Azagthoth's best work was unparalleled, however, because it was the original extension of its creator's will and personality, much like the eternal consciousness standing outside of time and space, before the birth of time and space, that Eastern monism proposes, willing all creation into existence from within itself. Palubicki's solos are the finest replicas of Trey Azagthoth that death metal has seen but ultimately they fall on, and should be judged by, the sword of rote inspiration that created them in the first place.
7 Comments
Tags: angelcorpse, bill taylor, blasphemic cruelty, death metal, gene palubicki, perdition temple