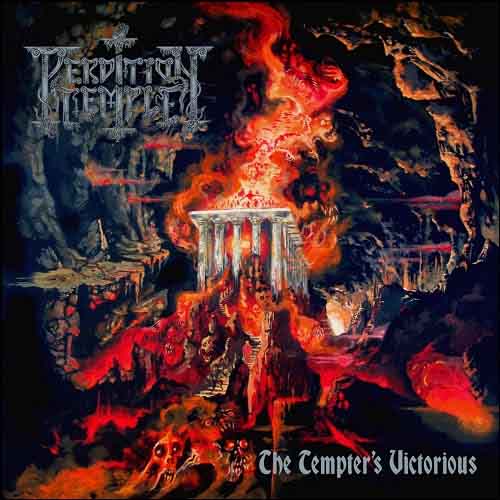 Perdition Temple emerged from the ashes of Angelcorpse when guitarist Gene Palubicki established a new act to make the high-speed, texturally-encoded complex riff frenzy that made Angelcorpse so distinctive among the later death metal bands.
Anticipating its upcoming album The Tempter's Victorious, Perdition Temple today released a teaser video for the title track "The Tempter's Victorious." The band's first album for new label home Hells Headbangers, The Tempter's Victorious unleashed eight new tracks and cover art by Adam Burke. You can listen to the audio below.
In addition, Hells Headbangers will release a 7″ EP in anticipation of the album with an original and cover song enclosed. Release date for The Tempter's Victorious is tentatively set for early 2015. The band has solidified its long-fluctuating lineup as the following:
Gene Palubicki – guitars (Apocalypse Command, Blasphemic Cruelty, ex-Angelcorpse)
Bill Taylor – guitars (Immolation, ex-Angelcorpse, ex-Feldgrau, ex-Xenomorph)
Impurath – vocals (Black Witchery, ex-Irreverent)
Ronnie Parmer – drums (Catalysis)
Gabriel Gozainy – bass
For more information, view the Perdition Temple faceplant page.
5 Comments
Tags: adam burke, angelcorpse, apocalypse command, bill taylor, blasphemic cruelty, death metal, gene palubicki, hells headbangers, immolation, perdition temple