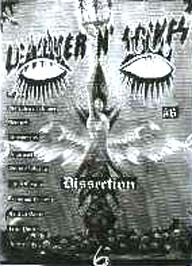 I laughed when I saw the editor of Leather N' Spikes magazine described somewhere as "metal hottie Nuklear Cath." She's a lot more than that: she runs one of the magazines which meets metal ideal in spirit and aesthetic, which idolizes the stuff with potential and doesn't notice the bands that normal people seem to like. Those people who can't step outside of their own heads and into the world of metal which supercedes the norm will hate it, but to the rest of us it's a form of journalism unique to metal itself. After a busy day of piling up the corpses of her victims near a temporarily memorial area, Nuklear Cath was good enough to grant us an interview on the eve of the launch of the new Leather'n'Spikes website.
When you reference the container "metal music" in your head, do you think first of a concept or of sounds?
It's a hard question, I would say it is in a way a concept, it's about something, the subjects are always related to the same things, which makes what metal music is. Or each band has its own concept within the metal concept?!
Your zine has been long known for its amazing picture layouts.How do you research the visual components to articles?
My goal is always to translate the band's music into something visual. So I try to respect styles. If a band uses certain fonts in their booklets and promotion, I will use them to layout the interview. Same for the pictures, the kind of drawings, the kind of atmosphere (the band can be extremely serious or sarcastic, into pagan subjects and nature or into nuclear war). So I try to respect the whole concept on each band featured.
How long have you been listening to metal? What did you enjoy hearing before that? Is this a consequence of musical education (self and/or formal) or a process that converged on that growth as well?
There have always been music in the house, I was not a fan of anything but I was initiated to music (rock, mainly) and slowly I started to search for a genre that would suit my endless need for heavy music. It ended up being metal, and then I "studied" the 20 years of metal that had passed before me. I might have been born too late, but I've done my homework!
In many ways, your writing appears to obliterate the line between ideology and lifestyle by suggesting a viewpoint where life takes on artlike, and nihilistic, qualities. What enabled you to reach such a view, if it is at all correct?
I didn't "reach" that view I think, it's just how I am, or maybe the one idea of an old pile of rare metal vinyls, tenth generation tapes, jean jackets with patches, empty beer bottles on the dirty floor of a rehearsal room and loud music simply leads us to that point. But it isn't completely nihilistic, or then what would it give for me to do all this, to make that fanzine, to write letters, to spread flyers, it would be pointless. I give myself goals and challenges.
What do you think of the writings of Antonin Artaud? Georges Bataille? Theodor Adorno? Friedrich Nietzsche? Jacques Lyotard?
If this is about philosophy, I don't read a lot, I don't take the time to do it. One of my favorite, if not my favorite philosopher remains Nietzsche. The rest you named I haven't studied.
What do you think is the conceptual link between death and art in the symbolic vocabulary of humanity, even subconscious thoughts?
Maybe both are mysteries. Or they provoke the same kind of fascination. Or they are both abstract things, or concepts in themselves. Or both can provoke the same deep feelings, either of fear, terror, panic or pleasure in a way. Or maybe death is a form of art, expressed with the body and usually not voluntarily. It's hard to tell what push people to link those two things.
Are you aware of any circumstances under which humans reach a state of free and autonomous thought? Does this occur to all, or to some?
Maybe in their dreams, or when they create. I think both can be related together: you try to reach a certain state where you a free from all the other people's influences and judgment and you create without any boundaries, moral limitations. Freedom in inspiration and creativity. That's all I can see right now.
The visual constructions used to anchor the layout of each page in the zine is eccentric and striking. When you conceive of a page, do your thoughts begin with symbols or a shape filling a space?
I never really stopped and thought about that. I think I always already have a very clear idea on how the pages will be, how big the logo will be, what graphics I will use and what kind of feeling it will have. I just then reproduce what I have in mind.
Periodically the zine features a photo involving yourself and bare flesh that causes blood pressure increases across the globe. Do you see sexuality as a tool, for war or art, or do you have a depoliticized view of sexual iconography?
Yeah, maybe sex is art. Unfortunately too many people took advantage of it, so I got bored. But I do use myself for 'artistic purposes' and experimentation / creation, in photography for example, or experimental movies. As for blood pressure increases, it's their problem, hehehe…
When you interview bands, how do you mentally prepare for the interaction?
I think it's part of the game to expect surprises, violent reactions, insults, totally different answers that I had expected, or yes, sometimes deceptions. That's the thrill – you work hard on researching on the band and trying to make your questions in the most original way possible, and you wait to see what kind of answers and ideas they will bring up! That's why all the interviews are different and interesting; people put their personality in them! My concept of the interview is to do like if I was meeting the band in person, in the world of their music (even if it's snail mail interview). Some bands embarked in the game, it was really cool.
What publications do you read, metal or other?
I like underground extreme metal fanzines, I also read a few comic books because I'm working on one, and I read mags and books related to my work (graphic design, illustration or desing in general). Almost no novels or anything like that, no time anymore.
Which do you consider to be the most important bands from Canada at this time? And Québec, over the history of metal?
OK from Québec I would say Voivod, Soothsayer, Yog-Sothot, Vensor… I should have mentioned brutal death metal bands, but it has been too exploited here. From Canada – Blasphemy, Voor, Infernal Majesty, Slaughter, Razor, Disciples of Power and maybe a few more I can't think of at this moment!
Some characterize the metal movement "as a whole" in terms that describe its cathartic nature for angry youth, while others see it as a revolution against the social for youth who later, metalhead or no, carry these ideas into society. Still others see metal as an endorsement for hedonism, relativism and a good time. Among these how does your own judgment fall?
Well I tend to only think for myself and not analyzing the impact on the society and how it is perceived by it. So it's hard to tell. Sometimes a metal genre will start as a rebellion but then go into an independent genre not fighting anymore for a cause but just producing music. Music can be done just for a specific purpose – fighting against a religion, a race, a trend – and then end up giving birth to bands who aren't fighting but simply being influenced by the musical side.
If you could interview any musician in history, who would it be?
Lemmy! But I wouldn't know what to say.
Can you list five bands that you feel contributed the most to black metal as an evolving genre?
Well the first that come to mind is (old) Mayhem. Also Venom with all their satanic imagery, Bathory, Hellhammer and… well Sarcofago, Blasphemy, Beherit, aarrgh it's going over five…
"Image" has a bad name to many in the underground, yet visual presentation of concept is an important piece to any communication. What are your views on this?
There are contradictions in this scene and I think that's why in the first place metal became sportsuits, short hair, baggy pants and white socks and that's why a guy like Euronymous got sick of that and tried to get back the real metal look – spikes, patches, leather, long hair, black band tshirts etc… It is important to have a metal image, but the contradiction is in the fact that 'poseurs' (whoever you consider them to be) will try to look the most metal possible – so then image is more important than their dedication. Same for corpsepaint, it's starting to be too much revisited, without any meaning anymore. So what I say is, the dedication comes first but the image should have a certain importance as well, as long as there is a reason remaining behind that.
You manage to extract the ironic humor underlying many of even the most extreme human outlooks. Do you see this humor as inherent characteristic to the process of self-actualization?
I just think that there is a kind of humor that have its place in this nuclear metal scene – and it's sarcasm, black humor. The result is sometimes violent reactions, or people don't understand, or they take themselves so seriously that even the smallest smile is forbidden.
Many of us consider Texas to be a separate nation from the Judeo Christian States of America (JCSA). Do you consider Québec a separate country from Canada as a whole? What does America appear to be, from your national and political perspective?
Yes Québec is a completely different country, another world. I don't feel being part of Canada too much, just like most of the people here. 2 languages = 2 cultures, 2 ways of thinking, 2 different people. America? That is from the Southern countries to the North Pole right? If you were talking about USA, well I think this country is taking too much place here and in the world unfortunately.
What is your ideal solution to human overpopulation?
Hehehe I don't know, or else I don't dare saying it.
Hypothetically, you are given a corporation to run with funding from an alien government to initiate world destruction plans. How would you approach this real world scenario?
Well I would approach it in a highly creative way. No problems for the funds, right? Well then let's have fun. I'm working on a comic book with a story a little bit related to that, so all I'll do is re-create the devastated landscapes and junkie people of my story, and then draw them as models for my comic book. And maybe make a movie. Ah, my own story come true, what an honor!
Some define art as the end product, others define it as the communicative process between artist and audience. Which do you think is closer to the truth?
And if there is no truth in this world? My own truth is, art is like alchemy. You work on it very hard, and your skills get developed, but you evolve as well besides that, in your mind, as a person. Whatever people might think, even though they don't like what you do, you know that what you do is ok, and people being shocked by your art might be a good sign.
Are you of any mystical belief?
You mean occultism, satanism and things like that? Yes, I do have my own thoughts about it.
If so, does your mystical belief involve entities and processes beyond this world, or within it?
I don't really know. It's something very complicated.
What importance do you place upon the conceptual process in the artist before making work, including ideological, mystical and philosophical beliefs? (when I say philosophical here, I mean the existential and valuative processes of cognition)
The artist puts himself into his art, even though he might be trying not to. His art is his blood. So it reflects his mind, personal thoughts and beliefs. It is nothing objective. Someone looking at the artwork of an artist will therefore look into this artist's mind and personal life.
If going into combat under idealized circumstances, from which era would your weapons come? (are you a medievalist, or a modernist? regarding weaponry)
I'm not as fascinated as some people I know, but it seems war and battle was an art in the ancient times. The weapons of those eras – dark age and medieval – are definitely nice pieces of art, and the honor and the idea of dedicating your life to war is quite different from today's red-button pushing countries. Fighting man to man, with or even without weapons, in honor, is something that seemed quite more appealing. And the different weapons, some sacred, with runes carved, some unique and rare, forged by those people themselves…
Are there any generalized opinions you have of metal journalism, and where other zines differ from Leather N' Spikes?
We all have our own ways of making a fanzine. I might think that my ways are the best, criticizing others for doing this and not doing that, but anyway that makes a diversity in the fanzine world; but the editor needs to be serious and dedicated, and to make 'information' is first priority.
If you had to pick a metaphor for the individual in modern society, would you choose "the castaway" or "the fortuneteller" – and why? Do you see the individual as important, philosophically or politically, and what is your opinion of democracy?
It's a tough question. I don't know if 'the individual' is important, it should unless it starts building McDonald's and churches and gives away Pepsi bottles and make propaganda for the arrival of Jesus or something. In general the individual should have the right to say what he wants to say but some people often should shut up. As for the metaphor, hard to tell. I don't really think about it.
Is cruelty essential to humanity?
I think people tend to deny that side of their being, I don't know if it is essential but it is remaining there as a manifestation of what we are – not always cruel but every once in a while (or more for certain people!) with a tendency to that.
Leather N' Spikes has garnered praise from across the underground. Do you consider metal to be a "sub-culture" to mainstream or "alternative" or "counter-" culture?
A counter-culture is against the mainstream I guess, so it should be called this way I think. But there are some bands playing a trendy style or an ordinary style but they don't have any success so they remain "underground" – as they aren't against the mainstream I would not put them in the counter-culture category at all.
Most people deny that they are beasts. Is this really true?
I would say yes, they deny their own human nature of being animals and having instincts and an animal nature, which includes other animals as daily food, sex, violence and certain primitive instincts etc. A nice example of something against the human nature is catholicism.
How do you, as every thinking individual must, conceptualize your own death?
I kind of saw it when I was younger and it was terrible, so I'm trying to avoid that kind of death. Now I just don't think about how I will die, but how I want to live instead.
Some thinkers reduce philosophy to a conflict between the eschatological and the existential. Is this logical, in your opinion, and if so, on which side does your greatest sympathy stand?
Philosophy, just like politics, is not something I care for as much as I care for art, for example. There are people that are better than me for this.
If I left anything out, or there is something of useful clarification you wish to state, please say what is needed here.
OK well back to the zine, I just re-designed the whole website (with a huge art section, excerpts, reviews etc!!) which should be online by the end of August. It will be announced on my old website, see address below. Around the same time, issue #7 will be out with Blasphemy, Summoning, Desaster, Destruction, Crucifier, Grand Belial's Key, Canadian Assault zine, Goatvomit, Abominator, Canadian scene report 1982-1993, etc. Write for prices, info, wholesale prices etc!!
Still available are #4 (4$US), #5 (4$US) and #6 (5$US), check out the contents and excerpts of each issue on the website.s
Ask for the wholesale prices and don't hesitate to write or send promos!!
Catherine Lachance
35 Brousseau
Loretteville QC
G2A 2R2 CANADA
catherinel@globetrotter.net
So monstrous a mode of valuation stands inscribed in the history of mankind not as an exception and curiosity, but as one of the most widespread and enduring of all phenomena. Read from a distant star, the majuscule script of our earthly existence would perhaps lead to the conclusions that the earth was the distinctively ascetic planet, a nook of disgruntled, arrogant, and offensive creatures filled with a profound disgust at themselves, the earth, at all life, who inflict as much pain on themselves as they possbily can out of pleasure in inflicting pain — which is probably their only pleasure.

– F.W. Nietzsche, Genealogy of Morals
No Comments