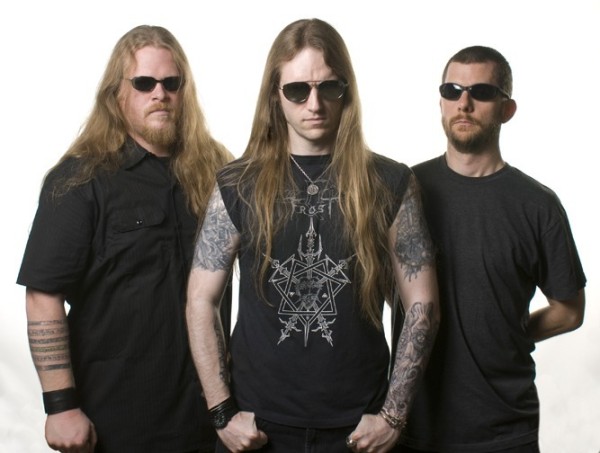 I'm interviewing Jeff Tandy, vanguard of the hateful and cynical Texas thrash band Birth A.D. He also played bass in the black metal band Averse Sefira under the pseudonym Wrath Sathariel Diabolus.
How were you introduced to heavy metal, and how have your tastes evolved over the years?
Unoffficially it was by seeing Alice Cooper on the Muppet Show when I was three years old, and my mother very graciously bought me the single. Officially it was exposure to traditional American heavy metal through secondary contact (Dio, Quiet Riot, whatever else was going on) then discovering thrash with a few like-minded friends. I had the proper evolution that all fans should experience: heavy metal, speed/thrash, then death/black. At that point you'll be fully literate, fully integrated, and you'll have avoided all the stupid stuff.
How was Birth A.D. formed?
We formed out of a need for something to do while we watched our guitarist let Averse Sefira languish and die. I had songs in the vault from my formative days (back when I had a very remedial thrash band called Afterbirth) and I had always wanted to record them just to have for posterity. Little did we know it would actually be something with promise.
And how did you meet the drummer and guitarist?
Mark and Brian had a band called Death of Millions, and I'd known them for years. Mark joined me in Averse Sefira in 2001, and that was basically that. I invited Brian in to try guitar because I knew he was a solid player, and it came together perfectly.
When you write songs, what comes first? The riffs? Lyrics? Rhythms?
The lyrics are invariably first. They actually shape most of the riffs, and that's always how I write. In this band, the words have to be just right or the riff is worthless.
In an old Averse Sefira interview, you identified yourself as a hessian. What does being a hessian mean to you?
To be a hessian means you make metal part of your life in an integrated fashion. It's not a hobby, it's not a weekend diversion, and it's not something you hide. It is akin to a faith, except without all the retarded masochistic tenets of worship.
What album are you looking forward to most in 2014?
I think the new Triptykon will be good. My friends in Death Wolf have a new one coming, so I'm interested in that as well. I don't know, these days the time between announcing an album and actually releasing it is so narrow it's hard to build a lot of anticipation. The Demilich compilation finally came out so I'm all taken care of for now.
What's next for Birth A.D.?
We are finally looking into live dates elsewhere. I'm working on a new album, but I want to take some time to make it right. I feel like our first one will be hard to top, but I intend to try my damnedest! Thanks for the interview.
Final words?
Hail Hanneman. Cause problems! In that order.
31 Comments
Tags: averse sefira, birth a.d., jeff hanneman, jeff tandy, Thrash