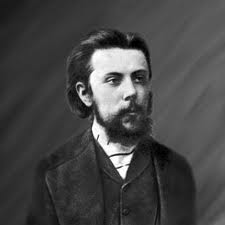 The Death Melodies Series (DMS) continues with Russian Romanticist composer Modest Petrovich Mussorgsky.
Mussorgsky was birthed into a wealthy aristocratic family in Russia. He brought ingenuity to the Romantic Period, but he was also an innovator by bringing many Russian nationalist themes and folklore into his compositions. Many of his years were spent as a civil servant, and he had numerous hurdles that hindered many aspects of his life. Some of his works were never finished (presumably due to alcoholism) and many people disregarded Mussorgsky. Others claimed that he had fits of madness before he died.
Aside from his self-destructive nature, Mussorgsky executed some very remarkable works. His Pictures at an Exhibition suite is still prominent today in the classical music scene and it's been transposed to many renditions on various instruments. One of his most popular pieces, Night on Bald Mountain, has been utilized from Disney's Fantasia to Marduk's Glorification of the Black God.
Mussorgsky died right after he turned 42. Though he lived a short life, his innovative Russian flare established himself to become one of the leading figures for later Russian composers to draw influences from. Shostakovich likely gesticulated the most inspiration from Mussorgsky's works in his late symphonies. Mussorgsky left numerous works unfinished due to his decline in health and alcoholism. Shostakovich took it upon himself to revise some of the incomplete works. Sergei Prokofiev was also influenced by Mussorgsky in some of his operas.
3 Comments
Tags: death melodies series, Mussorgsky