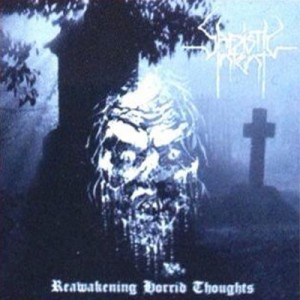 Long-dormant old school death metal band Sadistic Intent, whose members toured with the resuscitated Possessed during the resurrection of that august act, now prepares to release its first new material in many years.
Legendary for its 1990s material in the style of Slayer or Morbid Angel, the band continues in this style with three new songs which are being billed as "the unholy return of Sadistic Intent." True to form, they will be released on 10″ vinyl from Iron Pegazus records.
Reawakening Horrid Thoughts could be crucial to getting Sadistic Intent material back into print, since the band's prior releases, Resurrection and Ancient Black Earth, are out of print and the former is a re-release of earlier out-of-print material. If this attracts an audience, the band may be able to re-release compiled material so that new generations can appreciate this classic act.
5 Comments
Tags: death metal, sadistic intent