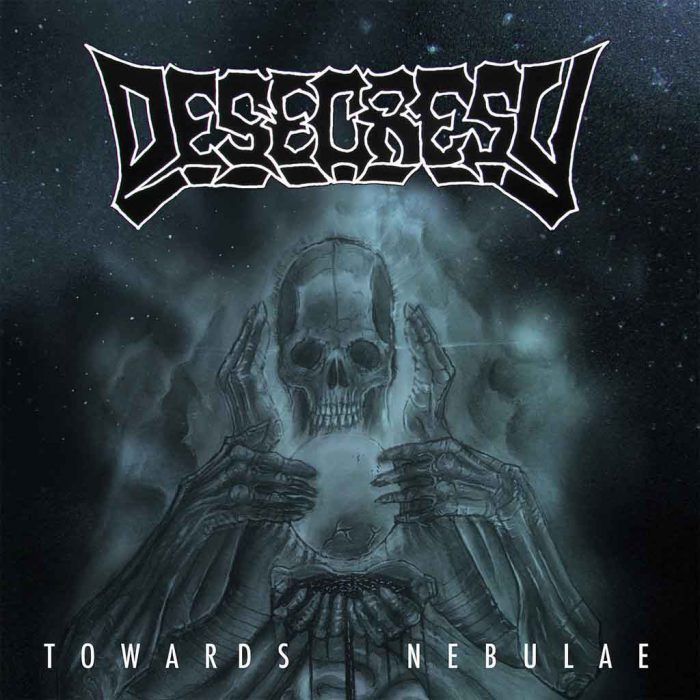 Bands that possess both unique style and substance, since these are usually related, face difficulty in maintaining consistency because over time the content builds on previous ideas, and therefore the style slowly mutates. The best bands do so while maintaining continuity to the past and toward the idea they seek to explore.
Desecresy returns with an album that is less mystical than previous works and more heavy metal at the same time adding interesting forms of technicality, as if hoping to delve into a particular atmosphere through not focusing on it directly so that over time, consistency and change can coexist in their work.
Towards Nebulae picks up where previous works left off, but where those were going into more of a sense of ritual and naturalistic ambience, this new album attempts to bring in the last three generations of metal music and adapt them to the Desecresy style, as if building a vocabulary for what comes next.
The characteristic downstroke-heavy riffs that avoid getting into speed metal territory by positioning themselves in cadence rather than syncopation do their work here, creating a looming presence of implacable inertia, while allowing the melodic fills to rise and supplement the main theme of each song.
Much as was done on Death Spiritual Healing, each song has a distinctive main figure which states a version of its theme, and an introduction which takes half of that theme and works it into something ornamental which produces a sense of mystery before the song develops.
Like previous albums, Towards Nebulae concentrates on sliding us into an atmosphere and then interrupting that in order to both build conflict and make the listener long for the normality of the dominant mood, which makes these songs both infectious and immersive.
Of all the recent Desecresy works, this album most closely approximates the approach achieved on their first, Arches of Entropy, by forming a wall of sound from distorted lower-frequency power chords and hoarse grumbling vocals from which the core of the song descends, producing a different type of music.
Many have sought an ambient form of heavy metal, but Desecresy seem to have achieved it. While the more esoteric material from previous albums takes less of a presence here, the power of the union of form and content gives Desecresy a powerful voice and makes this an enjoyable escapist death metal album.
See also: Interview with Desecresy (2015), The Mortal Horizon (2017), Stoic Death (2015), Arches of Entropy (2010), Chasmic Transcendence (2014).
Tags: ambient metal, death metal, desecresy