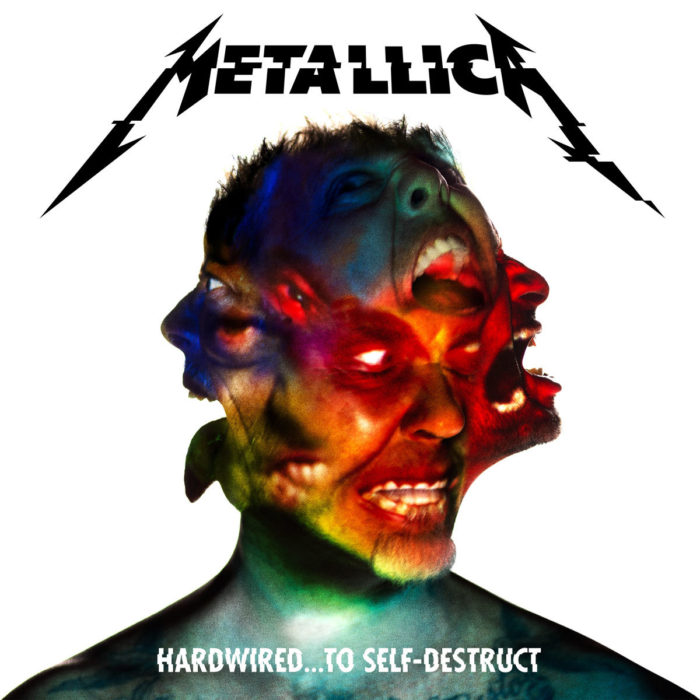 Review contributed to Death Metal Underground by the Peckerwood Boys. The audio review may be heard here.
Yep, just me here. A new Metallica album of all 45 rpms of pure American metal! 180 grams, limited to 500 copies. I'm gonna spin this bitch like NASCAR!
Lookin' under the hood here, you got your Black Album riffs, you got your Pantera, and that sir, that's gonna get you over to your cousin's house faster than her boyfriend so you can propose to her. Now this album right here has really got me saying, "I'm glad, I'm glad it was Cliff!" That Master of Muppets there album had a lot on it I couldn't understand in it. It was like tryin' to make sense of one of them pieces of paper with scribbles on it, them black scribbles man.
Well shit brother, I just listened to this here new Metallica album too and I'll tell you what man, this is just some red-blooded, get the lead out, American heavy metal man; none of that burning churches, demons coming out of the ground type shit. This is just some fuckin' street level shit you can relate to man ya know what I'm saying?
Yeah brother, there ain't none of that there faggot trend, of fat homosexuality. This is real red-blooded music for dicking down your steers and branding your women. I'll tell you what brother, right next to family values, Metallica is this nation's greatest export.
Yeah man, don't gimme none of that Nazi elf shit, face-painting leather helmet shit man. I just want something I can drink a beer to, you know what I'm sayin'? Hey brother I'm confused man, are you talking about like families value like with your mom and dad or like the Family Values Tour? Cause that shit had Korn, it had Kid Rock didn't it?
Yeah I feel you brother and I see you love Metallica but I think you just forgot something man, you know what I think you forgot? Forgot fucking Pantera man, the fuck's wrong with you?
Let me tell you something sir. I love our veterans and I did not vote for George W. Bush twice to send our veterans to die so fucking Europeans queers could take pictures of themselves wearing chainmail in the forests! It's some bullshit sir and I will not stand for it! We're talking family values brother. Keep it in the family! Genetically pure for generations. Never breed outside the bloodline! Cause that's how you get the greats! That's how you get your Hank Williams Sr. and your Pantera and your Metallica: you keep it inside, you keep it white, you keep it right!
You know, we got a problem with domestic terrorists, home grown liberals playing sad arpeggios on piano, that's the real crime here sir. That's why we need more domestic security, surveillance, detention like Guantanamo! Fuck yeah man just back here! Let me tell you something else: on this new album here, Metallica wrote the lyrics, "We're fucked, shit out of luck!" and let me tell you I felt that way ever since we elected Obammer.
Yeah, I'm mosing on down to that there Metallica, I'm going to the Metallica of my cousin Sally. Sally, she's got a little chunk on her but she's still pretty. I know all the guys at the corner store don't say she pretty but she pretty. I know a lot of people don't see the pretty but oh god Sally man, when rubs her right up on my dick, oh my god Sally!
When I went down the record store to pick up the new Metallica, I talked to the scrawny kid behind the counter who was dressed like some kinda Halloween vampire who insisted I listen to some band called Burzurm or something. I told him I wasn't interested but yo he insisted that I listen to it. He put it on the ol' turntable and all I heard was a man, a grown man, trying to sound like a screamin' little girl. I didn't understand it; it seemed kinda gay. Can't really work on my Chevelle in it. Not sure what you do with it to be honest.
So I told him, "You take that child porn right off the record player right now. I don't know what the hell's gotten into you boy but this is a good Christian town. I've known your parents, Billy and Sally for years. Your mother came to me the other day and she was concerned. She was concerned you were showin' pictures you've taken of yourself in black mail gauntlets holding a torch in the woods, covered in fake blood 'cause you're too much of a pussy to shoot a buck for yourself! The hell is wrong with you boy?"
But I ended up buyin' the Burzurm record anyway. Took it to the local sheriff to report it for illicit content, perhaps some contact with minors goin' on there or something, something suspicious. I looked on the back of the record and was looking for who was responsible for this. It was some Count Grashnack, dressed in theirs cape, holdin' some weird wood thang with some spikes comin' out of it lookin' like something out of a movie man! I was confused.
Then I started to feel bad for this kid here, this Count Grissom. You know, he's probably one of them kids, those good natured kids who had to play chess or somethin' in high school. He didn't go to shop class or play varsity football.
So I was listening to this His Lysol Tour Ass Thorn album by Burzurm for about a week. You know curiosity got the better of me. Found myself sneaking into our closet and trying on my wife's panties when she was out at the store! That point, I ran straight for my pastor, confessed my sins, and threw the record on the ground, broke it in pieces, and burned the cover, the cover that it came in. I believe it had an insert, a poster insert of some kind. I turned that into a paper airplane, took it out to my backyard. I threw it around for a little bit and then I burnt that too.
So I called up that, I called up that nice boy from the record store's mom you know, told her about what had happened to me, and asked her how her son came 'cross such demonic music. And she said he had been visiting some website called "Butthole.com". Apparent, it's got articles on them there philosophy for them who don't know how to work for a livin' and it's got some long, long wordy reviews on it. I couldn't understand them either. Somethin' about trans, transgender idealazers. I don't, I don't fully get it but it's starting to make a little bit more sense now.
But yeah man, let me tell you Metallica. That Kirk Whammett, that's a damn good guitarist there. Probably the best I've heard since Willie Nelson!
Well shit, what's that noise you got there going in the background? I hear some wailin' and moanin' and carrying on like some fuckin' Robin Hood shit man. Are you still listening to that there record brother? I don't think you've been cleansed of your sins after all if you know what I mean. Somebody better check this guy's web browser history to see if there's any recent visits to Butthole.com! What kinda philosophy you lookin' at there, huh brother?
Well, I don't know about no Butthole.com but I'm right here right now laying cable, working like a dog. As far as I'm concerened, y'all don't know what the fuck you're talking about. This Metallica is way better than that Dave Mustang death where he sounds like a little girl off Skype. Yeah, this sounds like a fuckin' man like James Hatfield. Yeah! I love that James Hatfield "Yeah, Yeah!" Reminds me of when I go down to the track and I take my earning and I play the ponies and cheer! Dave Mustang sounds like that one time I went to the chat room and it turned out to be a police officer, a lady police officer. I thought she was a girl. And then they came to my house and they arrested me and then I couldn't work no more after that. That's not fair but yeah new Metallica Hardwired! I'm not shit outta luck any more!
Sometimes I feel though, when I play the CD in my garage, sitting on my car 'cause I'm not allowed to drive anymore because it has a lock in the ignition. I play it on my radio from the CD. This is not an album for goin' fast; it's not like Deep Purple, the "Highway Star" and Metallica's "Fuel". This here Metallica shit you have to contemplate it 'cause Kirk Whammett is showing off like that colored boy in Thin Lizzy is back in town. It's like when somebody's showin' off their new car, a new Ford Mustang, that's been outfitted with turbo: you gotta drive it and hit accelerated to get the feel like I got the feel of Sally.
Well let me just tell you something there about the butt holes talking about this here new Metallica record. Yeah, leave it to California boys to misappropriate our glorious Metallica! Yeah come on man, this is Lynyrd Skynyrd for metal! Californias, you know they tryin' to steal our Metallica! You know that there moment when you know, Ride the Lightning, when James Hatfield's like "Go insane from the pain they surely know! Yeah Yeah! For Whom the Bell Tolls!" Yeah! That shit rules. You know what else them there Californians stole? Creedence Clearwater Revival. Them boys were born on the Bayou! Then them there San Franciscans went and pansied them with their Satanism.
Hardwired is better than their first one, Kill 'em All as that one there's just too rhythmical. You can't work on your Chevelle to Kill 'em All. It's like RnB with those rhythms. I won't have none of that. That shit's not metal like Lynyrd Skynyrd or Ted Nugent, my favorites other than Metallica! I was once at a monster truck show and I heard that Slayer. Slayer's Satanic! That's some there California shit! I saw a picture of them once on the internet: Slayer had tattoos on his head. I got a cross on my shoulder for the Lord and this Mexican fellow has tattoos on his head singing about how he's gonna "Rape in Blood" and how we're all goin' to hell.
I saw a video way back when of that Mexican, "South of Heaven" at King Tut's pyramids. I think that fellow's an Arab; he don't look like no Mexican to me. Mexicans don't have hair and tattoos like that. We don't have no Mexicans that look like that 'round here. I saw a couple butt hole Arabs came to the corner store once and we had to chase them away like wolves. We had to chase that Arab out of town.  Them Arabs drove up playing some kinda ding dong Chinese music wanting to pump some gas. We thought they might be Chinese or Japanese until he got out of the car. He had a beard and looked like that Hadji from the Johnny Quest that was on the television when I was a boy. We couldn't allow that. This here's America and 'merica is Metallica country! Yeah! Hardwired… to Self-Destruct! Yeah yeah!
Tags: 2016, boring, burzum, Dave Mustaine, hard rock, lynyrd skynyrd, mainstream metal, metallica, slayer, Speed Metal