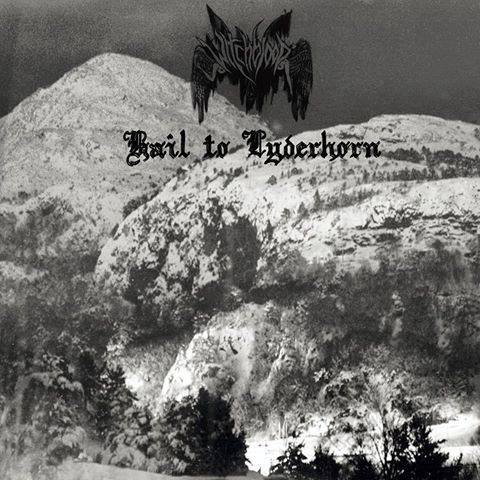 Article by David Rosales
Witchblood is a black metal band that falls on the darkest corner of the folky side of the fence. While not specifically minimalist, Hail to Lyderhorn is a very simple and straightforward music that leans completely on the guitars for content and texture. This album may get repetitive or even a little thin at times but its saving grace is its coherent diversity of textures and techniques. The scant but effective use of keyboards is laudable, being effective as it is magnetic.
The guitars function as one only voice most of the time, with a trusty bass for a spinal chord. The meanness of this portion of the instrumentation places great stress over the role of percussion. The drums have now to fill up spaces and act like the second rock in the bolas of an Argentinian gaucho. To Witchblood's merit, this is accomplished more than satisfactorily, with drums that compliment or mirror the metal strings, rising to the occasion as required.
Comments will be made about the quality of the vocal performance, which is neither deep, rich nor very powerful. Despite this, the overall result of the music in Hail to Lyderhorn does not seem affected negatively noticeably because of this. In part this is because, as with the instrumentation, the vocalizations were performed well within the boundaries of their limits, allowing them to perform effectively, and therefore avoiding the possible blunders of overextension. We may also want to point out that the textures for guitar riffs and their chosen registers stay clear of the space in which the voice moves. When the guitar's approach changes (for example, arpeggiating chords into higher notes), the vocal approach also changes, sometimes to a haunting witch chant.
Released in 2014, Witchblood Hail to Lyderhorn is a deserving release that might have escaped the radar of most fans who would otherwise have derived much value from it. While it's no classic or game changer, this album is nonetheless a low-key example of shrewd amateur efficiency and spirit.
Editor's note: "Hail to Lyderhorn" was briefly covered in our best of 2014.
No Comments
Tags: 2014, Black Metal, folk metal, German Black Metal, hail to lyderhorn, review, witchblood