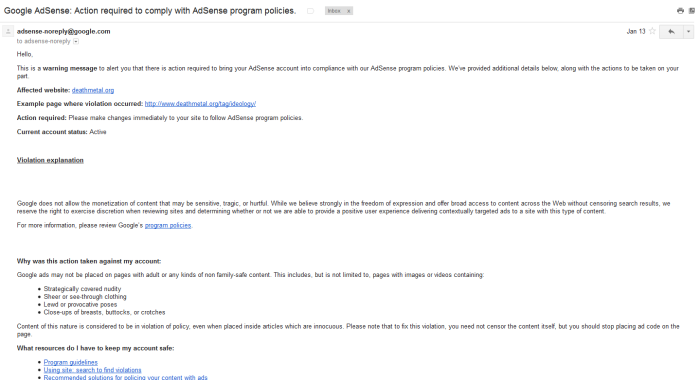 Google has informed us that they threaten to remove advertising — how we pay our writers — from our site because of controversial content. Since Google is a monopoly on search engine technology and internet advertising, it can act much as a government would to censor content that it finds objectionable. Much like a government, that places control over what you can see, hear and read into the hands of a few bureaucrats with no concern for the needs of free speech.
Listen to the safe spaces rhetoric: "Google does not allow the monetization of content that may be sensitive, tragic, or hurtful." This vague description makes makes abuse of violation reporting a trivial task, especially given that the sheer reach and volume of Google's customers forces some degree of automation into the process. Given how metal is under attack by SJWs constantly through abuse reporting mechanisms this forces sites to censor themselves and keeps that censorship — unlike that by governments — entirely invisible.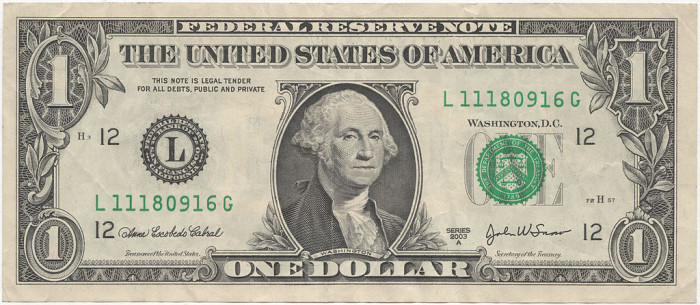 In the meantime, #metalgate has gone into full war mode with the disinviting of Phil Anselmo's band Down from FortaRock festival in the Netherlands. This response to Anselmo's allegedly ironic Nazi salute at a festival reveals a perfected form of censorship: by convincing businesses to censor your content or otherwise cut off its revenue stream for fear of potentially harmful content, SJWs can destroy content that does not agree with them and face zero recognition or accountability.
A metal festival is one thing; what about the collected knowledge of humanity which had entrusted to the internet? If Google drops advertising, and eventually starts redirecting "dangerous" searches to counter-propaganda, as the company starts to seize more power this type of censorship will only gain more power. It has its fans among the usual power brokers who want to put people in jail for merely visiting questionable websites. This means we have a monopolistic company that has the power of a government to prevent you from seeing whatever material it deems as bad, and instead of using a clear filter for this, Google will continue to use the nebulous "offensive" tag to remove information.
This denies the human nature of truth which is that truthful information goes through a long period of opposition and censorship before it is accepted:
All truth passes through three stages. First, it is ridiculed. Second, it is violently opposed. Third, it is accepted as being self-evident. — Arthur Schopenhauer, German philosopher (1788 – 1860)
Google possesses the perfect way of keeping truth caught in the "violently opposed" stage so it can never be accepted as self-evident. By being vague about what is "offensive," and putting the burden on sites like us to figure out what they object to and remove it, they ensure broad content removal of controversial topics. Given that five large companies control the internet, your right to speech is governed entirely by their desire to provide a "safe" product. Government never needs to get its hands dirty nor the companies officially admit they have censored anything. In their view, they are merely providing a safer product. And somehow, government seeks OK with Google's attempts to stay on top through underhanded deeds.
While we detest Pantera, and generally think ill of Anselmo and his many antics, and have personal reasons to detest neo-Nazism and all associated with, at DeathMetal.org we are aware of the history of censorship: it starts with ideas no one will defend, like Nazism and pedophilia, and then expands to include anything that those in power — including rich companies like Google and the other Big Five — find threatening. This is the censorship of the future: removing anything that makes people feel uncomfortable, which will quickly produce a circle-jerk that repeats the same accepted opinions to itself and fails to notice uncomfortable realities. In metal, we face uncomfortable realities head-on because they are still part of reality and throughout history, humanity has thrived where it accepts reality and failed where it denies it. Google, FortaRock, SJWs and other "safe spaces" types are leading us into failure as a species by making denial into a moral good, even if they do it "in our best interests" with the most benevolent of motives.
16 Comments
Tags: ad revenue, adsense, advertising, censorship, google, metalgate, monopoly, pantera, panterrible, phil anselmo, sjws, social justice warriors