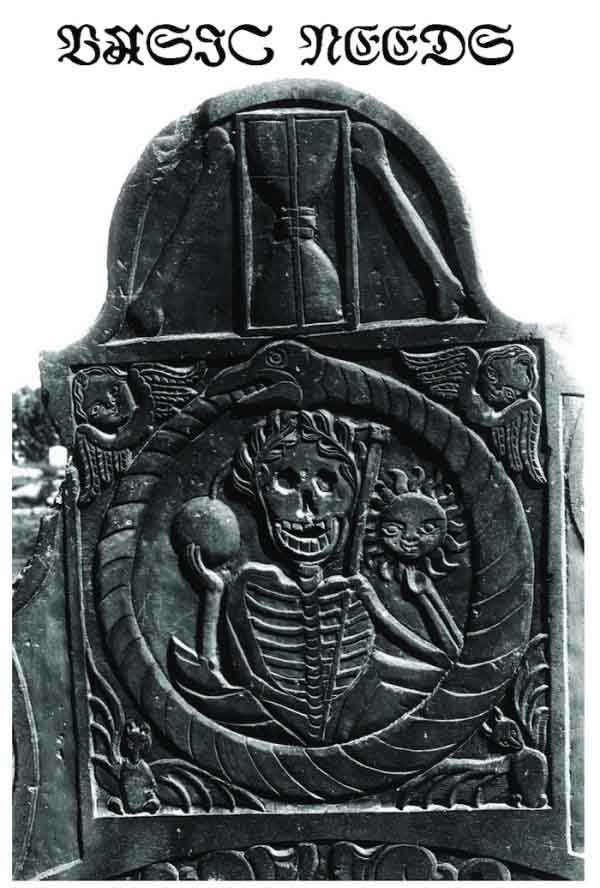 The Basic Needs compilation of New England metal and hardcore punk bands can be heard online and purchased on cassette for those who wish to own a physical copy. Promoted by the shadowy forces behind Codex Obscurum zine, Basic Needs contains fourteen tracks of varied material from almost as many different bands, so it makes sense to review them by track.
Sagnus – "Gaspipe"
This track starts off in a death metal vein but rapidly descends into bluesy heavy metal with updated technique like At the Gates Slaughter of the Soul. Nicely compact with no surprises but also no random or pointless bits, it fades out into noise.
Human Bodies – "Stygian Reverie"
Very much in the tradition of older hardcore but with black metal styled vocals, this Human Bodies track puts a new face on a familiar riff style and adds a Discharge-like chaotic solo, but otherwise sticks to fairly standard song form but keeps energy high.
PanzerBastard – "Workhorse"
Essentially d-beat hardcore, complete with broken rhythms and surging double-hit riffs, this song showcases high energy with emphasis on vocalizations.
Sexcrement – "Chemical Handcuffs"
This track starts off as pounding death metal but detours into a hard rock/heavy metal number that shows the band setting up a groove and more internal harmony, which actually makes the chromatic passages seem less intense.
Suffer on Acid – "Ride the Light"
Raging high-intensity hardcore from the "blurcore" style that emerged when the punk stalwarts confronted the horror of post-hardcore, Suffer on Acid creates music from fast simple riffs with exasperated shouting over the top. This track begins with a Black Sabbath style introduction riff that sets a mood to be destroyed which it is, amiably, by a thrash-style burst of collisive riffing and a classic hardcore punk extended chorus riff.
Living Void – "Auxiliary Conspiracy"
Writing in the fast style of death metal that bands like Deteriorate and Nokturnel pioneered before Angelcorpse, Living Void charge ahead with a series of quality riffs but then slow things up for a trudge/groove passage. The former strikes more than the latter.
Suffer on Acid – "Terminal"
Much in the style of the former track, "Terminal" relies more on vocal rhythmic hook and uses a standoffish groove more than burst but fits in lots of vocal rage and fast classic hardcore riffs to match.
Living Void – "Categorizing Woe"
This track starts with a doom metal promenade, then drops into trope of muted downstroke before bursting into high energy speeding death metal complete with blast beats and ripping choruses, the detouring into a darker and more black metal styled cycle.
Ramlord – "Distant/Detach"
At its heart, this track is older speed metal updated with death metal stylings to give it energy and more fluid transitions, but falls back into trope rhythm of vocals/drums in which the guitars drop like an interchangeable part. Some interesting black metal styled melodic work later in the track.
Grue – "All Mortal Greatness is Disease"
Beginning as a sentimental heavy metal/melodic black metal track in the Eucharist or Dawn variety, but then diverges into a chanted delivery of later Bathory-styled vocals over trudging rhythm riffs alternated with fast melodic hardcore riffing.
Word of Unmaking – "In the Crypt of Dead Values"
A Tangerine Dream style dronescape peppered with acoustic guitars and vocal samples, this track develops from linear into cyclic and recedes, leaving behind a homeostatic hint of atmosphere, then expands into a funeral doom track with articulated riffs like those from early Ceremonium.
Fórn – "Dasein"
What's with all the Heidegger worship recently? This sludgy doom metal track follows the Winter model of slong grinding chord progressions with lots of fills from noise and vocals, changing riffs relatively frequently over this nine-minute track.
Morne – "Coming of Winter"
Sounding like a heavier version of Pelican, this band creates droning indie-influenced doom metal with heavy stoner doom elements and a hoarse plaintive vocal.
Of unusually high quality for a local compilation, Basic Needs shows a wide variety of the more promising bands in New England. Living Void, Word of Unmaking and Suffer on Acid strike me as the standouts which interest me in investigating further but there were no complete dead moments.
4 Comments
Tags: d-beat, death metal, Doom Metal, Grindcore, Hardcore Punk