Around here, Dark Funeral is probably best known for being one of David Parland's (Necrophobic et al, RIP) projects that later took on a life of its own as a relatively mainstream sort of black metal act, similar in streamlining, commercializing effect to bands like Dimmu Borgir or Marduk. The band's recently announced a new studio album for 2016 through their various social media presences, although not much information about the album and its approach have been revealed yet. It's probably going to not only be more of the same (which is typical for aging bands that don't go for major style shifts), but also even more of the same, given that the band is commonly criticized for a lack of diversity. For a good primer on the band's overall approach, see their 1994 debut EP, which has been reissued several times over the years with varying quantities of supplementary Bathory covers.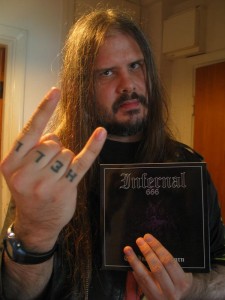 According to Wikipedia and internet sages, David Parland (Necrophobic, Dark Funeral, Infernal) has died at the age of 42 on March 19, 2013.
Parland was a founding member of Swedish melodic death metal band Necrophobic whose album The Nocturnal Silence proved that death metal could be both musically erudite and intense, and opened the doors to many others who wanted to make elegant music in a time when most wanted chromatic brutality.
From Necrophobic, Parland went on to start Dark Funeral and make a melodic and essentialist version of black metal that later worked more occult heavy metal into the mix. After that, he joined Infernal and developed their unique style of intensely violent music.
With the passing of Mr. Parland, death metal loses a talented musician and someone whose forward momentum launched more vital projects than most can dream of. It is hope that his legacy will not be forgotten.