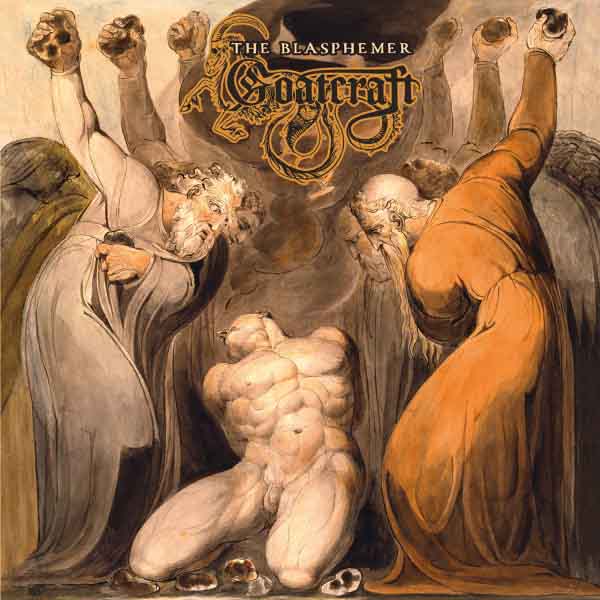 While dark ambient provides a set of moods that metal listeners can relate to, it generally aims for simpler instrumentation than metal fans are accustomed to, and falls short of the dark yet violent atmosphere of death metal. Goatcraft merges horror movie soundtracks and dark ambient into "necroclassical," a form of music created with a digital piano as its leading voice that creates a dense texture of melodic development underneath the soaring and expanding moods of dark ambient.
Created by the mastermind behind some of the music of After Death and other post-death metal projects, Goatcraft expands on the style of its previous work All For Naught with a greater tendency toward melodic development and more distinctive songs. This in itself is a great achievement, since solo piano is somewhat limited in that a certain number of techniques must be repeated to maintain the rhythmic clarity that fans are accustomed to from drum-commanded genres. But where All For Naught attempted to hammer out a death metal-like rhythm, on The Blasphemer Goatcraft shows greater enmeshing of the eerie melodies that could underscore a horror movie and the sustained atmospheres of the darker side of electronic music such as Danzig's Black Aria or Dead Can Dance.
What makes Goatcraft compelling is that it ventures beyond the somewhat static loops of dark ambient and the more pop/rock-oriented music of electronica. The artist has stopped trying to translate rock and metal into a piano sound, and instead is seeking his own voice. While technique is often very similar, melodies diverge greatly which gives each song its own distinctive feel. These melodies also grow and develop beyond the circularity of most radio music which repeats everything twice and then reformulates it, developing instead more like the scenes of movie of futile and suicidal battle. To keep the level of ambiguity high, Goatcraft often develops its songs to a peak and then recapitulates its themes in a new direction before fading away, stating less rather than more and gesturing toward what exists behind the curtain of time.
The Blasphemer represents a maturation of the approach of All For Naught with new songs that take greater advantage of the musical prowess of its progenitor. In this more distinctive voice, Goatcraft is able to get beyond technique and aim more toward the crafting of melodies to fit a situation, which is why this concept album based on the paintings of William Blake stands out. If Goatcraft has a new frontier, it is to continue developing technique alongside melody to make songs even more distinct, but the band has shaped "necroclassical" into a unique and distinctive style in the process of its own growth. While much of this material sounds straight out of an occult horror movie centered in misty graveyards, the more aggressive and pummeling piano attack underscores these dark themes with a more physical presence, grafting onto them a menace that most dark keyboard music cannot provide. It will be interesting to see how this band refines itself further in the future.
GOATCRAFT began as a vision of frustration. Occult music had died a crass death, imitated into candy piece fragments of its original vision. Death metal had been absorbed by the insatiable obese monster that is rock music and had lost its spirit of tempestuous power, replaced instead by lite jazz and creeling self-pitying children. Even the rising dark ambient and neoclassical scenes seemed afloat on a river of fast food grease; sweltering in their own indirection.

With this massive failure pressing on his nerves like a forgotten shell fragment from a war long lost, GOATCRAFT's sole member Lonegoat decided in 2010 to overcome doubts and re-double the attack. What was at first a keyboard attack to rival the sonic intensity of death metal quickly became layers of neoclassical piano centering on dark concepts, and later, with the addition of soundtrack-like dark ambient lush atmosphere, an entirely new type of music, baptized by Lonegoat himself as Necroclassical.

After the underground success of GOATCRAFT's 2013 debut All For Naught, Lonegoat is back with its best and most mature work to date: The Blasphemer, a concept album themed around the works of the famous English painter and poet William Blake.

"Written and recorded from July to November 2013 under the influence of William Blake's paintings and theological observations, the album represents my quest to reconcile the mystical side of GOATCRAFT with its nihilistic side." sole-member Lonegoat explains.