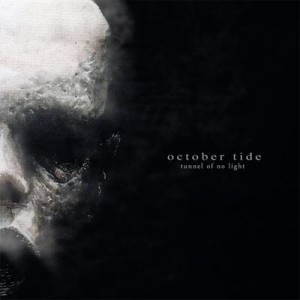 Tunnel of No Light has a foot in both the funeral doom world and the post-metal world, revealing that October Tide were way ahead of their time in predicting trends in music. These are lush, beautiful chord progressions with an ethereal sadness about them but a churning power-pop resurgence that gives you a sense of enjoying the process of survival in a dystopic world of sadness.
In metal as in biology, the development of an organism reveals its prior stages in evolution. In the case of post-metal, it seems to me it owes more of its heritage to great 1980s dark pop bands like Sisters of Mercy and Joy Division. The same stygian Gothic moods prevail, but it has the same sense of discovering a lightness in the midst of the storm which made those bands so compelling for high school cigarette breaks in the parking lot.
Unlike most funeral doom, October Tide changes the blueprint frequently, bouncing between churning Skepticism-esque doom metal riffs and open-chorded, nearly hopeful dark pop riffs that have the kind of proud doomed independence that made 1980s music so defiant and great. In addition, October Tide are comfortable with silences and spaces where melody alone carries the tune.
This is not an album for people who need constant distraction or guitar fireworks to hit them over the head, but is more of an album best listened to alone on an isolated island or when driving interstate after the death of everyone you know. Its moods vary and are not all hopeless, instead balancing each other in similar proportions to create a bittersweet sense of determination in the face of the void.
With searing death vocals chanting and rasping over this contemplative music, a listener might be tempted to lump this in with the death metal, but more reasonably it shows a continuation of what My Dying Bride was doing in the 1990s, with the added post-metal twist that brings in the best of 1980s dark pop and its lovely melancholic atmosphere.
6 Comments
Tags: funeral doom, october tide, post-metal