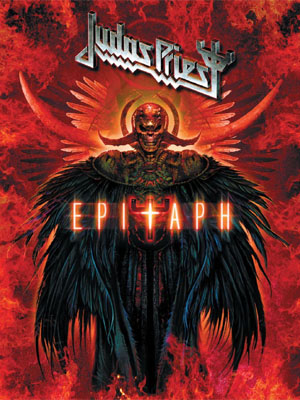 Legendary heavy metal band Judas Priest has announced that they will be releasing concert footage off their last tour. Entitled Epitaph, it features the band playing selections ranging the scope of their long career. The film will be screened at select theaters starting in May, culminating in worldwide release on May 28 on DVD.
Says the band: "The Epitaph world tour came to an exciting conclusion at the renowned Hammersmith Odeon (now known as the Apollo) in London. Knowing our fans around the planet recognize that venue for many legendary metal moments, and of course with Judas Priest being a British metal band it was the perfect gig for us to film and record. Big thanks as always to you our metal family of fans – so start banging your heads one more time with us as we scream together 'The Priest is back!'"
As one of the earliest heavy metal bands, many later genres were influenced by Judas Priest. The band was one of the first to use rapid palm-muted riffs and connecting structures that later inspired speed metal, death metal, and proto-black metal bands.
1 Comment
Tags: Heavy Metal, judas priest, NWOBHM