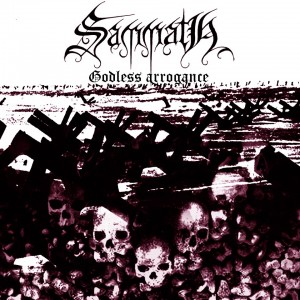 Ripping high-intensity Dutch-German black/death metal band Sammath plans to release its latest work on Hammerheart Records in October of 2013. The album, entitled Godless Arrogance, will likely continue the Nietzschean-cum-Jack-London themes of this band: war, Darwin, struggle, death, misery and pain.
Best known for their 1990s melodic yet violent black metal release Strijd, Sammath emerged at a time when death metal was drifting into nu-core and black metal was spacing out like an aristocratic heroin addict into the territory of indie, post-rock and save the whales punk music. In contrast, Sammath brought a vision of humanity in constant struggle against its own stupidity and tolerance for the delusional, and expressed it in music that is equal parts knife fight and architectural grandeur.
Godless Arrogance will be Sammath's first release on worldwide Dutch metal conspiracy Hammerheart Records, and will continue the legacy of the past four Sammath releases with more streamlined music with a better integrated riff vocabulary and more selective but correspondingly intense use of melody. Expected to result in mass murder and spontaneous immolation of hipsters, Godless Arrogance includes the two tracks below in their final form.
No Comments
Tags: Black Metal, death metal, sammath