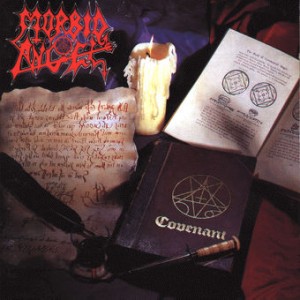 Twenty years ago this year, Morbid Angel released their third album, Covenant, which stepped back from the concept album madness of their second work and seemed to look instead toward the collection of ripping songs and experiments that distinguished their first album.
Working more melody and conventionally-recognizable technicality into the mix, Covenant showed Morbid Angel after most of the initial thrust of ideas from their demos had worn off — leaving them to create anew, from a place where they were at the peak of their musical power. As a result, it is for many people a favorite from this band to this day.
Starting November 7, the re-constituted Morbid Angel of David Vincent, Trey Azagthoth and Pete Sandoval will tour North America playing the songs from Covenant in its entirety. This show be a good chance to introduce your college-aged children, who were conceived to this album, to the magic of Morbid Angel. Tickets go on sale July 19, 2013.
Morbid Angel Covenant Tour 2013:
| | | |
| --- | --- | --- |
| City | Date | Venue |
| Atlanta, GA | Nov 7 | The Masquerade |
| Charlotte, NC | Nov 8 | Tremont Music Hall |
| Baltimore, MD | Nov 9 | Baltimore Soundstage |
| Cambridge, MA | Nov 10 | Middle East Nightclub |
| New York, NY | Nov 12 | Irving Plaza |
| Philadelphia, PA | Nov 13 | Theatre of the Living Arts |
| Cleveland, OH | Nov 16 | Peabody's Downunder |
| Chicago, IL | Nov 17 | House Of Blues |
| Minneapolis, MN | Nov 18 | Mill City Nights |
| Sauget, IL | Nov 19 | Pops |
| Lawrence, KS | Nov 20 | Granada |
| Denver, CO | Nov 22 | Bluebird Theater |
| Seattle, WA | Nov 25 | Studio Seven |
| Portland, OR | Nov 26 | Hawthorne Theater |
| San Francisco, CA | Nov 27 | Slim's |
| Los Angeles, CA | Nov 29 | Henry Fonda Theatre |
| Phoenix, AZ | Nov 30 | Joe's Grotto |
| Albuquerque, NM | Dec 1 | Sunshine Theater |
| El Paso, TX | Dec 2 | Tricky Falls |
| Austin, TX | Dec 3 | Red 7 |
| Houston, TX | Dec 4 | Warehouse Live |
| Orlando, FL | Dec 6 | Beacham Theater |
| Ft. Lauderdale, FL | Dec 7 | Culture Room |
22 Comments
Tags: death metal, morbid angel