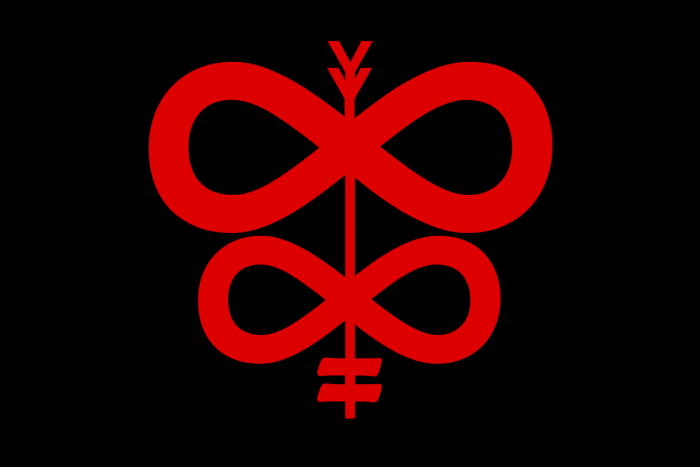 Many of us came to heavy metal because we wanted an escape from everything that made up Society: consumerism, organized religion, big government, herd morality, and corporatocracy where jobs meant doing boring things in repetitive motions for the sake of keeping up an image.
Nietzsche railed against "good" and "evil," pointing out that we had mythologized fortune and misfortune, which obscured their true definitions: good meant an aspiration to do not just what did not hurt others, but what made things more bad-ass, sort of like "if you can build a better machine, go for it!" in rural America. Bad meant not just what hurt others, but what reduced the quality or joy of the experience of living. The humanist definitions — good = embraces equal freedoms for the good and bad alike, bad = stops someone else from pursuing freedom — just serve to tie our arms behind us when it comes to fixing problems and more importantly, improving.
Egalitarianism in all of its forms works as an agent of decay. Good enough is the enemy of better, and pluralism, tolerance, etc. preach accepting good enough within the narrow definition of things which do not impede your pursuit of individualism, sometimes called "equal freedom" or the ability of any individual, whether good or bad, to pursue his own delusions and aspirations while society pays for it through externalized, socialized costs.
Religions embrace egalitarianism as a means of building audience. The big three — Christianity, Islam, and Buddhism — basically took over the world by offering a simple contract: you accept the dogma, at least on the surface, and then you are part of the group. Since people like joining things so that they have a team to defend them, these religions grew like tumors.
Like gangs or revolutions, cliques or cult, mobs or whispered gossip, these religions spread. It was hard to resist them for a simple reason: they compiled the wisdom of religions before them and made it into a modern, i.e. individualistic format, where a personal relationship with God replaced the naturalistic landscape of warring amoral and tempestuous gods and goddesses who served as much as example of what not to do as what might be wise.
As the Perennialists point out, the major religions share a core:
But under all this confusion of tongues and myths, of local histories and particularist doctrines, there remains a Highest Common Factor, which is the Perennial Philosophy in what may be called its chemically pure state.

This final purity can never, of course, be expressed by any verbal statement of the philosophy, however undogmatic that statement may be, however deliberately syncretistic. The very fact that it is set down at a certain time by a certain writer, using this or that language, automatically imposes a certain sociological and personal bias on the doctrines so formulated. It is only the act of contemplation when words and even personality are transcended, that the pure state of the Perennial Philosophy can actually be known. The records left by those who have known it in this way make it abundantly clear that all of them, whether Hindu, Buddhist, Hebrew, Taoist, Christian, or Mohammedan, were attempting to describe the same essentially indescribable Fact.

At the core of the Perennial Philosophy we find four fundamental doctrines.

The phenomenal world of matter and of individualized consciousness — the world of things and animals and men and even gods — is the manifestation of a Divine Ground within which all partial realities have their being, and apart from which they would be non-existent.
Human beings are capable not merely of knowing about the Divine Ground by inference; they can also realize its existence by a direct intuition, superior to discursive reasoning. This immediate knowledge unites the knower with that which is known.
Man possesses a double nature, a phenomenal ego and an eternal Self, which is the inner man, the spirit, the spark of divinity within the soul. It is possible for a man, if he so desires, to identify himself with the spirit and therefore with the Divine Ground, which is of the same or like nature with the spirit.
Man's life on earth has only one end and purpose: to identify himself with his eternal Self and so to come to unitive knowledge of the Divine Ground.
This writing results from a philosopher analyzing religion as metaphysical philosophy, separating structure from the implements of belief. This tells us that people hang on to these religions because they are not bullshit, even if bullshit has been grafted on in an attempt to make them more palatable to the masses.
Christianity, for example, offers a perfect control structure. It replaces "unitive knowledge of the Divine Ground" with the written dogma it offers, and makes the nature of God personal rather than impersonal, implying that this is a negotiation for the benefit of the individual.
This enables it to make a judgmental god who approves or disapproves of each individual, which forces them to behave according to the rules of Heaven even though they are on Earth, forcing them into collision with common sense and logic.
Like most loyalty tests, this one works by forcing the supplicant to act against his own interests in order to demonstrate loyalty. It is no different than cutting one's hand to release blood upon the altar, or giving up the best of the crop to a baked clay idol in hopes of rains next year.
That in turn forces the believer to sacrifice the world he knows for promises of a world beyond, and in doing so, to be unable to act against others because he is expected to be forgiving, tolerant, pluralistic, and passive.
Some say that Christianity was designed as an atomic culture bomb against the Romans. It removed their loyalty to Rome and replaced it with God, and then had that god command them to stop doing the logical and to start fixating on an unproven, conjectural, and messianic Utopian future after death.
This made the Romans weaker than any military force could hope to do. Where the pagans accepted the mysteries of existence as they were, and that these were unequal and therefore different for all based in their place in the natural order — the "great golden braid" — the Christians insisted that we were all the same, and by undergoing the same humility/humiliation ritual, could become part of the Elect who were chosen for salvation.
Metal naturally rejected these things because metal is naturalistic to its core. If nature encountered distorted sound, it would begin breaking it down and reshaping it as beauty, much as it has done with every void or ugliness it has encountered. (Negativity and voids are big topics in metal lyrics.)
In the naturalistic view, religion operates like every other aspect of life: we conjecture, we test with logical fact, we balance the outcome, and come up with a heuristic which we then develop. There are no magic symbols, icons, idols, words, or talismans to use. There are no scapegoats, only the question of adaptation, and the possibly better options which we might discover.
How many of us have burst out laughing at some horror movie featuring an exorcism where a priest rapidly recites badly-pronounced Latin at a demon, as if the right collection of words — and the symbol of the cross, and the ritually-blessed (by man) Holy Water — might dispel demons!
To a naturalist, religion is like any other skill. Those who become adept can "identify himself with his eternal Self and so to come to unitive knowledge of the Divine Ground" and achieve not the binary of salvation but participation in this realm which connects to our own.
In the pagan mind, modern religions are simply individualistic takes on idol worship, itself an extension of rain dances and animal sacrifices made abstract by the power of language.
Naturalists fall more on the side of pagan than modern, but tend to affirm the four points that Huxley so expertly sketched out (for more, read his The Perennial Philosophy). They do this however through an informal process of telling stories and using metaphor, allowing those who can understand to build up knowledge so that they can perceive and understand the next plateau of learning, a method called esotericism.
For an esotericist, the question of religion resembles that of building a fire. First you learn the rudiments, then are able to experiment, and finally understand the principles and forces that interact to allow fire to be present. This parallels knowledge you have of the world around you and how it works, forming a continuity between past and future, and between the simplest notions and the most complex, like all systems of learning are cumulative.
Those who undertake naturalism worship reality and view spirituality as its extension, much as the pagans and heathens saw the realms of death and future life as lands attached to our world, even reachable by boat. For them, the line between metaphor and reality blurs because where metaphor is descriptive of that which cannot be fully known, it forms a useful heuristic for whatever plateau of learning the person parsing it is currently exploring.
Where modern religions are symbol, controlling the world around them in order to change the minds of those who follow, ancient religions are metaphorical, providing knowledge to those who are willing to take up the challenge and go further. They are not written, these ancient religions, because they are nihilistic; they acknowledge that truths, values, and communications exist only in individual human minds, and meaning is lost when spread to others, so there can be no literal truth written.
Modern religions on the other hand hold that a symbolic truth is literally true, and by compelling all to obey it, it shapes their minds into an idealized, one-size-fits-all part that is centralized by adherence to the literal word. They take symbols as reality, treating them as a replacement for realism and naturalism, even though they describe that which is unknowable and indescribable to those of us in the land of the living.
We might call the naturalists reality-worshipers. Instead of orienting themselves toward the symbol, which is a method and not the goal of communication but treated as the latter in symbolist as well as idolistic religions, they orient themselves toward reality, which means they must discard the good/evil binary.
To them, events happen and results occur because of the chain of cause-effect relationships which brought the situation to that point. Some are bad, for individuals involved, and some good, but the story goes on, and the principle can be abstracted from them.
In this view, we are all actors in a cosmic drama, and our choices reflect our failings, but where morality tells us "x is good, everybody do x," the more realistic view of the ancients is that we all have our own fates, limited by what we can know, determined by our destinies as a fact of our births.
They are "beyond good and evil" in this sense. A character born bad will do bad, and in a good society, meet a bad end. We all need to see this to know how that option pans out. A good character will do good, and in a good society, come to a good end, but in a bad society, meet a bad end.
This shows us a more complex view of the world. The idea of universal truths, values, and communications goes out the window, replaced by the knowledge of a tribe of which behaviors they prize and the results that these achieve, showing what this society desires for its future and values in its past.
Where Christianity and other modern religions attempt to make the bad "good" by instructing them on the methods of goodness, ancient religions recognized that we were born to be what we are, and we would become it no matter how we were trained, indoctrinated, subjugated, humbled, or brainwashed.
What modern religions tend to do is teach the bad how to pretend to be good so that they can adopt the mantle of goodness and, using religion or ideology, dismantle society. This approach requires we believe in equality, or the idea that all people are basically the same and therefore blank slates who can be "educated" in the methods of good, and that by forcing people to behave as if they were good, we make them good.
Such a process requires absolute control forever because the bad, when not watched, revert to form and do bad, usually in the guise of good. Individuals in this society, told that they are equal and that this is good, tend to treat religion and ideology as window-dressing while pursuing their own ends, slowly becoming bad over generations as they adopt the bourgeois attitude of caring only for their own comfort, power, convenience, and wealth at the expense of others.
This creates people who exist in worlds of themselves. Everything they do involves using a method in order to manipulate the external world in order to make their inner world seem good. The manipulation used on them, they use on themselves, and in the end, they become death obsessed because without a connection to reality, modern religions become increasingly distant as symbolism diverges from lived experience.
In addition, such religions give rise to liberalism, or loosening the rules so that individuals can pursue their own bourgeois ends without facing much consequence, and from that, a vortex of individualism emerges, always demanding more equality, never having enough. Its victims become self-destructive, seeking a final power in death like serial killers who suicide when cornered by police, because to these equal people, having control over their own self-image has become more important than survival.
Further, these modern religions tend to want to erase organic culture just as equality and democracy do because it competes with them. The conjectural hates the time-proven and continuous since it provides a working model that shows an alternative to the conjectural, therefore proving that it is not necessary and thus, a burden that takes time and energy away from focus on the important.
In contrast, reality-worship accepts life as beyond our control, with "good" and "bad" refering to our own hopes rather than some universal, absolute, and objective space of shared thought, emotion, and morality between all humans. It sees good as what works and bad as what fails, meaning that its substitute for "evil" is error, or that which estimates reality inexactly.
Unlike the religions, reality-worshipers accept both good and bad as necessary for meta-good, namely the low-entropy process that keeps nature functioning like a perpetual motion machine. Without destruction, creation would overwhelm the Earth, and without creation, destruction would reduce it to nothingness. In competition the two achieve an inconstant balance so that energy stays in motion instead of dissipating in equilibrium.
We might see this reality-worship as having three tenets:
Do as thou wilt. You will act out your character regardless, so do so freely, knowing that by doing so, you roll the dice with reality. Nature will respond with its patterns and your actions may have predictable consequences, but you cannot avoid your fate and destiny.
Lex talionis: the law of retaliation. Those who wrong you, you must fight and conquer, and that sends the signal that the system needs which makes such behavior not tolerated, or at least balanced. Creation and destruction keep each other in balance only through retaliation and blood sacrifice, including culling or removal of the badly-formed and weak-willed through ritual offering.
Plato's law of balance. "Good to the good, and bad to the bad" is a better morality than "good to the good and the bad." Like a gardener, you nurture the good and remove the bad. When something is useless, replace it with something useful. Renew everything with blood.
In this way, the naturalistic religion fits with Immanuel Kant's update to the "golden rule": do not treat others as you want to be treated, but act such that you would be happy if your action became universal maxim.
That is, it is good to lie to liars and deceive deceivers; it is good to kill the bad and weak, and to nurture the good at their expense. It is sensible and praiseworthy to aggressively smash down illusion, lie, delusion, and projection. It is worthless and weak to tolerate the insane, incompetent, corrupt, criminal, perverse, and weak-willed (the opposite of "aggressive").
This religion accepts relativity, or the notion that all objects are defined by their context, created by their relationship (a) with other objects and (b) with the sum of all objects and the spirit of the unitive. We do not all see the same world, both because our capabilities differ, and because the world reveals itself in degrees and facets only to the observer who is ready to see those details.
It affirms the Darwinism of nature, or keeping the strong and throwing out the weak, mainly because doing so creates a forward inertia of constant improvement, which is the opposite of "progress" or finding a way to make the unimproved perform despite their limitations.
Through this mentation, it also affirms the continuity of process as described by Marguerite Iwersen:
If the seen, finite universe arises in an infinite Unseen universe, could it not be that there is a similar continuity linking the many physical laws to one pre-physical Overlaw? As there is one continuity of Substance, so there is one continuity of process — one Great Law of laws in which the calculations about gravity and electricity are merely the local outworkings. The metaphysic here being considered makes this assumption and, since the World Stuff is Mind Stuff, names the Overlaw the Law of Mind. (76)
While the Law of Attraction gained pop culture fame recently, it is but a part of the larger Law of Mind, which correlates to Huxley "The phenomenal world of matter and of individualized consciousness — the world of things and animals and men and even gods — is the manifestation of a Divine Ground within which all partial realities have their being, and apart from which they would be non-existent."
The world is continuous, and seeing the Law of Mind allows us to understand continuity, or the parallel between the metaphysical layer and the physical, the past and the future, the self and the world, through an informational basis in structure underlying all reality:
William Blake once said that "If the doors of perception were cleansed everything would appear to man as it is, infinite." When we unite our imaginations to the process of the universe, as is found in the belief system of idealism, we have opened up that continuity and are now closer to accepting our mortality as part of that larger plan. In this we have found perhaps the one bliss that exists for thinking creatures, and we have done it by entangling ourselves with that which we fear most (nothingness) and finding a sense of order not within it but that includes it. It is this inclusion that forms the basis for our believe in turn in continuity, as we see that all dark things lead to light, and vice versa.
What humans see as good and evil are details of a vast mechanistic process of nature which calculates a meta-good through the balanced competition of creation and destruction. Reality-worshipers reject worship of good, and see good as only possible in this context, therefore worship the natural.
If you want to know where religion goes after modernity, this is a path. Modern religions made idol-worship into symbol-worship so the individual felt powerful, but this died as the individual saw the limits of himself and the Crowd. Consequently, these religions are dying too.
Contemporary Satanism, New Age, and neo-Pagan beliefs seem to follow the modern religion template, even if they borrowed one from outside Christianity, such as Buddhism and Judaism, the two most common culprits. These improve something that is fundamentally unworkable.
For metalheads, we must return to our roots and the worship of the tempestuous amoral power of nature that is both creation and destruction, guided only by our unitive connection to the underlying idealistic informational structure of reality.
With this, we can finally stop turning the cross upside down (or worse, turning to "Christian metal" bands) and instead, invent a religion of our own designed for the next millennium instead of the past.
Tags: luciferianism, Occultism, Religion, Satanism, spirituality, transcendentalism