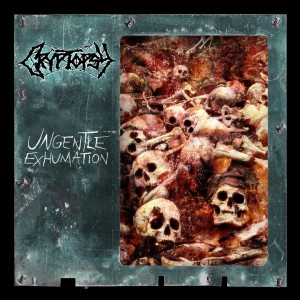 High speed percussive death metal band Cryptopsy — or at least they were in the mid-1990s — has re-issued its demos compilation, Ungentle Exhumation, containing the demo of the same name.
Cryptopsy rose to prominence in the mid-1990s with None So Vile, an album of blasting terror which utilized the style created by New York's Suffocation to make simpler and more direct songs incorporating a rock/blues influence.
Although the band's last decade or so has been spent trying to pursue modern metal styles, the "Ungentle Exhumation" demo showed them in the style of their first album (Blasphemies Made Flesh) but with the manic intensity of None So Vile.
It is thus considered by many Canadian death metal watchers to be the definitive Cryptopsy work. It can be purchased from the Cryptopsy bandcamp page for $8 CAD.
3 Comments
Tags: cryptopsy, death metal