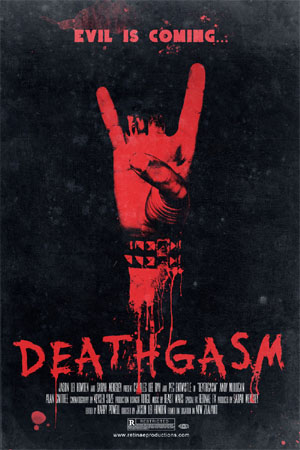 A New Zealand director is campaigning to get his death metal themed horror film funded through a crowdsourced campaign. The film, named Deathgasm, will concern the adventures of social outcasts who discover music that can summon evil.
Written and to be directed by Jason Lei Howden, Deathgasm is designed as a throwback to the early 1980s budget splatter films and the Heavy Metal horror genre. The director promises that Deathgasm will have a soundtrack that "will be the bane of noise control officers the world over."
The plot revolves around evil, antisocial behavior, Slayer lyrics and black magic, but ultimately turns on a plot point related to music itself. Deathgasm will thus be a themed film with death metal as an integral part of that outlook.
We got a few questions back from director Jason Lei Howden to give our readers more of a feel of where the film is going.
What's your history with horror movies, and heavy metal?
I've been obsessed with horror since I was a kid, and was naturally attracted to the imagery and dark storytelling of Heavy Metal.
When I was really young, I remember seeing Motley Crue and Iron Maiden cassettes and thinking the contents must be the most insanely satanic shit. Which in hindsight seems absurd.
I quickly progressed towards Thrash and Death, those amazing years in the early 90's, Slayer, Cannibal Corpse, Obituary, Deicide. Such a great time for Metal.
What are the connections between Deathgasm and heavy metal? What about death metal specifically?
The characters are teenage outcasts. Death Metal is their only form of release. They won't be wearing Disturbed t-shirts or anything like that; these kids are pure death fans. They are social rejects but find strength in the music. I want to stress that we aren't out to parody or make fun of Metal, it's more of a salute to the genre.
I want heaps of references to the classic bands in there, but if we could get some up and coming Death Metal bands on the soundtrack it would be awesome.
There are some amazing Heavy Metal horror films, and Trick Or Treat is a big influence. But it's a dormant genre and it's about time to combine brutal sounds and gore again. Death Metal in particular has imagery with is extremely horror when you think of the album covers and lyrics.
There are also occult and satanic themes, they start to dabble in black music and get in over their heads.
In saying that, I want to clarify that you won't need to be a Metal fan to enjoy Deathgasm, just like Metalocalypse appeals to a huge audience. Anyone who has felt like an outsider will relate to our characters, and fans of Evil Dead, Bad Taste or the Troma films will love the Deathgasm.
Do you think there's a horror movie culture? What about a heavy metal, or death metal, culture?
New Zealand is so small it's hard for me to gauge, but Metal culture seems to be far smaller than it used to be. Because there are so many sub-sub genres now, it's more fragmented. Maybe Metal is better off being underground, whenever it gets too mainstream it de-fangs it a bit.
Horror seems to be still huge, seeing shows like "The Walking Dead" and "American Horror Story" on mainstream TV and getting Emmys is surreal.
Can you tell us about your history with film and horror film?
I went to film school and since then have finished a couple of fantasy/post-apocalyptic short films. It's really hard to get horror funded here, our industry is based around small coming-of-age dramas.
But even if I don't get funding, I'm adamant I'll do a horror next. I work as a visual effects (VFX) artist, working up to 80 hours a week. I need to get outside and throw blood and guts around. We are really lucky to have the Make My Horror Movie Competition; it's a great opportunity.
You're launching a funding drive for Deathgasm right now. How close are you to what you need? When you get there, what happens?
The winners get $200,000. The project with the most Facebook "likes" gets into the top five. Right now we don't have many votes compared to some other projects, but we only submitted recently. We would need a couple of thousand more Facebook "likes" to crack in to that threshold.
There is no sign up or spam, if people go to the page and just click the Facebook "like", then maybe share it with friends it gets the project visibility and lets the judges know there is a market for a brutal Heavy Metal Horror film.
If we don't win we may develop the idea more and do a Kickstarter campaign. I want it to be a community thing, with an awesome soundtrack and heaps of Death Metal in-jokes and references.
And gory as hell! The Evil Dead remake was shot in NZ and was pretty gory, but we can take it up a notch or two from that. We have some talented friends and contacts in the practical effects industry here, I don't want to give too much away but we have some awesome death set-pieces planned. We want to keep it practical; VFX gore just doesn't look right.
If all goes well-ish, meaning according to plan and accounting for life's little glitches, when will we be able to see this movie? And where (theatres, Netflix)?
Dark Sky films is a partner, they distribute some great horror, recently Frankenstein's Army and Hatchet 3. So a lot of people are going to see it. I'm unsure about a theatrical release, netflix would be pretty probable. Would be looking at a late 2014/early 2015 release I would say.
For more information, and to support Jason Howden in his quest to make Deathgasm a reality, please visit the funding page and show support for this project.
1 Comment
Tags: death metal, deathgasm (film), horror movies