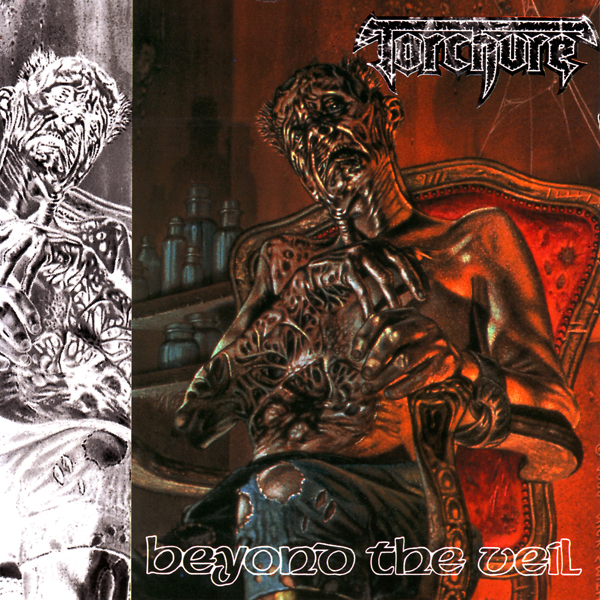 Torchure's Beyond the Veil, recently re-issued on Vic Records, shows the best of the inventive spirit that hovered at the boundaries of extreme metal.
I say at the boundaries because this release, like early Sentenced or middle-period Therion, keeps one foot in the relatively accepted worlds of speed metal and heavy metal while another remains planted in the underground. Properly described, it's a doom metal (of the heavy metal variety) hybrid with death metal.
The deathier aspects are embedded in mid-paced passages that show, in an odd twist for the genre, melodic development in both guitar and vocals, creating a sense much like that Dissection wielded of an inner core of beauty to a crashing heaviness. Slower doom riffing resembles both Cathedral and funeral doom bands to follow like Skepticism, although this would be considered uptempo.
Offsetting those elements are a number of harder-rocking numbers that use repurposed heavy metal riffs in a death metal context to deliver charging intensity at a faster pace. Many of these resemble the interstitial music between speed metal and death metal, like Slayer or Destruction. The melodic balances the spacier pentatonics and the crashing chromatic riffs that connect it together.
The result is a highly inventive album that showcases a study of metal riffing from the early 1970s onward, and by maintaining a doomy mood, expands death metal from raw riff interplay to a science of developing riffs in the context of a carefully planned mood shift in each song. This comes at the expense of the more expansive song structures which death metal could adopt by changing riffs every 24 seconds.
Vic Records has unleashed a quality re-release here with sound quality intact and no loss of detail, building on the strength of the original and delivering an improved experience. With luck this will allow a new generation to discover this often-overlooked (probably because of the misspelled name) German death metal band.
1 Comment
Tags: death metal, Doom Metal, torchure